Progressive Dairy provides updates on dairy-related organizations and companies, compiled from staff news sources and industry press releases. Email industry and organization news to Progressive Dairy Editor Jenna Hurty.
Business Digest Highlights
Dr. Keith Bolsen passes away
The world lost a brilliant mind, a trusted friend and a compassionate teacher with the passing of Dr. Keith Bolsen on May 29, 2020.
Bolsen was known globally for his passion and expertise and has counseled countless farmers on how to make safer, better forages. Most people knew him as The Silageman. He was a professor emeritus of cattle nutrition in the animal sciences and industry department at Kansas State University in Manhattan, Kansas. Raised on his parent's grain/livestock farm near Bement, Illinois, Bolsen received his B.Sc. and M.Sc. degrees in animal sScience from the University of Illinois, and a Ph.D. in cattle nutrition from the University of Nebraska – Lincoln.
Bolsen began a teaching and research career at Kansas State University in 1971, where he focused on the performance of growing cattle fed silage-based rations, agronomics of silage crops, silage fermentation, and additives, storage losses, and the application of a team approach to silage management. He retired from K-State in June 2003.
He is survived by his wife, Ruth E. Bolsen; his daughter and son-in-law Krista L. and John Corkill; five grandchildren and 11 great-grandchildren; his sister Drusilla Hollingsworth; and several cousins.
Bolsen and Ruthie founded the Keith Bolsen Silage Safety Foundation to provide silage safety educational resources.
EPA appoints new members to agricultural committee
EPA Administrator Andrew Wheeler announced the appointment of 33 members to the agency's Farm, Ranch and Rural Communities Committee (FRRCC).
Although established in 2008, the FRRCC committee had no current members. More than 150 people were nominated for appointments last November and December.
The appointees include producers and representatives from allied industries, academia, state, local and tribal governments, and nongovernmental organizations. Each will serve two- or three-year terms which began June 15, 2020. The committee expects to meet approximately twice a year.
Based on an internet search, appointees with ties to the dairy industry include: David Graybill – Red Sunset Farm and Pennsylvania Farm Bureau, Mifflintown, Pennsylvania and Matthew Freund – Freund's Farm and CowPots LLC, East Canaan, Connecticut.
2020 World Brown Swiss Conference rescheduled to September 2021
The 2020 World Brown Swiss Conference, originally scheduled for Sept. 28 – Oct. 3, Madison, Wisconsin, has been postponed. The rescheduled dates are Sept. 26-30, 2021, at the Monona Terrace Community & Convention Center in Madison, Wisconsin. Conference attendees will have the chance to experience the International Brown Swiss Show and World Premier Sale during the 2021 World Dairy Expo.
Students, clubs invited to sign up for College Aggies Online scholarship competition
The Animal Agriculture Alliance's annual College Aggies Online (CAO) scholarship program will kick off, Sept. 14. The nine-week program brings together college students from across the country to develop lifelong advocates for agriculture. Undergraduates, graduate students and collegiate clubs are invited to sign up.
Students will have the opportunity to network with social-media-savvy farmers and industry leaders, while enhancing their communication skills. Each week participants receive training from these communications experts about current and emerging issues in agriculture. Students earn points by completing weekly challenges, including writing blog posts, designing infographics, creating social media content and submitting letters to the editor.
Email Casey Kinler to become a sponsor.
Al-Ag, De Benetti and Delgado join DCHA board of directors
Dairy Calf and Heifer Association (DCHA) members elected Clint Al-Ag, Blue Sky Farms, Friona, Texas; Emily De Benetti, Oxford Cattle Co., Woodstock, Ontario; and Jorge Delgado, dairy specialist with the Alltech On-Farm Support team, to the organization's board of directors. Al-Ag represents the Southwest, De Benetti represents the Northeast and Delgado serves as an allied industry director. Tamilee Nennich Adolph retired as a DCHA board member.
The DCHA board of directors reorganized and the new president is Elizabeth Quinn, Schaghticoke, New York. Other executive committee members include past President T.J. McClure, Johnson, Kansas, Vice President Sam Gardner, Huddleston, Virginia; and Secretary/Treasurer Jamie Franken, Sutherland, Iowa. The remaining DCHA board members are Northeast Regional Director John Balbian, Amsterdam, New York; Western Regional Director Megan Kissel, Wendell, Idaho; Academia Director Terri Ollivett, University of Wisconsin, Madison, Wisconsin; and Company Director Kerry Nieuwkoop-Yanez, Merck Animal Health, Chowchilla, California.
DCRC schedules data organization webinar
"Data organization yields positive returns" headlines the Dairy Cattle Reproduction Council (DCRC) webinar, scheduled for Aug. 7. Mark Kirkpatrick, Zoetis managing veterinarian – dairy technical services, and Iowa State University adjunct faculty will lead the one-hour webinar. During the webinar, Kirkpatrick will help attendees:
Organize disease recording based on nine major economic conditions of dairy cattle
Create protocols to record all health interactions with dairy cattle, including beef and no treat decisions
Track outcomes of conditions
Evaluate protocols
Click here for more information.
2020-21 UW – Madison Farm & Industry Short Course is virtual
The University of Wisconsin – Madison Farm & Industry Short Course (FISC) will offer only online courses for the 2020-21 academic sessions due to the COVID-19 pandemic.
Four online courses will be offered, two each in fall 2020 and spring 2021.
Fall (Oct. 26-Dec. 17, 2020) courses include business principles of agricultural management and introduction to soils. Spring (Jan. 19-March 12, 2021) courses are business of agriculture and agribusiness feasibility planning.
Students completing their first year earn a Certificate in Foundations of Farm & Agribusiness Management, a prerequisite to returning for a second year to earn a certificate in specialized areas. FISC credits are eligible for transfer to many four-year universities, tech colleges and community colleges.
Scholarship applications are due by Aug. 1. Program applications are due by Aug. 25.
National Dairy Shrine cancels 2020 Awards Banquet
The National Dairy Shrine board announced the cancellation of the 2020 National Dairy Shrine Awards Banquet, annually held in conjunction with World Dairy Expo.
The honorees who would have been recognized at the 2020 banquet will be honored in September 2021. Students who received scholarships in 2020 will also be formally recognized next year, however the monetary value of the scholarships will be provided this year. National Dairy Shrine will select award and student scholarship winners again in 2021, and those recipients will be recognized at the 2021 banquet as well.
New research journal launched
JDS Communications, a new open-access journal from the American Dairy Science Association (ADSA), is being launched in response to the rapid growth of Journal of Dairy Science (JDS) over the past decade. JDS Communications is an open-access, peer-reviewed journal that publishes short, concise original research that relates to the production and processing of milk or milk products intended for human consumption.
As of Aug. 18, 2020, the JDS will no longer receive new submissions for short communications, hot topics or technical notes. Instead, these article types will go to JDS Communications. Authors who have an article submitted to JDS and in review will be offered the opportunity to publish their article in JDS or move it to JDS Communications.
The initial editorial team will consist of Matthew Lucy (University of Missouri), editor in chief and physiology section editor; MaryAnne Drake (North Carolina State), dairy foods section editor; Pam Ruegg (Michigan State), health, behavior and well-being section editor; Jennie Pryce (Agriculture Victoria & La Trobe University), genetics section editor; and John Roche (NZ Ministry for Primary Industries), animal nutrition and farm systems section editor.
NMPF 'Sharing Our Story' webage amplifies dairy's voice
The National Milk Producers Federation (NMPF) has developed a new "Sharing Our Story" page on its website to highlight its member dairy-farm families and offer a place where the latest and most compelling arguments on behalf of the dairy community can be found.
Leading the page is a revamped "Farmer Focus" feature, spotlighting the work of NMPF cooperative farmers from across the country. NMPF's "Dairy Defined" thought-leadership series is also featured, dispelling myths about the industry and offering fact-based views on its current challenges through timely essays and a regular podcast. "CEO's Corner," a monthly column on the dairy policy environment from NMPF President and CEO Jim Mulhern, rounds out the page.
Holstein Association USA research grant program seeking applications
Holstein Association USA (HAUSA) invites research proposals with expected outcomes to benefit the profitability from Holstein cattle. Research may involve traditional production disciplines of genetics, nutrition or reproduction as well as dairy foods or economics. Principal investigators at U.S. universities or nonprofit organizations are eligible to apply for grant funds. The deadline to submit proposals is Aug. 15.
The association is particularly interested in research that advances the profitability and health of Holstein cattle through genetics, but proposals researching other areas of improvement are also invited. Research on the economic benefits of Holstein cows or their products are welcome as well. Research funded with HAUSA grants are expected to be innovative, exploratory and based on sound science. Research proposals of all sizes will be considered, but Holstein grants are expected to be funded within the range of $10,000 to $80,000 per year. Grant durations are expected to be one to three years.
Email for more information.
New resource for farmers available for increasing conservation, collaboration
A new resource is available to guide farmers and their partners in conservation on the road to success with the launch of the Producer-Led Group Roadmap: Finding Success in Farmer-Led Watershed Organizations. The document is the result of a collaboration between the Wisconsin Department of Agriculture, Trade and Consumer Protection (DATCP), the Dairy Strong Sustainability Alliance (DSSA) and The Nature Conservancy.
This roadmap is intended for groups funded through DATCP's Producer-Led Watershed Protection Grant program or for those that are functioning without the state funding. The roadmap guides groups through all of the necessary steps, including setting goals, membership requirements, securing DATCP and outside funding, tracking outcomes, documenting progress, establishing communications, developing work plans and reporting.
Dairy.com acquires My Dairy Dashboard from joint venture partner
Dairy.com has acquired majority ownership of My Dairy Dashboard after reaching an agreement with co-founder Virtus Nutrition. Mitch Norby will remain the lead for the dashboard business unit inside of the website.
CHS Harvest for Hunger campaign aids those in need
CHS is distributing more than $400,000 and 30,858 pounds of food to local and regional organizations as part of the annual CHS Harvest for Hunger campaign. Cooperative employees worked with farmers, community organizations, schools and other CHS locations across the U.S. to gather the funds and food donations during the annual drive, March 1-20.
Even though community fundraising events were canceled midcampaign due to COVID-19 precautions, employees and community members adapted and improvised to finish the campaign and gather donations. Employees were able to pick up any donations from the participating Wisconsin schools: Freedom, New London, Weyauwega-Fremont and Winneconne. These four schools were in competition to collect the most pounds of food. This year New London High School won, raising over 1,000 pounds of food. They will be rewarded with a local grant of $500 for their efforts.
Locally, the company distributed $1,800.32 and 2,267 pounds of food to local food pantries. The pantries receiving these donations are as follows: New London Community Cupboard, Weymont Food Pantry, Winneconne Area Assistance Center and Freedom Food Pantry Inc.
With this year's total, the cooperative has raised $6 million and 4.5 million pounds of food in the 10 years since the campaign was first launched.
BouMatic introduces Gemini milking robot
BouMatic has introduced the Gemini, a new generation of milking robot suitable for dairy farms of all sizes. The robot features:
Fast identification and monitoring of health problems with the extension of automatic inline measurement of somatic cell count
Cow-focused milking with an upgraded vacuum system
A hose guidance system to ensure proper hose position under the cow
Lower service costs supported with a custom designed service contract.
User-friendly software with a time-of-flight camera technology for fast and accurate attachment
The new robot comes standard as a single box robot but is also available in a double-box version, making it suited to fit practically every farm layout. Each farm project starts with a customized farm setup drawing to provide optimal barn layout.
Agri-Plastics releases Ultra Flex-Pen
Agri-Plastics has introduced the new Ultra Flex-Pen. This modular pen system has single front and back panel walls and two individual side walls. New pen features include:
Ultralightweight for easy setup and cleaning without jeopardizing durability
Self-aligning panels use EZ-Glide connection tabs and hinges for easy and quick setup
Ultrabiosecure
Rear rotary venting has no steel wire to rust, fully adjustable air flow control and no separate parts to lose or store
Individual penning used to maximize pens per room size
Individual pens interlock together for a clean line of calf spaces
Center panels can be removed to create a group penning option
Ultra pen access with a bi-swing front door for maximum flexibility
Large ergonomically designed door handle
Ultratough, nonmetal door frame made with a structural compression molding process
Pen panels available in a 5', 6' and 7' lengths to fit any size barn operation and allows for optimum calf space
10-year warranty
Email for more information.
Phibro Academy has new digital platform
Phibro Animal Health Corporation launched Phibro Academy, a new digital learning and content platform, to allow customers and partners to continue to learn and exchange ideas, no matter where they are. The initial content library is composed of webinars, videos and e-learning modules. Many are hosted live, then posted and made available to anyone that has signed up to join the academy.
Current content spans a range of practical animal health, nutrition and management topics. Dairy topics address heat stress and transition cow health, while beef topics include rumen health and function and its impact on productivity and heat stress management.
While the majority of the content is in English, translations and subtitles are coming soon, along with more regional content that is currently being developed by the company's teams throughout the world. Registration is free.
EOS Crop Monitoring update: track the soil moisture on your fields
EOS Crop Monitoring has launched an extensive update. The features function as a multifaceted tool for farmers, crop consultants and agricultural retailers helping them make data-driven decisions, cut expenditures and increase yields. Key highlights of the updated system include soil moisture management, team accounts, a 14-day weather forecast from a leading weather provider, enhanced zoning and other minor tweaks that make working on the platform a smooth experience.
CentralStar develops BLV test
CentralStar researchers recently developed a new test to identify cows with the highest probability of transmitting bovine leukemia virus (BLV). The BLV supershedders (SS1) polymerase chain reaction (PCR) assay determines the concentration of the proviral DNA of BLV in a cow's blood, identifying the most infectious cows (supershedders) in a herd. In collaboration with Michigan State University (MSU) and funded by grants through the USDA and the Michigan Alliance for Animal Agriculture (MAAA), CentralStar research demonstrates that identifying and prioritizing management of supershedders is an effective strategy in a BLV control program.
New Buddy Hutch Calf-Rearing System
Agri-Plastics recently introduced the new Buddy Hutch Calf-Rearing System, a modified group hutch for paired newborn calves. Calves can be housed together or separate, based on the needs and preference of the producer. The center panel can be removed quickly and easily, and a multiposition awning system provides shade and protection from the elements. Also, an optional weather cover extension telescopes out and covers the entire door opening for the ultimate weather protection. Other hutch features include the unique front gate system with bi-swing doors and secure slam latches. A rear door grid-guard keeps calves secure.
Mastitis vaccine gets new name and marketing push
Vaxxinova US (formerly Epitopix) announced Vaxxon SRP Klebsiella as the new name for KLEBVax SRP, a mastitis vaccine recently marketed by Huvepharma USA. The vaccine, formerly marketed by AgriLabs/Huvepharma, will now be marketed by Vaxxinova through distribution to dairy veterinarians and producers. Customer service and technical support will come directly from the company.
FieldMicro launches advanced farming automation and monitoring system
FieldMicro introduced an innovative automated agriculture and farm control monitoring system including FieldBot, a portable remote-control device that connects to farm equipment/hardware, and SmartFarm, a platform that uses smart technology to make farming simpler and more efficient. The company also announced a partnership with John Deere to provide real-time data to the platform.
STgenetics lauches Vision+20
STgenetics recently launched a new, Council on Dairy Cattle Breeding (CDCB)-validated compact genomic test – Visions+20. Test results include 20 traits – 12 CDCB production, longevity, health and conformation traits, three selection indices and four milk markers. Chromosomal mating capabilities and EcoFeed evaluations for females are also included.
Select Sires offers SimVitro HerdFlex beef embryos
Select Sires and the J. R. Simplot Company's Animal Sciences division have teamed up to bring a new strategic breeding concept to commercial dairy farms. Dairy farmers now have the opportunity to sell 100% beef calves born from pregnancies not needed for replacements while advancing elite genetics within their dairy herd and appropriately managing heifer inventories.
First Defense Tri-Shield reduces rotavirus shedding in newborn calves
A recent study by Dr. Andy Skidmore, in collaboration with Dr. Jan Gawthrop, evaluated if First Defense Tri-Shield, a polyclonal antibody scours preventative, could reduce rotavirus shedding. Results showed that the product significantly reduced rotavirus shedding versus control calves, which all achieved successful passive transfer from a quality colostrum feeding.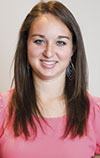 Jenna Hurty-Person

Field Editor
Progressive Dairy