Progressive Dairy provides updates on dairy-related organizations and companies, compiled from staff news sources and industry press releases. Email industry and organization news to Progressive Dairy Editor Jenna Hurty.
Business Digest Highlights
Conewango introduces the Evolution RST-Driver
The RST-Driver is a new liner from Conewango Products Corp. Also known as the RST140N, the liner features a transitional barrel shape that minimizes mouthpiece vacuum and provides the advantage of a non-round liner for superior teat-end health. It also provides a perfect positive seal to keep pulsation lines clean and pulsators operating at top speed. The liner is vented in the milk tube, not the mouthpiece, to minimize chamber turbulence. A non-vented option is planned for a later launch.
Visit Evolution-liners for more information.
Fendt 300 Vario Gen4 Series now available in North America
AGCO is bringing the Fendt 300 Vario Gen4 Series tractors to North America for the first time, and they are now available to order for 2022 delivery. The series includes four models from 100 to 132 horsepower, each available with the FendtONE operator station as a standard feature. Built to the buyer's specifications, the series offers the choice of three trim packages – from the basic Power package to Profi and Profi+ with guidance.
With an unladen weight of 11,045 pounds, the 314 model boasts just over 83 pounds per horsepower. Added ballast can bring the weight up to 18,739 pounds when the work at hand calls for it.
Each tractor can be equipped with an intelligent Cargo or CargoProfi front loader. These loaders include technology features like adjustable heights and integrated scales. The hydraulic ports also can be customized to better match the operator's needs.
Visit Fendt/us for more information.
Case IH introduces AFS Connect Optum Series tractors and WD5 Series windrowers
Case IH is adding the AFS Connect Optum Series tractor to its lineup of all-purpose farming equipment and the WD5 Series windrowers to its lineup of self-propelled harvesting equipment.
AFS Connect Optum Series tractor
The tractor series is engineered to deliver the muscle and horsepower needed for extensive roading and haulage – plus enhanced comfort for high-volume hay and forage operation – in one all-purpose tractor.
With Advanced Farming Systems (AFS) technology integrated into the cab, the tractors allow farmers to quickly share and access data. Producers may select from two models: AFS Connect Optum 270 and 300. With a highly sophisticated steering system, telematics, monitors, sensors and farm management software applications, the full vehicle interface and intuitive AFS Pro 1200 display is capable of wireless file transfers, guidance lines, prescription maps, fleet management, data sharing and product control.
AFS Connect links farmers with all aspects of their farm to help analyze all agronomic data by importing several file formats, both via USB stick and AFS Connect File Transfer. All users can also create rules to receive current vehicle status notifications for easy maintenance updates and control who the data is shared with for increased optimization in your operation.
The standard CVXDrive continuously variable transmission provides intuitive operation and smooth, seamless power transfer. Proven 6.7-liter engines are built to produce power to match the toughest field conditions while ensuring a compact vehicle design with excellent maneuverability.
WD5 Series windrowers
The windrowers have transport speeds up to 30 mph and field speeds up to 20 mph. The windrower headers set the benchmark with cut quality conditioning and windrow formation. To further increase efficiency and maximize return on investment, it has a triple-windrow attachment.
The windrowers are designed with a quiet, comfortable cab environment, while an independent air-assisted rear-axle suspension provides a smoother ride. Plus, a tuned cab suspension means better fore/aft stabilization and ride cushioning. A robust drivetrain design produces over 11,000 foot-pounds of torque, while a four-link rear suspension provides greater stability and reduces the need for added ballast.
A redesigned precision ground drive system monitors wheel speed differences and self-compensates by adjusting wheel speeds. A drive-by-wire ground propulsion and steering system help make road transport and field work simple.
Every model is guidance-ready to provide cutting accuracy within 1.5 inches, so technology is integrated into the cab experience, along with the intuitive AFS Pro 700 display. The company's guidance solutions help virtually eliminate pass-to-pass overlap. An automated headland management feature controls ground speed, header lift and merger lift.
Visit Case IH for more information.
Certification marks completion of rigorous agriculture product testing through German-based DLG
DCC Waterbeds Dual Chamber Cow Waterbeds have been awarded the DLG Technology and Farm Input Test center's DLG seal of approval for performance in cow comfort.
Based on test results, the DLG awarded for criteria that evaluate the comfort and durability properties of DCC Waterbeds for use as dairy bedding.
Visit DCC Waterbeds or Advanced Ccomfort Technology for more information. Visit DLG Technology for more information about the testing.
Saputo buys two North Carolina dairy businesses
Canadian-based Saputo Inc. completed the acquisition of the Carolina Aseptic and Carolina Dairy businesses and facilities formerly operated by AmeriQual Group Holdings in North Carolina. The businesses join Saputo's U.S. Dairy Division. The purchase price was announced at $118 million.
Carolina Aseptic develops, manufactures, packages and distributes aseptic shelf-stable food products and beverages in Troy, North Carolina. Carolina Dairy manufactures, packages and distributes refrigerated yogurt in spouted pouches in Biscoe, North Carolina.
Foremost Farms USA celebrates major safety milestone
Foremost Farms USA announced a significant milestone in safety. On July 24, 2021, the cooperative's Appleton, Wisconsin facility reached 1 million hours worked without a lost time incident.
The company believes in a proactive approach to all aspects of health and safety. It consistently maintains programs to engage employees in the safety processes across all its facilities. Achieving 1 million hours without a lost time incident in Appleton is one of many safety awards and acknowledgments the cooperative has earned in its 11 locations.
Visit Foremost Farms USA for more information.
Nominate milk quality experts for NMC's Award of Excellence
National Mastitis Council (NMC) opened nominations for its Award of Excellence for Contribution to Mastitis Prevention and Control. This award recognizes a council member who has provided sustained contributions to mastitis prevention and control through research, extension and/or education, clinical practice or service to dairy producers.
The award carries a cash honorarium and travel stipend to attend the National Mastitis Council 61st annual meeting, Feb. 1-3, in San Diego, where the award will be presented.
Visit National Mastitis Council/award-of-excellence to nominate an individual. Nominations are due Oct. 31.
National Dairy Council's New Product Competition focuses on gamers
The 10th annual National Dairy Council (NDC) New Product Competition seeks the next innovative dairy product from U.S. college students.
Undergraduate and graduate students are eligible to compete by developing innovative dairy-based products for gamers. Successful entries will meet competition criteria, demonstrate innovation and provide value to consumers:
• 94% of young people play video games in some capacity.
• 60% of gamers say video games help them be social.
• 90% of gamers ages 21 to 35 regularly eat food and drink while gaming.
Winning teams will be recognized at the American Dairy Science Association's annual meeting in Kansas City on June 19-22, 2022. Cash prizes will be awarded, including $8,000 (first place), $5,000 (second place) and $3,000 (third place).
The submission deadline is Jan. 17, 2022. Visit US Dairy/research-resources/new-product-competition for more details.
DFA donating dairy refrigeration, milk
Dairy Farmers of America (DFA), along with its employees and family farm-owners, are donating 21 commercial refrigerators to community food pantries to support Feeding America's Hunger Action Month this September. The donations, through the DFA Cares Farmers Feeding Families Fund, will also keep the refrigerators stocked with milk through the end of the year.
Since its inception in 2020, the fund has raised $740,000, donating the equivalent of 24 million servings of milk to food banks and pantries across the country.
Transition cow management webinar series
Cornell CALS PRO-DAIRY is hosting Transition Cow Tuesdays, a transition cow management webinar series, from 12:30 to 1:00 p.m. EDT, from Nov. 2, 2021 through Dec. 14, 2021.
The webinars are short, to the point and just 30 minutes. This series is free of charge. Registration is required. One registration provides access to all the webinars in the series.
Visit Pro-Dairy Cornell Cals for more information.
Dairy pilot project targets SNAP participants
With help from a $930,000 USDA grant, the Baylor University Collaborative on Hunger and Poverty has launched a one-year pilot project to encourage fluid milk consumption among Supplemental Nutrition Assistance Program (SNAP) participants. The Healthy Fluid Milk Incentive (HFMI) pilot was established under the 2018 Farm Bill to encourage consumption of fluid milk. The Baylor Collaborative on Hunger and Poverty will partner with South Plains Hunger Solutions Coalition and Lowe's Supermarkets to develop and test incentives at local Food King grocery stores in Littlefield, Lubbock and San Angelo, Texas. Shoppers using SNAP benefits at these locations to purchase qualifying fluid milk will receive a coupon for additional free milk.
Alliance releases report from 2021 Farmed Animal Conference E-Summit
The Animal Agriculture Alliance released a report detailing observations from the Farmed Animal Conference E-Summit held virtually Aug. 2-8. The event was organized and hosted by California-based animal sanctuary Animal Place, which advocates for a vegan lifestyle.
The key claims and takeaways from this virtual event included the following: People within positions of wealth and power need to put both their personal and professional resources toward working on behalf of animals, the animal rights movement allegedly would be decades behind their current status without sharing "graphic" content as promotional tools, activists need to focus on aquaculture and push for federal legislation to protect aquatic species from supposed animal cruelty, and people need to move away from animal products completely.
The 2021 Farmed Animal Conference E-Summit Report is available to members at animalagalliance.org in the Resource Center. For all other inquiries, contact Emily Solis, communications specialist.
CDCB virtual industry meeting to be Oct. 20
CDCB has adjusted its industry meeting plans – moving to a virtual platform on Oct. 20.
With the theme "Improving Cow Mobility through Genetics," our team anticipates an interactive session to describe the collaborative efforts being made to measure, evaluate and improve hoof health and lameness in dairy cows.
The CDCB staff and board decided to cancel in-person meetings this fall, including industry meetings at the 2021 World Dairy Expo and Western Dairy Management Conference, as well as the August board of directors meeting. We feel it is most effective to engage virtually with our U.S. and global stakeholders at this time.
Visit CDCB for more information.
Patrick Hooker is honored
Patrick Hooker is the 2021 recipient of the PRO-DAIRY Agriservice Award presented by Cornell CALS PRO-DAIRY Director Tom Overton during the virtual Dairy Day Recognition and Awards ceremony at the Great New York State Fair. This award is given in appreciation and recognition of outstanding contributions to New York state agriculture through support of PRO-DAIRY.
Hooker has made exceptional contributions to the dairy industry in New York through his longtime service with New York state and New York Farm Bureau. As commissioner of agriculture and markets, director of agribusiness development for Empire State Development and, most recently, as deputy secretary for food and agriculture, he has been a staunch advocate for the dairy industry and for educational programs like PRO-DAIRY that work to advance New York state agriculture.
Visit Pro-Dairy Cornell Cals for more information.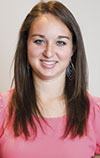 Jenna Hurty-Person

Field Editor
Progressive Dairy