Progressive Dairy provides updates on dairy-related organizations and companies, compiled from staff news sources and industry press releases. Email industry and organization news to Progressive Dairy Editor Jenna Hurty.
Business Digest Highlights
Allflex Livestock Intelligence release UTT3S eartag applicator and Flex V2 tag
Merck Animal Health and Allflex Livestock Intelligence announced the availability of a new UTT3S eartag applicator and Flex V2 tag, a new eartag featuring a light-emitting diode (LED).
UTT3S eartag applicator
The new applicator offers the following benefits over existing applicators:
Simple and convenient. The tool is a lightweight applicator with an easy-squeeze mechanism that requires very little force to apply devices. A spare pin is located in the handle of the applicator.


Smart, versatile design. The applicator allows operators to attach two-piece visual ID, electronic ID and monitoring devices to cattle, and the design enables long-term use in the harshest farm environments.


Smooth and safe for handlers and animals alike. The combination of enhanced safety features and low application force protects users' hands and enables comfortable device application even when handling multiple animals. The innovative design provides fast and quiet application for maximum animal comfort and user safety.
The applicator can be used to apply the company's two-piece eartags.
Flex V2 tag
The new tag features a multifunction LED indicator. The indicator allows dairy managers, staff and veterinarians to quickly identify specific animals at a glance. Dairy producers can customize light patterns on the tag to meet operation needs.
The enhanced ability to detect cows in heat improved the herd's standing heat conception rate by 15% to 20% for third-lactation-and-higher cows.
The eartag preserves cow comfort with its lightweight design and secure attachment. The extended five-year battery life results in fewer tagging events. The new eartag technology is now available for pre-ordering, with full distribution planned in 2022.
Visit Allflex Livestock Intelligence for more information.
Conewango introduces the Evolution RST-Driver
The RST-Driver, a new liner from Conewango Products Corp., features a transitional barrel with numerous advantages in a long-life rubber formulation. In addition to high-speed milk-out and low mouthpiece vacuum to prevent ringing and congestion, and ultimately for protection of teat ends, this new liner has its own custom nylon shell for reduced cluster weight.
Also known as the RST140N, this new liner has already achieved impressive results in independent trials. In tests for milk per cow, average pounds per minute, duration, peak flow, low flow and other categories, the RST-Driver outpaced its competition.
The liner features a transitional barrel shape that minimizes mouthpiece vacuum and provides the advantage of a non-round liner for superior teat-end health. It also provides a perfect positive seal to keep pulsation lines clean and pulsators operating at top speed. The liner is vented in the milk tube, not the mouthpiece, to minimize chamber turbulence. A non-vented option is planned for a later launch.
Visit Conewango Products Corp. for more information.
Free Trioliet Feed Management app
Manage feed lists, feeding groups and feed components with the free Trioliet Feed Management (TFM) app. The app gives you direct insight into the rations to be loaded and the actual quantities of feed distributed.
The app is linked to the weighing system on the mixer wagon in real time and, in addition to indicating the total weight of the load, can also display the weight of each ingredient and enables you to add loading lists. Furthermore, the app generates reports that can be shared with third parties via WhatsApp or by e-mail. Download the free app from the App Store or Google Play.
HerdDogg joins WKU SmartHolstein project to accelerate data collection for landmark genetic study
HerdDogg joined the WKU SmartHolstein Lab program to equip scientists with real-time animal biometric data that is critical to understanding dairy cow health and well-being. The lab is a strategic, synergistic partnership between Holstein Association USA and the Western Kentucky University Department of Agriculture and Food Science. Its mission is to lead Holstein and dairy advancements through research, development and outreach in technologies, analytics and genetics.
At the SmartHolstein demonstration and development farm in Bowling Green, Kentucky, scientists are studying novel phenotypic traits using the latest technologies such as wearable technologies, computer vision powered by artificial intelligence and milk-based biomarkers. The team is examining the practical use of data for on-farm decision-making, with additional analytics performed by AgriTech Analytics.
The project's long-term goal is to develop a 100% A2, polled herd of cows in the top 20% of the breed for Total Performance Index (TPI) with additional emphasis on health, reproduction and fitness traits. As a data collection partner for SmartHolstein, HerdDogg is supplying its latest biometrics platform and Bluetooth tags for the 55 animals that comprise the nuclear herd. By analyzing this data for each animal, the team aims to better understand the relationship between animal well-being on each animal's estrous cycle, especially estrus.
Visit HerdDogg for more information.
Amplimune shown to improve fertility and decrease clinical mastitis and metritis in dairy cows
NovaVive Inc. announced that an article has been published in the Journal of Animal Science. The article summarizes a research study evaluating the effect of peripartal administration of mycobacterium cell wall fraction (MCWF) (Amplimune) on the incidence of disease during early lactation and the subsequent fertility of dairy cows. The study was conducted by researchers at Colorado State University (CSU) on a USDA organic-certified dairy operation.
In this study, cows were randomly assigned to either a treatment group (n=65) or control group (n=71). The treatment group received 5 milliliters of the MCWF by subcutaneous (SC) injection seven days before expected calving, with a second dose within 24 hours after calving. The control group received a placebo (saline) at the same time points. Outcome variables that were analyzed included incidence risk of peripartal and early lactation health disorders, and pregnancy at first artificial insemination (A.I.), 100 days in milk (DIM) and 150 DIM.
The CSU researchers found that the incidence rates of both clinical mastitis and metritis before 28 DIM was lower in the treated group than in the control animals. Pregnancy was analyzed at three time points: first AI, 100 DIM and 150 DIM. In multiparous cows, the treated cows outperformed the control animals at all time points. Overall, median intervals from calving to pregnancy were 90 days in the treated group versus 121 days in the control group.
The CSU research group noted that the incidence of respiratory disease in cows less than 28 DIM was greater in the treated group than in the control animals. A number of these cases occurred in animals previously diagnosed with other diseases, and the researchers speculated that these co-morbidities may have made the cows more susceptible to developing respiratory symptoms.
Visit NovaVive Inc for more information.
Arm and Hammer reformulates Certillus to meet evolving dairy producer needs
Arm & Hammer Animal and Food Production announces the reformulation of regional Certillus brands for U.S. dairy producers. The reformulation helps fine-tune and strengthen disease prevention from pathogens such as clostridia. Certillus Targeted Microbial Solutions are available for feed, forage and manure to manage pathogen pressures that impact animal health and performance.
The company discovered that each of nine regions across the U.S. has unique bacterial populations and has developed blends based on these regional differences. This reformulation was the result of extensive microbial surveying to re-evaluate all regional blends, test them against key pathogenic challenges in each region and determine any necessary updates. The new blends are based on inhibition profiles for pathogenic and non-pathogenic clostridia, along with other pathogens known to affect immune and intestinal barrier functions.
All new formulations will deliver 2 billion cells per head per day, except for the Southwest formula, which will deliver 2.5 billion cells per head per day.
Contact your local company representative or visit Arm & Hammer Animal and Food Production to learn more.
Vytelle closes oversubscribed Series A
Vytelle announced the closure of an oversubscribed Series A funding worth $13.2 million. Private equity firm Open Prairie, through the Open Prairie Rural Opportunities Fund, and Kansas-based Ag-tech VC, Fulcrum Global Capital co-led the round. The financing also included participation from new Midwest investors Serra Ventures, Innovation In Motion and KCRise, as well as existing investor UK-based Wheatsheaf Group.
Visit Vytelle for more information.
World Dairy Expo adapts with new event schedule
Beginning in 2022, World Dairy Expo will be held Sunday through Friday while remaining at its home in Madison, Wisconsin, the Alliant Energy Center. This schedule change is made to improve efficiencies for all stakeholders.
For years, exhibitors have requested a shorter exhibition period to better align with today's trade show industry standards. Meanwhile, maintaining five days for show ring events is necessary to provide time and space for the traditions on the colored shavings. This new event schedule also brings with it a breed show rotation plan.
Beginning on Oct. 2, 2022, World Dairy Expo will officially start its six-day event with youth activities and contests. The dairy cattle show will begin on Monday, and the trade show will kick off on Tuesday. The event will conclude on the night of Oct. 7 with the naming of the Supreme Champion.
Attendees can anticipate the return of Tanbark Talks, expo seminars, virtual farm tours, Expo en Español, Knowledge Nook Sessions and dairy forage seminars.
Visit World Dairy Expo for more information.
FARM releases Stakeholder Survey for Version 5.0
The National Dairy Farmers Assuring Responsible Management (FARM) Program released its Animal Care Version 5.0 Stakeholder Survey. This survey will give dairy farmers, industry stakeholders and partners an opportunity to provide early input on topics, issues and potential changes they would like considered for Version 5.0.
The program will use the input from this survey and work with the FARM Farmer Advisory Council, the Animal Care Task Force, the NMPF Animal Health and Well-being Committee, and the NMPF board of directors to review Version 4.0 of the program and design updates and improvements for Version 5.0, which would come into effect July 1, 2024.
Survey information will be used to inform decisions, although no decisions will be made solely from the responses, which are anonymous. The survey will take approximately 15 minutes to complete and is open to any stakeholders wishing to lend their expertise to the program update.
Visit National Dairy Farmers Assuring Responsible Management for more information.
Fuel Up to Play 60 begins school year with 'fresh' approach
The dairy checkoff is positioning the farmer-founded Fuel Up to Play 60 program in a fresh way to help students and educators navigate the school year. Many teachers are looking for ways to engage students through curriculum and digital learning with an emphasis on wellness for minds and bodies. To meet these needs inside and outside the classroom, the program developed a website (Fuel Up To Play 60), educator dashboard and an enhanced student app.
The website launched Sept. 13 to coincide with the "Start Fresh with Fuel Up to Play 60" initiative. The site allows educators and parents to learn about the program and access resources focused on dairy nutrition and dairy farmers' care for the environment.
Some new and enhanced website elements include:
The programs learning plan, which aligns with national standards in science, social emotional learning and health education and introduces dairy as fuel for body and mind as well as dairy's sustainability practices.


Program guides that help parents and educators find the answers they need about the program.


A refreshed Educator Dashboard with opportunities for state and regional checkoff teams to create personalized content for their local schools.


An upgraded Student Zone App that allows students to create accounts, complete activities, collect badges and be named program champions.
The program also will work with NFL players, dietitians, food-focused parents and inspirational educators to share ideas on how they fuel their days on social media channels.
Keeping kids moving and making smart food choices is the focus of a new checkoff partnership with GoNoodle. The program promotes health and wellness through physical activity, mindfulness and healthy eating. The partnership launched the first two-player game called "Coach Terry's Touchdown! powered by Fuel Up to Play 60."
The free game has students racing down a virtual football field to reach the end zone while avoiding objects such as flying foam fingers trying to tackle them. Students collect "power ups," including milk, yogurt and smoothies, to keep their energy up and they earn bonus points as they try to score touchdowns in 60 seconds.
Since its launch in May through July, the game has ranked first among all GoNoodle games determined by starts, finishes and total movement minutes. Its total minutes of movement is 133% higher than the company's overall average.
Visit U.S. Dairy to learn more.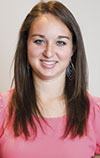 Jenna Hurty-Person

Field Editor
Progressive Dairy