Progressive Dairy provides updates on dairy-related organizations and companies, compiled from staff news sources and industry press releases. Email industry and organization news to Progressive Dairy Editor Jenna Hurty.
Business Digest Highlights
Bio-Vet introduces new calf electrolytes
Calf BaseLyte powder and BaseLyte Liquid formulas are electrolyte/nutritional supplements containing balanced electrolyte salts with dextrose and glycine to maximize sodium absorption in dehydrated, scouring calves. They contain alkalizing agents to help calves manage acidosis during diarrhea, along with water-soluble B vitamins lost during dehydration. Both feature all metabolizable base agents.
The powder also provides beneficial intestinal organisms and prebiotics to support healthy gut microbial balance.
Visit Bio-Vet for more information.
Cutting emissions: Bel Brands, DFA partner on on-farm milk cooling pilot
Bel Brands USA and Dairy Farmers of America (DFA) are partnering on a project to implement and measure sustainable on-farm milk cooling practices designed to reduce greenhouse gas (GHG) emissions.
Throughout the 12-month pilot program, they will support the adoption of energy-efficient and cost-effective on-farm milk cooling methods, including natural well water cooling methods, by a dairy farm in Iowa that supplies milk to Bel Brands. As a secondary benefit, the warm well water used to cool the milk will be fed to the cows at their preferred temperature.
Bel is co-financing the cooling mechanism. The farm will work with DFA's sustainability team to capture data on the energy and economic savings of the milk cooling practices compared to high-energy flash chillers.
The pilot is part of an effort to reduce the carbon footprint on dairy farms, in line with the Net Zero Initiative (NZI).
Zinpro Corporation earns four additional OMRI listed certifications on ProPath Performance Minerals
Zinpro Corporation recently received Organic Materials Review Institute (OMRI) certifications on four ProPath Performance Minerals for the U.S. The four products are ProPath Cu, ProPath Fe, ProPath Mn and ProPath Zn.
Visit Zinpro for more information.
Fairbanks Scales announces ACC-3300 Quad Loadcell Controller
Fairbanks Scales Inc. announces its new ACC-3300 Quad Loadcell Controller (QLC), designed to bring new levels of convenience, accuracy and serviceability in a compact, space-saving design for industrial scale applications.
The Intalogix Quad Loadcell Controller (QLC) is a new analog- to-digital load cell communications device, specifically created to enhance the performance of industrial floor scales, tank scales and hopper scales. In these applications, the device replaces the scale's analog junction box to boost weighing resolution to levels up to 10 times greater than analog. It also makes servicing the scale faster and less costly by allowing the operator to recalibrate the scale.
The device and compatible instrument can guarantee maximum accuracy out of the equipment by communicating with each load cell independently, allowing for cell-by-cell calibration. The system will also allow for real-time load cell diagnostics and identification of load cell issues. If the failed load cell is in a tank weighing assembly, it can be replaced without needing to empty the tank or recalibrate the instrument. The bad cell can be replaced, and the mV/V value of the new cell can be entered at the instrument. Once that is done, the assembly will be ready to weigh accurately, regardless of the current levels in the tank.
Visit Fairbanks Scales Inc. for more information.
Merck Animal Health announces new naming for its vaccine portfolio
Merck Animal Health has announced new naming for its cattle vaccine portfolio. The goal of the new naming and packaging is to make it easier for customers to recognize the company's vaccines and to identify specific formulations.
"All Merck Animal Health cattle vaccines will lead with Bovilis followed by the current product name, such as Bovilis Vista, Bovilis Vision or Bovilis Guardian," says Scott Nordstrom, DVM, director of livestock innovation and discovery, Merck Animal Health. "In addition, all vaccine packaging will share a new, consistent design and color coding to make it easier for customers to identify the vaccine formulation needed."
Animal Health & Nutrition Company rebrands as Axiota Animal Health
Animal Health & Nutrition Company announced that it has rebranded as Axiota Animal Health. The company serves the cattle industry through its operating companies, Multimin USA and MS Biotec. The Greek root "axi" represents proof, and "ota" represents the biological sciences. These concepts are foundational elements of Multimin 90 and Lactipro – the products sold by this rebranded company.
The company also announced the creation of the company's dairy team. Led by Jimmy Owens, previously with Elanco Animal Health and Native Microbials, the team will more effectively service and support the company's growing group of dairy customers.
Visit Axiota Animal Health for more information.
KIOTI Tractor introduces new grapple line and CX Series cab tractor
KIOTI Tractor expands its product offering with its new line of grapples and new CX2510 HST cab model.
The line of grapples includes three compact and three standard-duty grapple rake models. With widths ranging from 48 to 72 inches and jaw openings between 30 and 41 inches, there are models to fit a variety of operator needs. Each model is made with AR400 steel teeth. They range in weight from 216 to 476 pounds.
The cab compact tractor joins two other models in the CX Series released last year. Customers will find the same convenience and comfort the series is known for, with the added perk of a factory-installed full-size cab with air conditioning and heat. The cab also comes equipped with tilt steering, an illuminated dashboard and an adjustable premium suspension seat with dual armrests.
The cab features a 24.5-hp engine and an adjustable right-side lift rod and top link for ease of use while adding the convenience of both mid and rear PTO standard for this model. It also includes the dual-pedal hydrostatic transmission, delivering power smoothly and efficiently with cruise control.
Visit KIOTI Tractor for more information.
AgriSafe launches new website to support safety for farmers and ranchers
AgriSafe Network launched a new website which integrates its learning management system that includes fact sheets, webinars and safety information for health professionals with health topics for farmers and ranchers. An important new feature of the website is specifically targeted to agricultural producers, "Health Topics." Farmers and ranchers are constantly navigating a variety of occupational risks, and this new topic page is their home base for trusted and reliable information on health and safety issues.
Additionally, the website includes a "Learning Opportunities" section which features content produced by the network for health and safety professionals, and rural healthcare providers.
Visit AgriSafe Network for more information.
CCQA publishes Animal Care Reference Manual
The Calf Care & Quality Assurance (CCQA) program published the first volume of its Animal Care Reference Manual. This manual assists farmers and ranchers who raise different breeds of male and female calves intended for dairy and beef production systems, encouraging calf raisers to approach management decisions with thoughtfulness and an appreciation for the responsibility they have to their animals, consumers and the broader cattle industries in the U.S.
In addition to the manual, the program also offers resources specific to the needs of calf raisers such as protocol templates and animal observation scoring reference guides. Online and in-person opportunities for individuals looking to be CCQA-certified, as well as a facility self-assessment, will be available later this fall.
Visit The Calf Care & Quality Assurance for more information.
Main and Vail proclaimed 2021 McKown Master Breeders
On behalf of the Klussendorf Association, World Dairy Expo shared that Ken Main and Peter Vail, along with their Cutting Edge prefix, have been selected as the twelfth recipients of the Robert "Whitey" McKown Master Breeder Award.
Main and Vail have exemplified what it means to be Brown Swiss breeders. Setting goals and accomplishing them with great accolade, Main and Vail have provided solid genetics for profitable production through their dedicated breeding program and top maternal lines to herds throughout the Brown Swiss breed.
Earning six Grand Champion titles at World Dairy Expo in addition to the 2018 and 2019 Supreme Champion banners with Cutting Edge T Delilah 2E-95, Main and Vail are no strangers to the expo's show ring. They have been named Premier Exhibitor of the International Brown Swiss Show for 13 consecutive years and Premier Breeder annually since 2016. Main and Vail have had an All-American winner every year since 2003, with as many as 17 nominations at one time. These dairymen are also regular exhibitors at state, regional, national and additional international shows.
Production goes hand-in-hand with type when the name Cutting Edge comes to mind. At the time of their dispersal sale, the herd's production average was 21,650 pounds of milk with a 4.6% butterfat and 3.7% protein test.
Visit World Dairy Expo for more information.
NMPF Scholarship recipients announced
The National Milk Producers Federation (NMPF) announced the recipients of its 2021 National Dairy Leadership Scholarship awards. The awards, presented by the NMPF board of directors, support the next generation of dairy leaders and researchers and are open to qualified graduate students who are actively pursuing dairy-related fields of study.
This year awarded scholarships to:
Alycia Drwencke, a Ph.D. candidate in animal behavior at the University of California – Davis, whose research focuses on the welfare implications of caustic paste disbudding and pain mitigation for dairy calves. Prior to her Ph.D., Drwencke's master's program research focused on innovative detection and abatement of heat load in cattle.


Paulo Menta, a Ph.D. candidate in animal science at Texas Tech University, whose research focuses on minimizing antimicrobial use in dairy cows with metritis, or inflammation of the uterus. Menta is a Doctor of Veterinary Medicine and came to the U.S. in 2018 to pursue a master's degree, researching calcium and energy metabolism of early lactation dairy cows.


Kelly Mitchell, a Ph.D. candidate in nutrition at Ohio State University studying the stimulation of microbial protein synthesis by branched volatile fatty acids. Mitchell said she realized her interest in fat metabolism during her master's degree research on ketosis incidence in commercial herds at the University of California – Davis.
The federation also sponsors student awards through the American Dairy Science Association (ADSA). The Richard M. Hoyt Award was created to recognize research efforts with direct application to the problems of the U.S. dairy industry.
This year's winner, Achilles Vieira-Neto, was recognized at the ADSA virtual annual meeting on July 11-14. His research focuses on the role of acid-base status in mineral metabolism and how vitamin D metabolites can be used during the transition period to improve mineral metabolism and health.
Lucas Rocha Rebelo and Hailey Galyon received first-place recognition as part of the NMPF Graduate Student Paper Presentation Contest in Dairy Production in the Ph.D. and M.S. divisions, respectively. Rebelo is a Ph.D. candidate studying dairy nutrition at Ohio State. Galyon is developing a bio-based polymer product to replace current agricultural single-use plastics.
Visit National Milk Producers Federation for more information.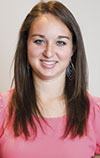 Jenna Hurty-Person

Field Editor
Progressive Dairy