In Pete Kappelman's home state of Wisconsin, licensed dairy farm numbers fell by 818 last year. In neighboring Minnesota, where Land O'Lakes is headquartered, the number of licensed dairy farms declined by 328.
For the co-op overall, dairy membership has declined although overall milk production has remained relatively flat.
While consolidation is ongoing and the commonly held belief is that small dairies are being driven out of business, that's not necessarily the case.
"Whether it is a large or small farm, we are seeing that survival comes down to management," Kappelman said. "We are seeing larger farms that have overinvested and are struggling, and we are seeing smaller farms that are doing quite well."
Despite the numbers, Kappelman said the co-op and individual dairy farmers have been working together to proactively position themselves for the future. That has included instituting and enforcing base programs in each of its three milksheds.
"The added structure and discipline of our base program has created a strong partnership with our membership that provides a more accurate picture of our milk supply and helps us appropriately respond to evolving dynamics," Kappelman said.
Due to its longstanding business relationship, the co-op's leaders continue to monitor Dean Foods' bankruptcy proceedings, working with industry partners to develop contingency plans to react as quickly as possible to the evolving situation, he added. (News regarding the potential purchase of Dean Foods assets by Dairy Farmers of America became available after information was collected for this article.)
The new year is again being approached with cautious optimism, according to Greg Blonde, University of Wisconsin Extension ag agent in Waupaca County. When it comes to dairy farm attrition, the county has followed statewide trends, losing about 5% of its dairy farms annually between 2015-18, and jumping to 10% in 2019.
His is not one of the largest dairy counties in Wisconsin, but Blonde said producers there share many of the same challenges as others in the state and beyond. While improved milk prices provide optimism for profitability, that's tempered by weather-related concerns. Many parts of the Upper Midwest saw heavy alfalfa winterkill in 2017-18 and 2018-19. Then last year brought prevented plantings and harvest delays.
"Feed inventory is a major concern," Blonde said. Wet field conditions entering last winter increase the potential for another round of winterkill, in addition to delaying manure applications and spring planting.
The strong local economy adds to labor challenges. "Two local food manufacturing companies are offering 14 to 18 dollars per hour as a starting wage for new employees and 20 dollars per hour after the first year. It's tough for farms to compete with that."
Although struggling, dairy isn't on its deathbed, said Blonde, who's wrapping up a 35-year extension career in June. Although less frequent and smaller scale than 10 to 15 years ago, he has witnessed producers committed to the future, reinvestment in milking and manure storage systems, and other facility improvements designed to save labor. And he's heard about potential announcements of increased processing capacity coming by spring.
For now, however, caution prevails, with not a lot of major construction projects planned for 2020. "Many farmers are waiting to see how the year unfolds before making any big plans, one way or the other," Blonde said.
With better milk prices and trade agreements coming into place, many dairy farmers are starting 2020 on better footing, according to Dave Daniels, a partner in Mighty Grand Dairy Farm, near Union Grove, Wisconsin. He also serves as the vice president of the Wisconsin Farm Bureau.
Daniels sees several positives for the long-term health of dairy, from an evolving processor side addressing changing consumer tastes – especially for artisan cheeses, the global demand for protein, an increasingly efficient dairy cow that is helping reduce dairy's carbon footprint and his state's investment in dairy research.
"If farmers have enough feed to get through the winter, they should be in pretty good shape," he said.
Michigan: It's time for a recovery story
In recent years, if you were writing a story about Michigan dairy, you might be tempted to steal a line from Charles Dickens: "It was the best of times, it was the worst of times … ."
The numbers tell part of the tale. Michigan dairy farmers consistently lead the nation in milk production per cow and come in near the bottom in the annual average price they receive for milk.
For Ben Spitzley, vice president and commercial lending dairy group manager with GreenStone Farm Credit Services, the key word for Michigan's dairy industry entering 2020 is "recovery." It also has two stories to tell.
"For many, this means prices have resurrected to profitable levels, and producers are able to begin replacing capital that has been deferred, paying down debt that has accrued and rebuilding working capital positions," he said. "For others, recovery may mean that asset values have returned to a level where now is the time to exit the industry."
Michigan's recent dairy past is well documented. After being stable at about 300,000 head for more than a decade, cow numbers increased 120,000 head (38%) from 2004-17. Milk production per cow increased about 26% during the same timeframe. "This combination increased the state's milk production by 76 percent in a relatively short window of time," Spitzley said.
Michigan's ability to produce milk far surpassed its ability to process it. With a long milk position, Michigan producers began seeing premiums erode and costs for marketing and hauling grow, pushing net pay prices down among the lowest in the country.
"Michigan has been very long in milk, and producers have absorbed substantial discounts in their basis," Spitzley.
Several factors help brighten the outlook for 2020. Ending 2019 at 427,000 head, cow numbers have stabilized. Milk prices recovered considerably in 2019 and anticipated to move higher in 2020, helping many dairy farms turn a profit. Domestic demand is growing, and optimism around new trade agreements should lead to export growth long-term. Producers are focused on increasing milk revenue by improving quality and components while seeking to boost income from calf sales through crossbreeding.
Milk production and processing capacity are expected to come more in balance when a new cheese plant, being built in St. Johns, Michigan, by Glanbia, Dairy Farmers of America and Select Milk Producers, begins operations late in 2020. As the plant becomes fully operational in 2021, producers should recognize improvement in their basis.
However, we can't write Dickens' second phrase totally out of Michigan's dairy story. While milk prices improved in 2019, the annual cost of production also went up for the first time since 2014, with increasing expenses for feed, labor and hauling. Given the extremely difficult growing conditions in the Midwest during 2019, feed costs could continue to rise in 2020, compounded by feed quality challenges.
"What hasn't changed is that milk is a commodity, and having a low cost of production is paramount to producing a commodity at a profitable level," Spiztley said. While the average among GreenStone's client base is about $17 per hundredweight (cwt), there's a $5-per-cwt range from top to bottom. "If a producer is on that higher range of the scale, they will need to lower cost or command an above-average pay price from the market," he said.
Major dairy themes seen elsewhere continue to resonate in Michigan. Consolidation within the dairy industry is not a new phenomenon, although the pace has increased in recent years with the sustained downturn in prices. Labor challenges are driving the industry toward automation, which provides the ability to increase scale by increasing the number of cows per employee. Environmental regulation continues to be more demanding, and dairy farmers are making strides to optimize nutrient management and reduce the overall carbon footprint. Producers are utilizing new risk management tools.
Spitzley's simple answer to the question on whether dairy is dead is this: "No."
"While you may see headlines around farm and processor bankruptcies, the industry as a whole is evolving at a faster pace. For every Deans and Bordens headline there is an Agropur, fairlife or Glanbia story. Companies are investing hundreds of millions of dollars into fixed, long-term assets. These type of investments aren't made without a positive view of the future, including consideration of consumption of dairy products and demand for higher-valued products."
Central: Staying focused on the positives
Southwest: positioning for the future
Northeast: Embracing innovation, with a sense of relief
Northwest: Apprehension, but a commitment to innovate
ILLUSTRATION: Illustration by Kristen Phillips.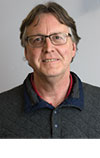 Dave Natzke

Editor
Progressive Dairy