Digest Highlights
With the enrollment period closed, the USDA's weekly report on Dairy Margin Coverage (DMC) program provides at least a preliminary look at 2019 participation levels.
As of Sept. 30, 22,631 dairy operations had signed up for the DMC program, according to the USDA's Farm Service Agency (FSA). That number represents about 78% of the 28,852 dairy operations with established milk production history. Enrollment estimates for the 24 major dairy states are listed in Table 1. About 81% of milk production history is now covered under the program.
Total DMC 2019 indemnity payments for those enrolled as of Sept. 30 were estimated at about $302.9 million, averaging $13,385.
As we've highlighted before, two other DMC significant dates remain in 2019.
After enrolling in the program for 2019, participating dairy operations who had an intergenerational transfer between 2014 and 2019 have until Dec. 6, 2019, to take advantage of a one-time opportunity to increase their established production history during the 2019 and 2020 annual coverage election periods. Retroactive payments based on the increased production history will apply for 2019 and not prior years.


The deadline to enroll in DMC for 2020 is Oct. 7-Dec. 13, 2019. Producers who locked in coverage in the 2019 sign-up must certify the operation is producing and commercially marketing milk and pay the annual administrative fee during the 2020 enrollment period.
The index of Global Dairy Trade (GDT) dairy product prices didn't move much during the latest auction, Oct. 1. The overall index increased just 0.2%, as prices for all major product categories were mixed:
Skim milk powder was up 2.7% to $2,674 per metric ton (MT).
Cheddar cheese was down 3.4% to $3,717 per MT.
Butter was down 0.2% to $4,125 per MT.
Whole milk powder was down 0.2% to $3,141 per MT.
The next GDT auction is Oct. 15, 2019.
Members of Associated Milk Producers Inc. (AMPI) celebrated the Midwest dairy cooperative's 50th anniversary, Oct. 1.
Founded on Oct. 1, 1969, AMPI is headquartered in New Ulm, Minnesota, and owned by dairy farm families from Wisconsin, Minnesota, Iowa, Nebraska, South Dakota and North Dakota. AMPI members annually market about 5.7 billion pounds of milk, generating $1.7 billion in sales. They own 10 Midwest-based manufacturing plants where 10% of the nation's American-type cheese, processed cheese slices and butter is produced.
Mississippi State University officials commemorated the completion of a new animal and dairy sciences building, Sept. 30.
The department of animal and dairy sciences offers a bachelor's degree with concentrations in business and industry, production management and science/veterinary science. Master's and doctoral degrees are offered in agriculture and agricultural sciences.
The animal and dairy sciences building will serve the department's growing student body, which includes approximately 430 undergraduates and 30 graduate students. The facility also will house the department's 40 faculty members and staff. The space includes classrooms, laboratories, faculty offices, conference rooms and a graduate assistant suite. The new building is part of a complex that will also include a meat science/muscle biology laboratory and a poultry science building.
Mississippi is home to approximately 16,000 cattle and calf operations, 300 hog farms and 70 dairies.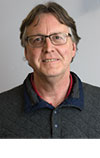 Dave Natzke

Editor
Progressive Dairy