Should everyone know a dairy farmer? Yes, I believe they should. But you might be thinking, "Why would anyone want to know a dairy farmer?"
For the past four years working for Dairy Management Inc. (DMI), which manages the national dairy checkoff, I've witnessed hundreds of people become excited over meeting and talking with dairy farmers.
I've accompanied several groups of farmers to events such as the Washington Ideas Forum and South by Southwest, the large music, film and interactive festival that is a breeding ground for technological advancements.
People are often surprised to see farmers in unexpected places such as these, but once they get over the shock of talking with a farmer, they quickly get to questions about food, farming and animals. They are amazed to learn how much emphasis dairy farmers put into animal care and environmental stewardship.
Farmers have a high level of trust from urban consumers. Through our consumer research here at DMI, we know farmers are at the top of the list with people who want to know more about where their food comes from and how it is produced.
But is it even possible to reach everyone? Let's look at the past for just a second. Back in the 1950s, many more people knew a dairy farmer. According to USDA/NASS data, there were 3.6 million farms with one or more milk cows. The U.S. population in 1950 was about 152 million. So that means if you wanted to reach every person in the U.S., a farmer would only have to meet 42 people.
In the 1980s, the number of farms changed significantly. There were 334,000 dairy farms, and the U.S. population ballooned to 227 million people. This meant a dairy farmer needed to reach 679 people (Table 1).
But at that time, people still were relatively connected to their agriculture background because they probably were only one or two generations removed from the farm.
It's a completely different story today. There are only 42,000 dairy farms doing the work for the entire nation of 324 million people. Can one dairy farmer reach 7,714 people? Can a farmer answer consumers' questions and help them feel confident they are making the right decision when they purchase a gallon of milk or a cup of yogurt?
With the help of technology, I think we can reach everyone. Even in a personal way. They might not ever visit your farm or shake your hand but, with the help of social media, you could at least have a conversation. And they would know a dairy farmer who can answer questions about your cows, land or how their favorite milk, cheese, yogurt, butter and ice cream is produced.
You may think you don't have time for this, and I understand that. But consumers are finding other people to talk with about the dairy industry online, including special-interest groups, and this is troubling. Do you really want them to chat with those who aren't farming or who represent agendas about how food is produced?
Some farmers talk with consumers directly, and they work hard at it, but they won't be able to reach everyone. We need the entire industry working together to do that.
Here are some of the top dairy farmer influencers online:
Dairy Carrie
Annaliese Wegner
Will Gilmer
Krista Stauffer
Mary Mackinson Faber
Maybe you think it's too late to get started. I would disagree. Oregon dairy farmer Derrick Josi didn't start his farm's outreach program until just a few months ago, and he's already attracted a large following to his Facebook page. If you follow Derrick, you know that he's down-to-earth and relatable. He speaks his mind about life on the farm, and consumers love his candidness.
Now is the time.
In June, the national and local checkoffs have put together an opportunity for the entire industry to come together with a consistent, clear and concise message that will help us break through the clutter and potentially reach all of our consumers.
We know how great dairy is. We also know many consumers are confused by all the conflicting information out there. So we're drawing a line in the sand to proactively and proudly tell dairy's story. This effort will bring the industry together as one voice, rekindling consumers' love and trust for dairy.
And it all begins with the introduction of one simple rallying cry. One which reminds us that everything – from grilled cheese and sour cream to the joyful sounds of the ice cream truck – is "Undeniably Dairy."
This effort is prideful, steadfast, memorable and fun. It will unify our community in a multi-year campaign and build trust and relevance with consumers over time. We'll be reminding people of dairy's presence in all the things they love and reshaping perceptions by turning up in unexpected ways and places.
We will introduce Undeniably Dairy through a brand mark, a unique brand voice, videos and influential partnerships. While our campaign will last a series of months, our platform will continue to evolve over time.
Throughout our campaign, we will be voicing our commitment to being nutrient-rich, locally driven and responsibly produced. So the next time someone passes a dairy farm, sprinkles Parmesan on their pasta or reaches for their 2% extra-foam latte, they know for a fact it's … Undeniably Dairy.
How exciting is this?
So you are probably wondering how can you be part of this. We've outlined five easy ways.
Here are five easy ways to join the Undeniably Dairy campaign
If you have a website or social channels for your farm, use the Undeniably Dairy logo on those channels (whether you change out your farm's profile picture or background photo). You can find the logo online (Undeniably Dairy)
Share the great Undeniably Dairy stories from the Dairy Hub Amplification Center and on the website (Undeniably Dairy).
When you post on social media about dairy farming, consider using #undeniablydairy on your posts.
Create your own dairy farming videos, photos, memes and stories, and share them with your local checkoff or in the Dairy Hub.
Here's some themes to consider when putting together your stories on the farm:
Responsibly produced – Through the use of innovative and safe technology, the dairy industry delivers exceptional animal care, sustainable nutrition and a better, fresher product.
Locally driven – The dairy industry works hard to ensure our products are fresh, real and locally sourced. Our practices exemplify the farm-to-table movement and have a positive impact on thousands of local communities.
Nutrient-rich – Packed with protein and carbohydrates, dairy is the nutrient-rich powerhouse that fuels the body and nourishes the mind. These fresh, wholesome products aren't hard to find – they're right down the dairy aisle.
Real enjoyment – Dairy is the milk in your cereal, the cheese on your pizza, the yogurt in your morning smoothie. We are part of all the things you love to eat and are present at some of the most special moments in your life.
Now you might be nervous about bringing unwanted attention to your farm, and that's understandable. This isn't just a place you work; it's your lifestyle and your family's home.
We are working hard to be prepared for online attacks that might happen from our disparagers. We've put together a preparedness plan with each of your local checkoff staffs to help you through this, and your national checkoff will be available to assist, too.
If you run into any problems when sharing your story online, just reach out to your local checkoff, and they will be happy to assist. If you don't know who your local checkoff is, check it out online (DMI - local-checkoff).
Will every consumer hear about the goodness of dairy through the "Undeniably Dairy" campaign? Yes, but only if we all work together. And, right now, we know most of the industry is ready to spread the word – from our checkoff partners to the processors to the co-ops to the farmer. We can do this. We can reach every consumer.
Are you ready for Undeniably Dairy? Go to undeniablydairy.org to join the campaign.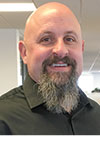 Don Schindler

Senior Vice President, Digital Innovations
Dairy Management Inc.