Scientific research conducted through the National Dairy Council (NDC) has been a longtime priority of dairy farmers' checkoff investment.
NDC has built lasting credibility in the scientific community because of a vision farmers had when they founded the organization more than 100 years ago.
Our NDC team does not take the responsibility of leading credible, nutrition-focused research lightly because we want to preserve and grow this legacy in the midst of a tipping point. Today, people not only care about nutrition and health but also about where food comes from, how it was made, how animals are treated and implications to the planet.
It's rewarding to represent farmers' interests in this area of "sustainable nutrition," which is about the entire journey a food takes from production to consumption.
You likely are aware of partnerships the checkoff has with companies such as Domino's, Pizza Hut, McDonald's and Taco Bell. Our NDC team follows a similar business model of looking for organizations that have parallel goals and can bring their credibility, expertise and resources to the table to maximize farmers' investment.
A great example is our collaboration with the Joslin Diabetes Center, which is renowned for its expertise in diabetes treatment and research. So when NDC started realizing the association of milk and dairy consumption with a reduced risk for type 2 diabetes, we wanted to associate with the best and brightest in this field, and we feel that is Joslin.
NDC's work becomes more credible when you're tapping into some of the most talented scientific minds there are in diabetes research.
But this relationship takes on added value when you look beyond the research component. Joslin has teams of physicians, registered dietitians, certified diabetes educators and communicators who counsel patients and can get the word out about the role of nutrition – including dairy consumption – in the reduction of risk and management of this disease.
This kind of third-party collaboration, that champions research and treatment plans that include dairy, is priceless.
Stretching boundaries
NDC also collaborates with the USDA and its Agricultural Research Service and National Institute of Food and Agriculture. We collectively work as the National Dairy Research Program that was formed in 2007 to enhance domestic and global markets for farmers, manufacturers and importers.
NDC and the USDA have continued to work toward aligning research priorities and identifying potential resources to ensure the development of nutritious and safe dairy foods and related ingredients in an environmentally responsible manner.
But NDC also looks far beyond our borders for partners. About six years ago, we formed the Dairy Research Consortium with our counterparts in Australia, France, Denmark, Canada and the Netherlands. These are farmer-funded organizations like ours committed to dairy research in areas such as health benefits of whole-milk dairy foods and dairy's role in lowering risk of cardiovascular disease.
It makes sense for all of us to pool our resources, not duplicate work and have a unified voice in the dialogue. This way, we don't have to spend U.S. farmer dollars on a project if we know, for example, researchers in Australia are working on it.
The consortium also means we can be part of larger-funded projects NDC couldn't do alone, and we can get them done at a faster pace.
Maintaining integrity
We're living in a different environment today where research conducted by industry and food companies is under increased scrutiny, not just from special interest groups but from respected organizations and thought leaders.
NDC is known for doing important, relevant science with top researchers and universities that is peer-reviewed. Our research gets published, regardless of the results. We communicate in a transparent way that is not misleading, and we're very conscious of maintaining NDC's heritage and science-based reputation among thought leaders.
Farmers should take pride knowing we're honoring the hard work they do to produce nutrient-rich dairy foods, and we are committed to protecting their investment in the research to ensure it helps grow consumer trust in dairy.
People are often overwhelmed with conflicting messages about health and nutrition these days. We know dairy has a rightful place in Americans' diet because of its unique nutrient package that offers various health benefits.
If anyone ever needs further proof, we have the science to back it up.
PHOTO: Joslin Diabetes Center, located in Boston, Massachusetts. Courtesy photo.
Mickey Rubin, Ph.D., joined NDC in 2010 and serves as vice president of nutrition research, overseeing NDC's sponsorship of nutrition research aimed to enhance the understanding of the health benefits of dairy foods. Rubin is a member of the American Society of Nutrition and serves as associate editor for the Journal of Strength and Conditioning Research.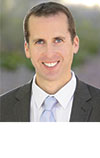 Mickey Rubin

Vice President
Nutrition Research
National Dairy Council
Your Dairy Checkoff in Action – The following update is provided by Dairy Management Inc. (DMI), which manages the national dairy checkoff program on behalf of America's dairy farmers and dairy importers. DMI is the domestic and international planning and management organization responsible for increasing sales of and demand for dairy products and ingredients.