Consumers are inundated with confusing messages about the foods they eat, ranging from how it's produced, who produced it, its environmental impact and whether it's good for them. Thankfully, most consumers still seek authenticity and have a sincere curiosity about their food and the story behind it, including wanting to know the people who brought it to their tables.
Sharing our story with consumers was the motivation behind creating the Undeniably Dairy campaign two years ago. Our goal was to meet the consumer where they're at, to answer their questions and to show the faces behind dairy and our commitment to our cows, land and communities.
Undeniably Dairy is about building trust and relevance with people we call "conflicted health seekers." They're not identified by age, gender or other demographics, but by a mindset. They still consume dairy but are starting to have questions – from how much they should be eating to how it was produced. And many may believe there are better options available.
So for the last two years, we've identified the great stories we need to be telling, taking into consideration what matters most to the consumer. And with 300 dairy companies and organizations participating, Undeniably Dairy has come to life in a way that is unprecedented and is doing what we set out to accomplish – positively impact trust and increase relevance among consumers.
Creating 'dairy lovers'
According to a third-party audit group, people feel better about dairy when they see Undeniably Dairy content. In fact, we see "conflicted health seekers" moving to "dairy lovers," with people indicating they feel good about the role dairy can play in their lives. They're learning dairy is responsibly produced, it's sustainable, it's nutritious, and it's good for communities. We're giving them permission to enjoy dairy.
Interestingly, the campaign wasn't designed to take on dairy alternatives. However, we found that after consumers saw our content, their desire to purchase alternatives in the next week decreased by 14 percent. This is what happens when we tell our story loudly and proudly with one voice.
So where do we go from here? How do we take Undeniably Dairy to the next level? We're doing so by following a familiar checkoff business model, working with a powerful partner – MilkPEP, which represents our nation's milk processors.
Dairy Management Inc., which manages the national dairy checkoff, partnered with MilkPEP and asked, "How can we take what we're doing and have it work harder for us?" We wanted to provide a stronger return on our investment for all stakeholders. Our organizations have come together like never before through a strategy of collaboration and co-creation.
We know there is nothing more real than dairy's nutrition or its enjoyment when it is part of people's lives.
As a result, DMI and MilkPEP created an approach that suits both entities perfectly. It will encourage consumers to share and celebrate what is real in their lives under the concept "Love What's Real." MilkPEP unveiled this theme earlier this year, and we're seeing great results.
To illustrate dairy's role in real, sustainable nutrition, Undeniably Dairy rallied the dairy community around National Nutrition Month and hosted an event in Los Angeles where culturally relevant influencers, including YouTube fitness stars, up-and-coming dietitians and green living experts, came together with farmers and industry experts.
During workshops and in-depth discussions, these influencers learned about dairy's unmatched nutrition and the positive impact farmers have on the environment and communities from our very own dairy farmers – authentic voices with meaningful stories. We can't thank farmers enough for so graciously providing their time to be part of this work. Direct relationships with consumers change minds and behaviors.
Making a real difference
With National Dairy Month around the corner, DMI and MilkPEP are turning our attention to hunger. Sadly, one in six children struggle with hunger during the summer – that's more than 18 million kids who don't know where their next meal will come from. This is an issue that impacts many communities and is an important topic to farmers.
In June, a multi-city tour and partnership with Feeding America and checkoff entities, including National Dairy Council, Fuel Up to Play 60 and GENYOUth, will encourage consumers, influencers and others to help us combat childhood hunger.
We're working with cultural icon Laila Ali, the daughter of boxing legend Muhammad Ali who advocates for hunger solutions. A retail component featuring the Great American Milk Drive will appear in more than 12,000 stores. There also will be a "Real Love Convoy" that will offer a farm-to-table experience so kids in metropolitan areas can meet dairy farmers and learn where their food comes from.
We know these days you must win people over through their hearts and not just their minds, which is why we're excited about the potential "Love What's Real" holds.
It will show what we stand for as we showcase the faces and voices behind dairy that will encourage people to join us and savor what is real.
Your Dairy Checkoff in Action – The following update is provided by Dairy Management Inc. (DMI), which manages the national dairy checkoff program on behalf of America's dairy farmers and dairy importers. DMI is the domestic and international planning and management organization responsible for increasing sales of and demand for dairy products and ingredients.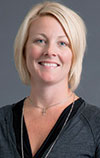 Beth Engelmann

Chief Marketing
Communications Officer
Dairy Management Inc.