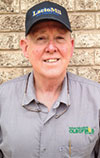 JW Jones
U.S. Salesman
Oleofinos/LactoMil
Tuscola, Texas
What education are you bringing with you to this position?
I have a M.Ed. in agriculture.
Please describe your agricultural background.
I taught school for one year and went into sales, and have been there for over 35 years.
What territory will you cover?
I am the national salesman and work from coast-to-coast in most of the top dairy states.
What are your new responsibilities?
My job is to establish sales for the bypass fat products LactoMil and HP 95!
What previous positions have you held?
I have worked for many regional and national companies in sales and marketing.
Who has made the biggest impact on your career?
It would have to be Chuck Nicklas with Cargill. He helped me a lot and introduced me to the dairy business, which I started from ton one and made their presidents club in three years in dairy feed sales.
How will you be of most help to producers in your region or area of expertise?
Most dairymen now are concerned about feed cost, and with our products, we can save them money and get a good return for their investment.
Why did you choose this company?
I was working for a regional bypass fat company out of Arizona and they were my competition. Oleofinos contacted me and offered me a sales position on a national level.
What goals would you like to accomplish while in this position?
I am working on establishing a distributor in all top 10 dairy states. PD