The Progressive Publishing team is pleased to introduce Audrey Schmitz as their summer 2016 editorial intern. Schmitz began work in May and is responsible for writing feature stories and news articles for Progressive Dairyman magazine.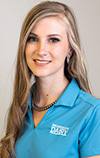 Schmitz is a junior at Kansas State University pursuing dual majors in agricultural communications and journalism, and animal sciences and industry. At K-State she is the president of the Agricultural Communicators of Tomorrow and a member of the Dairy Science Club and collegiate dairy judging team.
"Audrey is a stand-out journalist with a bright future ahead of her. We are grateful she will be lending her skills and dairy background to our publication for a few months," says Walt Cooley, editor-in-chief of Progressive Dairyman.
Prior to working for Progressive Publishing, Schmitz was a communications intern for Kansas Wheat. While there she managed and designed the Rediscover Wheat monthly magazine and wrote feature stories and news articles for print, web, email and radio. She collaborated with co-workers in planning the 2015 National Festival of Breads and the summer meeting of the Kansas Wheat Alliance. She also created promotional banners, signs and programs for the events.
Through her journalism courses and many activities at Kansas Wheat, Schmitz says she has grown as a writer, designer and overall communicator.
"I believe my experience from this internship will allow me to bring valuable skills to Progressive Publishing," Schmitz says. "The skills I learned will enable me to support and strengthen relations with dairy producers and industry partners by providing relevant, noteworthy and timely news."
Schmitz is from Axtell, Kansas, where she grew up on her family's 90-cow Holstein dairy farm. She feels blessed to have grown up helping with chores, milking cows and caring for livestock. Schmitz says her upbringing inspired her to choose a career in agriculture and her years of participation in 4-H and FFA led her to become an agriculture communicator.
"The staff has been very encouraging and welcoming to me here, and I am looking forward to contributing my skills to Progressive Publishing's success this summer," Schmitz says.
More information about Progressive Publishing's internship program is available at the Progressive Publishing website. PD
—From Progressive Publishing news release