In vitro fertilization (IVF) is an aggressive reproductive tool, but how can it be practically applied to achieve goals like genetic progress and reproductive efficiency?
That was the question three dairy experts discussed in February at the 2018 Great Lakes Regional Dairy Conference in Mt. Pleasant, Michigan.
Steve Buschur, Tyler Boyd and Brent Wickstrom provided their experience and expertise as they discussed the practical application of IVF on the dairy farm.
Steve Buschur of Plain-Knoll Dairy in New Weston, Ohio, operates a family farm with 680 registered Holsteins, including many uncommonly high-genomic cows. The dairy has focused for many years on using top genetics to breed well-balanced, long-lasting cows capable of high production.
As a result, the farm has been marketing 30 to 45 percent of the herd each year for the past 25 years. In August 2017, they became a satellite location for Trans Ova Genetics IVF facility.
Tyler Boyd is a fourth-generation registered Jersey breeder from Tennessee, transplanted to Hilmar, California, as he took the position of general manager of Jerseyland Sires (JLS), an A.I. company that works closely with the 12 dairy farm families who make up the organization. JLS, in partnership with Select Sires, provides elite Jersey bulls and has created the Primus program, which focuses primarily on using IVF and some embryo transfer work to create bulls for stud.
They keep the high-end females as donors, and the others are sold to area producers and in sales across the country.
Brent Wickstrom handles day-to-day management, record-keeping and labor management at Wickstrom Jersey Farms in Hilmar, California. They milk just over 2,400 cows and are also a satellite facility for Trans Ova Genetics and are members of JLS. The operation transfers around 600 embryos a year and averages 15.2 oocytes per donor and 4.2 embryos per donor.
Embryos are responsible for 15 to 20 percent of their breedings, with about 70 percent of the embryos going into virgin heifers, resulting in a 46 percent conception rate. The remainder go in first- and second-lactation cows with 49 percent conception.
Donor selection
Selection of donors varied among the three panelists. Wickstrom said their focus is on making a better animal for their herd, and they look at the basic Jersey Performance Index numbers and then focus on the best milk, fat, protein and cheese merit numbers.
Buschur said, "We will select off the top end of our herd based on GTPI [Genomic Total Performance Index], and we start working with young heifers at 7 to 8 months, once a month for a month or two – and then every two weeks until they are breeding age." Buschur continued, "Once we get them confirmed pregnant, we will continue to do IVF on them every two weeks depending on their genetic value."
He said animals that produce a high number of embryos will stay in the program for a maximum of 150 days. While they use mostly virgin heifers, they will also use high-end cows ranked in the top 10 to 20 of the breed and those that are contracted for embryos. In terms of recipients, Buschur said 75 percent of their heifers are carrying embryos.
Boyd has 12 herds at his disposal in the JLS family when looking for donors, and he too begins with looking at the Jersey Performance Index to make a marketable bull. They work with virgin heifers, pregnant heifers and cows, evaluating genetic potential and embryo production history. Desirable virgin heifers with low embryo production are allowed to get pregnant and gain some maturity before they are put back on the IVF program.
Boyd said, "For the cows, it's a lot more selective. At that point, we are looking at cows with good conformation and those doing well in the milking herd. Also, if they were used as a heifer, what type of embryo production did they have, since usually the genetic drop-off is steeper on those."
Challenges and outcomes
While the initial costs of starting an IVF program loomed large and overwhelming, the increase in production has paid off. Wickstrom said, "Starting out was pretty tough, with not having anything happening for nine months or a year or two years. But now that we have those milk cows in the barn from the ET [embryo transfer] program, we're averaging about 1,200 pounds over natural-birth calves on 305 ME [Mature Equivalent] and about 12 points of fat and protein on the genomic side, too." He continued, "So we are seeing a good success rate on the animals we are bringing back into the barn to offset some of those costs."
Buschur named the change in management of the heifers and the paperwork with the genetic program as two of his biggest challenges when he began the IVF program. When his daughter, Mackenzie Bertke, came back to the farm to take over the management of the program, he jokingly said, "I've told her she's not allowed to leave; there is no way I could continue to do this without her."
Resiliency is required for dairy producers – and especially those who use IVF. Buschur explained, "When you tell your wife at night that your best animal just died, you know, from her test results, she really is your best genetic animal of the herd, and you have to be able to roll with it."
Conception rates in the Buschur operation rose to an "acceptable level" after they learned a few tricks with IVF. "In 2017, we did 150 IVF sessions on 35 animals, and we averaged 6.8 transfers on each of those sessions with a conception rate on those we implanted in the upper 50s." He continued, "And because we have some embryonic death, we settled out at 48 to 50 percent conception rate after 90 days."
Because they wanted to choose the donors themselves, Boyd said they started slowly with their IVF program, "testing the waters before we jumped in with both feet." He said he learned a lot while looking at how tightly they had to get the screws before selecting a donor to make it worthwhile. "It's a numbers game overall but, at the same time, you get to find out how you get the numbers that will put you in the best position," he said. "So make sure you're not just picking good cows but good cows that bring something to the table – something that's marketable and unique."
Boyd agreed the paperwork is a challenge when tracking inputs, inventory and breeding, and being diligent in keeping track of the data is crucial.
Another challenge is the virgin heifers that won't breed after being taken off the IVF program. Boyd said because of the elevated levels of hormones they are given on the program, they don't always get pregnant.
"You're going to have some heifers that just don't get pregnant. Maybe they were never going to get pregnant on their own to begin with, maybe it's because of the FSH (follicle-stimulating hormone) in the IVF process; it's hard to evaluate that." He continued, "Sometimes it's just a roll of the dice on whether the risk is worth it for you or not."
Boyd said they have discovered the bigger the donor, the more embryos it will produce; therefore, the Jersey donors at JLS aren't producing at the same rates as the Holsteins at Plain-Knoll. "We average about four embryos implanted per donor." Boyd continued, "We are more selective with our donors based on genetics, not necessarily looking for numbers of embryos produced."
The price of progress
Paying for an IVF program on increased milk sales alone is possible, but it is a huge management task. Buschur said, "I've seen the numbers in our herd for genetic merit, and those numbers have improved over the last eight to 10 years, and it's very significant. But what I like more than anything is to be able to see with my own eyes how the kind of animal I'm trying to breed for is now showing up in the barn, like I was hoping she would."
Buschur continued, "I used to have a desire for beautiful, high-type cows, but then it shifted and my ideal cow changed, and we are now filling our barn up with the ideal cow. Cows that can make 40,000 pounds and do it easily and breed back and not get mastitis. And so those are the kind of cows we are trying to breed for." Buschur concluded, "There's no doubt in my mind the profitability of our herd is increasing, and we can confidently say we are running a profitable business with the genetic program."
Boyd finished the discussion by advising other producers, "Be very realistic and honest with yourself about what your goals are for your herd and your genetic management. What is going to be acceptable and profitable for your herd, and what is it going to take to get there?" He concluded, "There are a lot of things you need to be doing right to make an IVF program pay for itself. You need to have all the pieces in place before you try to pursue more aggressive reproductive technology like IVF."
PHOTO 1: Wickstrom Jersey Farms transfers 600 embryos per year and provides elite bulls for Jerseyland Sires. Photo provided by Brent Wickstrom.
PHOTO 2: Steve Buschur, pictured here with his daughter Grace, raises high-genomic Holsteins in New Weston, Ohio. Photo provided by Steve Buschur.
PHOTO 3: Tyler Boyd is general manager for Jerseyland Sires. Photo provided by Tyler Boyd.
PHOTO 4: Brent Wickstrom says cows coming into the herd as a result of their IVF program made 1,200 pounds more milk and were 12 points higher in fat. Photo provided by Brent Wickstrom.
PHOTO 5: Buschur Dairy is the home of Plain-Knoll Holsteins. Steve Buschur says his "ideal cow" is one that makes 40,000 pounds of milk a year with no mastitis and breeds back easily. Photo provided by Steve Buschur.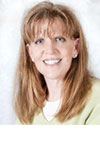 Melissa Hart

Freelance Writer
North Adams, Michigan