Following the April 2018 introduction of genetic evaluations on six new health traits, the upcoming August evaluations will include a new version of the Lifetime Net Merit (NM$) index.
The USDA's Animal Genomics and Improvement Laboratory, Agriculture Research Service (AGIL-ARS) collaborates with the Council on Dairy Cattle Breeding (CDCB) to update indices periodically to accommodate new traits and milk market trends.
According to John B. Cole, AGIL-ARS acting research leader, the Net Merit updates will benefit dairy producers by more accurately reflecting current economic merit of the animals. All updated economic values are included in Table 1.
Click here or on the image above to view it at full size in a new window.
Two big changes
"There are two big changes," Cole explains. "First, the addition to the new health traits … and since updating that, we have also made updates to economic values going into calculations related to milk pricing, hauling costs and differentials related to Somatic Cell Score (SCS)."
Cole says one of the most notable adjustments to the Net Merit calculation is the weight given to traits like SCS. While previously worth 7 percent of the calculation, it is now only worth 4 percent. However, the lowered weight does not mean udder health is any less important than in the past; simply put, the indirect costs and health expenses are now associated with an individual trait, in this case, clinical mastitis.
"This is changing because we now have information on clinical mastitis," Cole says. "Now that we have a way to measure it, we can directly account for what we know about the health of the mammary gland."
In addition to clinical mastitis (MAST), the August 2018 evaluations will also include traits for ketosis (KETO), retained placenta (REPL), metritis (METR), displaced abomasum (DA) and milk fever (MFEV). The total costs for the six traits are added to NM$ in the form of a health trait subindex (HTH$).
"When CDCB does health evaluations, you get six Predicted Transmitting Abilities for each of the health traits," Cole says. "In Net Merit, those six traits have been put together into one number: health dollars (HTH$)." He further notes information on individual traits is available through the CDCB website and breeding companies.
Other adjustments to the net merit calculation
"Fat has more emphasis, protein is a bit less, and Productive Life (PL) is a bit less," Cole says. "This is based on what the market is paying for fat and protein. We do averaging over the past few years."
According to Cole, updates to genetic evaluations are highly dependent upon access to historic and current official dairy records. "These evaluations are driven by farmers who are willing to share their data," he says. "They would not exist without the efforts of a lot of farmers throughout the country putting data together."
That data is what drives modifications to best meet the industry's needs.
Table 2 demonstrates how the emphasis on specific traits has changed since 2000 as a result of available information. For example, emphasis on yield traits has declined as other fitness traits were introduced.
Click here or on the image above to view it at full size in a new window.
Cole sees this as a step toward continued genetic improvement and long-term dairy farmer profitability. He concludes, "We try to focus strictly on what the commercial dairyman is facing based on how their milk check is constituted."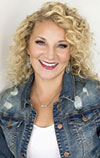 Peggy Coffeen

Editor
Progressive Dairyman