The right combination of management techniques, a good support system and optimal barn design makes it both possible and effective to incorporate robots into a grazing dairy operation.
The foundation of all of it is designing the barn to facilitate easy access for cows to both the robot and the grazing area.
The design featured in this article presents a six-robot, milk-first, bedded pack layout with grazing access. This design is quite simple in that everything is covered under one square roof, yet it offers automation that is easy to learn for the cows and manage for the producer. This design was produced in collaboration with Kate Steensma, a leader in the field of robotics and grazing integration.
Click here or on the image above to view it at full size in a new window.
At the milking area, the robots are arranged in a toll-gate style where cows enter from one side, called the commitment pen, and exit on the other side. The advantage over a tandem arrangement, where robots are in a line, is realized most when there are multiple robots milking one group of cows.
First, the cows exiting away from the commitment pen eliminates commingling of milked and unmilked cows, which can lead to congestion. Second, sorting cows is more easily facilitated. Conversely, in a tandem layout with multiple robots, we either have to commingle cows in the commitment pen, then sort using an exit selection gate, or sort through adjacent robots.
This is typically acceptable in a free-flow layout where maximizing capacity (time milking) is not the priority. In milk-first, we are allowing only cows with milk permission into the robots, thereby maximizing capacity.
Another benefit of this design is the possibility for AB grazing. This means cows can be directed to different paddocks throughout the day, which motivates voluntary cow traffic through the system. Animals from either group can exit the barn to commingle in a designated paddock, and then they are sorted back into their respective groups when re-entering the barn through the selection gate.
Upon re-entering the barn, cows go directly to the entry selection gate at the milking area via a grooved concrete lane. There are two benefits to this: Cows with milk permission go to the robot immediately while those that don't have milk permission are sorted to the feed alley, and the quality of the bedded pack is preserved when cows re-entering the barn do not go directly into the pack at one point.
Although this design was prepared for a specific dairy that is retrofitting an open-air barn covered by a shade, it can be adapted to a greenfield build as well.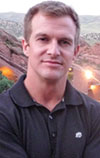 Jeff Prashaw

Project Design Manager – Architect MANA
DeLaval Inc.