Can dairy farmers expect there to be an ag equipment dealer within 30 minutes of the farm five years from now?
With tougher profit margins, the search for efficiency isn't restricted to just dairy farmers.
The year 2016 exploded with Bayer's proposed merger with Monsanto, Dow Chemical's proposed merger with DuPont and Syngenta's proposed merger with ChemChina – essentially transforming the "big six" into the "big four" (with BASF the other member of the exclusive club).
At about the same time, John Deere acquired Precision Planting, United Suppliers Inc. joined Land O'Lakes, and Agrum joined Potash Corp. Just this summer, John Deere announced it purchased Mazzotti, a privately held sprayer manufacturer based in Ravenna, Italy. The list goes on. It begs the question: Will independent ag equipment dealerships follow suit to consolidate?
Sly Krautkramer is the chief operating officer for Swiderski Equipment Inc., which operates five locations in Wisconsin under the general ag equipment banner. The dealership sells primarily New Holland tractors and equipment but also carries Agco, Bobcat and Doosan equipment. I caught up with Krautkramer in mid-summer to find out what was happening within ag equipment dealerships.
Would you classify your dealership as a typical ag equipment dealership?
Krautkramer: We're very diversified, but we specialize in big equipment; self-propelled choppers are one specialty. We deal with small operators and weekend farmers to large dairies and growers and big operators. Our customer base is largely dairy – it's our bread and butter.
We also have another piece of the business, which is dealing with municipalities, and we sell a lot of used equipment. I think we're typical for our area, but we do have some specialization.
With fewer dairy operators every year, has that affected your dealership or the equipment industry?
Krautkramer: Sure. The small equipment market is shrinking – things like smaller haybines and discbines are moving to larger models. Smaller equipment isn't going away, but it's definitely slowing down and going more toward bigger equipment.
We're spending a lot more time and effort helping our customers make money and be profitable. We focus on that one piece: How can we help the customer be more profitable? How do we help him get better-quality feed? How can we help him get his crops in faster? How do we help him maximize yields and efficiently harvest his crops?
Does the farm equipment business cycle with the ups and downs of the general commodity markets?
Krautkramer: I've been in this business 39 years and, yes, things do cycle. But even when we cycle between smaller and larger equipment, each cycle clicks a little closer to bigger equipment overall. Even if it's slow, it still clicks toward bigger equipment.
Outside of the dairy industry, in the general ag industry there's been quite a bit of consolidation in the last few years. Is that happening with independent equipment dealers as well?
Krautkramer: I can't say I've seen a lot of that. Well, I can't speak for the rest of the country but, in Wisconsin, it doesn't seem like that has happened.
We maybe lost a few dealers a few years ago, but it's leveled off. There are still a lot of single-source dealers that are surviving yet. You'd think there would be more of that as, maybe, dealership owners get older and closer to retirement age, but I can't say I'm aware of a lot of that going on.
Do you see many new equipment dealerships sprouting up?
Krautkramer: There are new dealerships focusing on smaller or specialized equipment – compact tractors, for example – because that market is strong and there's a lot of new players in that; whether they'll survive or not, I don't know. There are a lot of foreign brands popping up, and they're setting up all over the place.
Where that will end, I don't know. I don't see that happening in big equipment but, again, I'm speaking of Wisconsin.
How large is the region you cover?
Krautkramer: We're pretty much exclusive to Wisconsin. Internet buying is all over the country, but our main focus is central and northern Wisconsin.
We ran an informal poll to see how far farmers would go to buy a piece of used equipment, and the response indicated quite a large regional travel spread – is that consistent with your experience?
Krautkramer: There are some buyers who purchase just based on price, and there is a percentage that will run all over the country. Then there's a customer who really values service and knows how important it is to be taken care of, so the loyal customers are fairly local. There are just different types of buyers. Some want to know that when they have a problem on a Sunday night, they can call somebody who'll take care of them, and we provide 24-7 service to those people.
With tighter ag margins and tighter equipment margins, what are some management steps you have taken to remain profitable as a dealership?
Krautkramer: Our margins from year to year don't vary that much. I mean, it affects it some, but it doesn't swing that much – not like you'd think it would. But that's our dealership; I don't necessarily think that's standard for everybody. We're a very aggressive dealer, and we work with everybody with every possibility, and there's a payback for it.
If you pick and choose your customers, then you probably pay for it in hard times and it hurts you – but for us, we work with everybody. Maybe one part of the business is tougher from a profitability standpoint, but then another part of the business is doing better. Diversification is key there, and working with everybody – small guys to big guys, buying used or new.
In the past few years, have you made changes in management processes or marketing tools because of the lower ag markets?
Krautkramer: We just try to be good stewards in our communities and try to be part of the ag community in general. We participate in and support a lot of different community events and try to be involved in as many organizations as possible, so in some fashion we're touching every customer. We also try to stay on the cutting edge of everything, like precision farming technology. Our technicians are trained to stay ahead of the cutting edge.
In terms of marketing tools, we saw a significant demand from customers to get information faster, so we launched a new, more interactive website about seven months ago. We consistently look for ways to get information to customers as efficiently as possible.
The transition to software-driven equipment is difficult for a lot of producers. How are you helping them with this?
Krautkramer: We've become a services-based business to a point. We offer contracts that provide a certain level of service, based on the customer's needs, because that is changing fast. A lot of what our precision farming division does has become a services business rather than a hardware business.
A lot of the technology is coming factory installed. There's a lot of hardware, yet it's becoming more and more services-based, where people maybe need to know how to program or update something – you're not necessarily fixing anything; we're just providing guidance and support. So we have contracts we sell to give advice and technical help.
In the short term, what do you see as the challenges for equipment dealers in general?
Krautkramer: Used equipment is a challenge; certain types of used equipment have deteriorating values, and that's always a challenge. Some equipment is just easier to sell than others.
We're very much tied to our dairy customers. It's important for our customers to be profitable, and dairy farmers deal with the swing of commodity prices all the time – it's an up-and-down cycle and difficult for planning purposes. They have to deal with weather and so many elements. We want to see those guys profitable, so that's our number one concern. If they're profitable, we're profitable.
While our success doesn't just hinge on dairy customers, it still makes a difference to our business, to a degree. Our focus is to help make our customers profitable. So even though those are the farmers' challenges, they're our challenges as well.
PHOTO: "The small equipment market is shrinking – things like smaller haybines and discbines are moving to larger models. Smaller equipment isn't going away, but it's definitely slowing down and going more toward bigger equipment." Photo by Mike Dixon.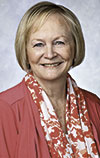 Lynn Jaynes

Editor
Progressive Dairyman