Not long ago, Kent Hoffman's morning routine included milking 580 cows in a step-up parlor. Today, he watches an automated arm attach the units on his 40-stall robotic rotary.
Just a few miles down the road and around the bend, young dairyman Mac Drees is loving life. Managing a barn with 240 cows and four robot boxes offers exciting challenges and rewards for the data-loving 26-year-old who grew up watching his parents and grandparents milk cows in a tiestall barn.
Drees and Hoffman both welcomed members of the Professional Dairy Producers of Wisconsin (PDPW) to their operations near Peshtigo, Wisconsin, on April 19. There, visitors not only saw how the two different milking technologies work, but also heard straight from the sources, as the dairymen were joined by their lenders and equipment dealers to discuss planning, financing and adjusting cow and people management to fit their respective systems.
Planning and financing
The exploratory stages of an emerging technology like Hoffman's robotic rotary included open communication. The dairyman and his lender, Dan Kaufman with Greenstone Farm Credit Services, visited similar operations in Canada to evaluate potential labor savings and feasibility. The milking equipment dealer was also closely involved, taking on tasks such as securing Grade A approval for a milk harvesting method never done before in the U.S.
Don Adams, a lender with BMO Harris Bank, worked closely with the Drees family as they made plans to invest in robotic technology and expand their herd to accommodate the next generation. "We started off making sure everyone was engaged with where the dairy is going – with Mac, his brother, dad and grandfather," he said. "Then we started looking at the business plan."
Well over a year in advance, the planning conversations included talking to the processor to make sure there was a home for the additional milk, along with thinking through how the current setup would need to change to handle more cows, feed and manure.
"Then we get to the financial part of the business plan. What's the equity position look like going into this? What will it look like once it's built?" Adams said. "We want to make sure there is risk-bearing ability built in, in case things don't go as planned and we have to tap into equity."
Kaufman added that most of the box robot projects he works on are financed from seven to 20 years, with the bulk in the 12 to 15 year range. Both lenders acknowledged the need for a long-term plan when determining amortization in order to accommodate technology updates or the addition of more cows and robotic units. "We want to make sure they have enough equity when financing today, so they can do the next step and not fall behind," Kaufman added.
Adams said many of the robot dairies his bank finances do a lease on the robot for seven years with a buy-out option at the end of the final year.
Once installed, the lenders also said the appraised value for most robots (not including the rotary) runs about 50 percent of the cost. However, as more sales data becomes available, that figure should improve. Kaufman added, "I think that robot value is on its way up when you look at cost versus appraised value. I'm thinking it will be 60 to 65 percent in the future."
The transition year
It takes time for cows and people to adjust to the change from conventional ways of milking cows to relying on robotic methods. That is why lenders factor in a cash shortfall for the first year of startup.
"We went interest-only for a year to get the project up and running," Adams said.
"Generally, we do a one-year milk drop," Kaufman added. Both lenders based their estimated drops from information in their respective databases that benchmarks other dairies of similar size and management.
According to Adams, reaching a "steady state" of operation takes a good two years. That means Drees, now in his third year with robots, is just starting to really reap the rewards. Though the cows acclimated to the motions of their new routine within the first few months, Drees said it's really the next lactation when they catch on.
"When we first transitioned into the new barn, we averaged 50 pounds of milk for the first few months, then 75, then 80," Drees noted. Today, that average is up to 92 pounds. He also saw improvements over time in milk quality. Somatic cell counts formerly hung right around 100,000, but the most recent results came back under 50,000.
Less than a year into the robotic rotary and having ceased rBST use at the same time as the startup, Hoffman similarly saw an initial dip in milk, followed by a subsequent steady climb in production. Somatic cell count jumped from 150,000 to 397,000 for two days during the beginning of the transition to the rotary, but it has since dropped down to 120,000.
Not all cows made a seamless transition from the old milking style to the new one. Drees said he sold just a handful of cows for failure to adjust and has added others to the "do not breed" list "mostly because of teat placement." Hoffman experienced more intensive culling, particularly among older cows in the herd that struggled to adjust to getting on the rotary.
How labor needs changed
For Hoffman, the robotic rotary cuts down on the number of hired milkers. It takes only one person in the parlor and one person pushing cows to get through an entire milking shift. Previously, three people were needed to milk the same number of cows in a step-up parlor. There was an additional full-time position that did not get replaced.
On the Dreeses' farm, the employee numbers have not changed, but efficiency has. "We had three employees milking cows before, plus myself [four employees total]," Drees said. "Now we have the same number of employees with 11,000 to 12,000 more pounds of milk."
Shifting the management mindset
At Hoffman's dairy, the daily management style has not dramatically changed. Cows are still milked three times a day and handled in the groups, similar to how they were prior to the new rotary.
Drees faced a bigger learning curve switching from the tiestall barn to the robot boxes. "Not only do cows take time to get used to it, but humans do too," Drees admitted. Part of that adjustment was breaking the old routine and reassessing what the daily chores and duties looked like. He now spends a good portion of his time evaluating data on the computer and using that to make herd management decisions.
Perhaps the biggest shift for Drees has been learning to redefine "efficiency." He added, "The robot allows you to look at the different parameters like milk speed and box time. I can look on the computer to find which cows are least efficient, and we cull off of that list."
In some cases, it may be a cow milking 130 pounds per day but spending way too much time in the box; other times, it's a high-type cow scored "Excellent" that may not make the cut.
Though Hoffman and Drees operate different types of automated milking systems, both believe they are at an advantage to take their dairies into the next generation. As Hoffman noted, each day the future only looks even more promising. "It gets easier every day. We can see already the cows we have freshening in are doing well."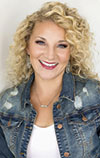 Peggy Coffeen

Editor
Progressive Dairyman
PHOTO: Dairymen, alongside their lenders and equipment dealers, answered questions on a panel during PDPW's robot tours. From left to right are Kent Hoffman, Hoffman's Happy Holsteins; Ryan Hoffman, Hoffman's Happy Holsteins; Mark Proeber, Kozlovsky Dairy Equipment; Dan Kaufman, Greenstone Farm Credit Services; Don Adams, BMO Harris Bank; Mac Drees, Drees Dairy; and Mark Schlaefer, Abts Lely Center. Photo by Peggy Coffeen.