A unique observation deck at Kreider Farms in Manheim, Pennsylvania, gives visitors a true birds-eye view of Amish country – from atop a silo.
Last year, more than 13,000 guests toured Kreider Farms and, according to farm tour director Debora Lobb, interest has only grown since the farm opened the silo to visitors just over one year ago. What once stood as an empty and outdated relic has found a renewed purpose as a platform for showcasing miles and miles of the rich agricultural abundance of Lancaster County.
The Kreider Farms Observation Silo was the vision of Ron Kreider, who represents the third generation in his family to operate this diversified business. The dairy is home to 1,900 cows and another 1,900 head of youngstock, and all milk is processed at their own plant and exclusively sold under the "Kreider Farms" brand as well as a variety of fluid options, cream, egg nog, ice cream and other products.
In addition, they are the largest egg producer in the state. Kreider Farms will have close to 7 million laying chickens in addition to 200,000 cage-free and cage-free organic chickens by the end of 2017.
Lobb explains that Kreider wanted to bring more attention to agriculture and the other family owned-and-operated farms in the area by giving visitors a view of the landscape. They achieved this by constructing a spiraling staircase on the outside of the silo that leads up to a viewing platform.
Similar to a lighthouse, guests climb the 172 exterior steps to the destination, which is 100 feet above the ground. Once at the top, they can look out across the countryside. The deck holds around 50 people at a time.
Originally, the silo was located at the back of the farm's property. A building moving company assisted in transporting the structure a distance equivalent to four football fields to place it in a more accessible and visible location. The very slow process took about three hours, according to Lobb.
The silo not only serves as an attraction for tour-goers; it has also become a beacon among the local community. The structure is adorned with LED lights that can be lit in 17 million different color combinations. The dairy manager easily changes colors from his phone to reflect holidays and celebrations, such as lighting up pink for breast cancer awareness during October.
As the summer tour season comes into full swing, there is sure to be a full deck atop the Kreider Farms' observation silo.
PHOTO 1: Last year, more than 13,000 people toured the working dairy farm that milks 1,900 cows and processes its own milk.
PHOTO 2: The structure was moved the length of four football fields to its current location at Kreider Farms.
PHOTO 3: The renovated silo now features an observation deck for farm visitors to view the greater Lancaster County countryside.
PHOTO 4: LED lighting on the silo can be changed to reflect holidays and seasons. This pink light show was in honor of breast cancer awareness last October. Photos courtesy of Kreider Farms.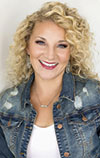 Peggy Coffeen

Editor
Progressive Dairyman