Nathan Oakman from Deer Run Dairy in Adams, New York, has come up with a cost-effective solution for drying off and warming up baby calves in cold weather.
"I used to use two [dome] calf warmers for drying off calves in the wintertime. They are hard to keep clean and are warm bacteria ovens," says the assistant manager of the 850-cow herd, owned by Kris and Mike Burger. Oakman wanted to create a better setup for drying more newborns at the same time in an easy-to-use and easy-to-clean environment.
A trip to the local hardware store and some unused items around the dairy provided everything he needed to achieve these goals. For an investment of about $600, he purchased a storage shed and four heat lamps with bulbs. Oakman placed the storage shed in the calf barn, lining the walls with old glass board from the parlor and laying extra cow mattresses on the floor. Within six hours, he had assembled a warming room large enough to dry four calves comfortably.
Oakman says the new warmer dries calves off just as fast or faster than the previous warmers and further notes the air quality in the new building is better. The larger space and solid flooring, which is covered with sawdust, gives calves the ability to stand and walk around. He says it is also easier to give calves their first colostrum feeding in the shed warmer.
Maintenance is simple and efficient. "Every day, we add bedding and clean out wet spots and manure piles," Oakman says. "Once a week, we clean out all the bedding, wash walls and floor with hot soap and bleach water, and sanitize with chlorine dioxide."
Even on the coldest days, the new warmer is working well. Oakman adds, "On zero-degree days, the shed will get to 70 degrees and dry off calves just as fast or faster than [before]."
PHOTO 1: The warming shed fits neatly inside the dairy's calf barn. The barn holds 120 calves, spread out among four groups and fed with auto-feeders.
PHOTO 2: Inside of the warming shed.
PHOTO 3: The new warmer comfortably fits up to four calves and is easily cleaned and sanitized for optimal calf health. Photos provided by Nathan Oakman.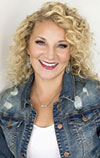 Peggy Coffeen

Editor
Progressive Dairyman