More and more farms are transitioning to the world of robotic milking. During the preparation for this transition, farm visits will be made, drawings will be looked at and questions will be asked regarding numerous aspects of the project.
One of the many decisions that need to be made early on is which robot will be installed. With all the options available, how do you know which is the right fit for you and your operation?
While each person's motivation will be different, some things to consider are the farm vision and future plans for expansion, available features, cost of operation and proximity to service and support throughout as well as after the installation and startup process.
Farm vision and future plans for expansion are aspects to identify early in the planning stage. Is the project a renovation using existing structures or a new build? Are short-term plans for expansion already in the works, or is that something to be decided by future generations?
Either way, it's important not to get backed into a corner that can limit growth later on. How do you envision robotic milking, and what are your objectives? Asking these questions can help direct the project and set the tone in order to maximize success and satisfaction.
It's also important to look at the different features available. How do they work, and what information will these features give you? How can the information be interpreted? There are numerous tools available to track production, performance and animal health.
Combining these different pieces of data allows you to get a very detailed picture about what's going on not only on an individual level, but also on a group or herd level. Once that picture comes into focus, you can then make both management and corrective decisions based on all of this information, and follow up after any changes to evaluate the impact and make adjustments as necessary.
Another essential aspect to consider is cost of operation. The important thing to consider here is making sure that when comparing, it's on equal footing. Make sure to take into account the cost of operation that you might consider secondary – the electricity, water consumption and manpower necessary.
Are consumable products like brushes, teat cup liners and cleaning products included in the estimate? Make sure to include costs for add-on features if they require consumable products. Many people also take into account the cost of any gating and separation gates necessary for the system to work. This particular aspect should also be taken into account when looking at different management styles and choosing between free-cow traffic versus guided flow.
Remember, robotic milking differs from traditional milking in many aspects. One of the most important is the fact that milking with robots happens 24 hours a day, seven days a week. This means that if the system is down, whether for maintenance or for a technical issue, the cows have to play catch-up.
There are ways to minimize the impact of these down periods, but you definitely want to make sure action is taken as soon as possible. Technical support can be done either on-site or over the phone depending on the circumstances. What's important is that the support is available to keep operations running smoothly. While technical support is vital, management support is also a point to consider as well.
Learning how to utilize the information provided by the milking robot to make decisions to help you meet your goals begins before startup and continues long after the training period for the herd is complete.
Choosing automation for your farm is a huge decision. There will likely be questions and doubts at certain times. Don't forget that this is normal – just make sure to keep an open mind! The best thing you can do when researching your options is to visit all kinds of different setups, and don't be afraid to ask questions. Visit at different times of the day and, if possible, different seasons.
Ask about routines, expectations and experiences, both good and bad. No questions should be off-limits. The more information you can gather, the better. At the end of the day, what's important is choosing a robotic milking solution that suits your needs and will work to help you reach your objectives and get you where you want to go and beyond.
Lucien Courchesne is the Lely North America regional service manager.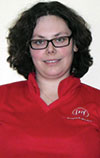 Sara McBurney

Farm Management Support
Lely North America