When Nebraska dairyman Bob Larson built his robotic dairy barn nearly three years ago, he knew right off the bat that water quality was important to cow health and productivity. What he didn't expect, however, was to run a water treatment trial that would clearly show a 7-pound per cow difference in milk production.
Having dealt with rust and iron issues for years on his dairy near Creston, Nebraska, Larson was keen on water testing and treatment. "We had a lot of frustration from old wells," he recalls. "We had to pull pumps every year to clean the rust off."
A hydrogen peroxide-based treatment system called Oxy Blast helped Larson work through that challenge. Aware of the pain points his well water supply could cause, Larson was proactive in testing the wells for the 250-cow automated milking facility.
"When we built the new dairy, we dug two new wells. The water analysis showed we didn't have quite the iron," Larson says. "We found that the bicarbonates, manganese and hardness were in the parameters out of the 15 tested that were elevated … so we felt our water was pretty good."
Though the test results were "pretty good," a few nudges from his water treatment rep prompted Larson to put those findings to the test.
"We decided now was the time, with the new build, to do a trial on the water system," Larson says. In fact, their barn proved to be the perfect testing point, with a plethora of data points collected from the robots. The age and stage of lactation for the cow groups was already evenly distributed throughout the barn's four pens. And it just so happened that each side of the barn had its own exclusive set of water lines running to it.
Affixing the water treatment system was pretty simple. Larson describes it as a peristaltic pump that distributes the treatment product from a barrel into the water line. "It's a pretty simple controller," he adds. "When water is present and moving, it pumps it in."
Larson started inclusion of the product at 25 parts per million (PPM) and increased it in increments of 25 PPM. Within a couple of weeks, they were at the rate recommended to them of 100 PPM.
The on-farm trial at Larson's dairy started in February 2020, and within just a few months, the data was showing favorable results. Cows were drinking more, eating more and making more milk.
"We were seeing a 7-pound-per-cow increase in milk, cows drinking 6.5 gallons of water more per day and eating 2 more pounds of dry matter on the trial side," Larson says.
To really get a sense of profitability, Larson adjusted those numbers. "We broke everything down by 3.5 pounds of protein-corrected milk and did the money correction to take into all accounts, and still yielded a 4-pound increase," he says.
At a milk price of $16 per hundredweight, those extra 7 pounds of milk equate to an additional $75,000 for 250 cows.
The trial was set to collect data for six months, but with the results the dairy was experiencing, they opted to add a second water treatment system to serve the other half of the barn a couple of months later. Within weeks, the original control group had caught up with the production bump of the trial group.
By summertime, Larson also noticed the cows held steady through heat stress. The herd, which is comprised of about two-thirds Holsteins and one-third Holstein-Jersey crosses, maintained a 92-pound milk average, even through August. He adds, "We do pretty well with heat abatement in our tunnel-ventilated barn, but I do think the extra water we got into the cows made a difference."
Now, just shy of one year since implementation, Larson notes that maintenance costs have been pretty low. "We've had to replace one tube, but otherwise, we mostly just have to switch out the 55-gallon barrels. One barrel lasts about two months," he adds.
While Larson admits he is typically very skeptical of sales pitches that tout more milk per cow, the trial on his own farm with his own cows has made him a believer in his water treatment system and what it can do for his bottom line.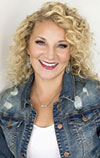 Peggy Coffeen

Editor
Progressive Dairy
PHOTO 1: Nebraska dairyman Bob Larson performed his own trial with a hydrogen peroxide-based treatment system and found cows drinking water that had undergone treatment produced more milk than cows of similar age and stage of lactation in his control group.
PHOTO 2: At Larson Dairy, a simple controller runs water through a peristaltic pump that distributes the treatment product from a barrel into the water line. Photos provided by Bob Larson.