From cowside data to automated milking systems, dairies today are more technology-driven than ever before. But behind each box and button is a milking equipment dealer who has invested in their own future and that of the industry by leading the charge of change.
Mike Fitzgerald is the second generation to own and operate Fitzgerald Inc., a milking equipment and service business based out of Elkader, Iowa. Nearly 60 years ago, bucket milkers were their core business. Over time, demand shifted to stanchion barns with pipelines, then milking parlors and, less than a decade ago, robots emerged as a viable and affordable solution for dairy farmers in his area, and his dealership was the first in the state to install one.
"We sold our first robot in 2010," he recalls. "We got into it because the trend in the industry is for more technology. It's what the younger generation wants to do, and that's why we decided to do it."
A decade ago, Daryl Hurst, principal owner of Finger Lakes Dairy Services headquartered in Seneca Falls, New York, caught on to the same vision.
"We felt strongly this would be a part of the future," he says, citing the shortage of farm labor coupled with the industry trend to replace unpleasant tasks with automation as reasons to rise to the challenge of selling and servicing automated milking systems.
Today, Hurst's company works with about 150 robots in the region. His sales manager, Whitney Davis, says he spends 80 to 90 percent of his time on robotic projects. "It's a huge difference from eight or 10 years ago," Davis explains. "Our business is either robots or very large rotary parlors. We have not built a double-10 or double-12 in at least five years."
Meanwhile, in the West, Jerry Higley has responded to the needs of his customers by providing automation solutions for over 30 years. When he took ownership of Automated Dairy Systems, the Jerome, Idaho-based company mainly dealt with auto detachers for milking units, but that was just the beginning.
"We've taken automation to a higher level," Higley says. "We've developed the ability to sense milk temperatures and cooling temperatures, to optimize the pulsation to the liner, determine how much milk is in the tank, automatically shut off teat dip if temperatures drop below 20ºF … and that can all be sent to a smartphone."
These advancements are answers to the evolving needs of dairymen in the eight-state area his company serves. "We provide them with as much information as they want," he adds.
As robotic solutions become more fitting for the commercial management style found in the western states, interest in these systems is picking up. Higley further notes, "As the next generation comes in, we see them asking questions more fully on the automation side and automating more cow information on a daily basis."
Both Hurst and Fitzgerald agree they too see a new wave of young dairy producers coming back to the operation, hungry for instant and actionable data they can use to improve quality of life for both cows and people.
"They want accurate information immediately, and they are able to get that three to four times a day, each time the cow is milked [in an automated milking system]," Fitzgerald states.
Advanced in-line technology provides a wealth of immediate information too. "There is so much information available in the milking parlor that allows the dairyman to manage better – and even remotely," Higley adds. For example, one of his customers lives in Idaho and can within seconds pull up a report for his dairy in Hawaii.
Keeping up with producers' desire for technology also means dealerships must focus on more than just wrench-turning services. Hurst explains, "Traditionally, dealerships have provided hardware … our world is changing because now we are selling more software."
Fitzgerald and Higley find that providing service for computerized systems appeals to the next generation of their dealership employees too. More than half of Automated Dairy Systems' employees are millennials, and Fitzgerald has a team of employees in their mid-20s that "run around with smartphones, and that's what they love to do."
"This isn't a boring pipe and pulsator. To work on a robot sounds cool," Fitzgerald adds. "It's not a dirty job. You're in a clean room with a robot and an iPad or smartphone."
Virtual meetings and trouble-shooting is another benefit of technology, for both the dairy producer and dealer. Often, technicians can log in remotely to solve problems rather than making a service call, thus reducing system downtime on the dairy. And experts from hours away can conduct meetings and trainings on farms in all corners of the country all in a day's work, without traveling there in person.
The dealers also identified a higher level of automation requires them to provide more in-depth training and a wider breadth of services on the farm than in the past. They find themselves designing barns and coaching dairy farmers through the management adjustments that come along with technology, such as deciphering reports and learning to look at cows individually rather than as part of a group.
"Today, we have a lot more experience with the machines, so we have a lot more to teach dairy farmers," Hurst says, noting providing service to automated equipment builds a deeper relationship with the customer. He adds, "The change from the dealership level is: We could put a parlor in, and years would go by without getting a service call.
That is not true with robotic milking. Instead, dealers visit automated farms regularly to discuss operation and management changes."
As the three dealers look toward the future, each foresees automation, robotics and further advancements in technology driving the core of their business. They plan to continue providing customers with solutions that solve labor issues, improve quality of human life and animal life and, at the end of the day, excite the next generation to be a part of the dairy industry.
"The biggest reward for me is to see how [technology] changes the lives of these dairy farm families," Fitzgerald says. "There are families who would have quit milking, but their kids are now choosing to come back to the farm."
Davis sees a similar trend in New York. "There are some dairies where the younger generation was not going to do it the same as their dad. Putting in robots ensured the legacy of the dairy to continue," he concludes. "And that to me is a win-win."
PHOTO 1: Ten years ago, robotic milking was just starting to pique interest among dairy producers in the Finger Lakes region in New York. Today, Whitney Davis (far right) says he spends 80 to 90 percent of his time on robot projects. He is pictured here with Mike Hooper and Karen Hooper and their Finger Lakes Dairy Services team at River Ridge Dairy. Photo provided by Finger Lakes Dairy Services.
PHOTO 2: Advancements in milking parlor software require dealerships like Automated Dairy Systems to employ technology-savvy sales and service people. Pictured here is Josiah Higley. Photo provided by Automated Dairy Systems.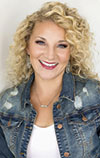 Peggy Coffeen

Editor
Progressive Dairyman