When it comes to the adoption of automated milking systems, Dr. Nigel Cook said, "The U.S. is way behind.
"This is a European system being transplanted in North America and that's great because we can learn from some of the teething problems and issues that Europe has had to deal with, but we also create some other problems and challenges that they haven't," he continued.
Cook, who is chair of the department of medical sciences and a professor in food animal production medicine at the University of Wisconsin – Madison School of Veterinary Medicine, led off a discussion on robot barn design at the 2019 PDPW Business Conference held in Madison, Wisconsin.
He was speaking alongside Dr. Virpi Kurkela, veterinary specialist, and Jouni Pitkäranta, architect, both with 4dBarn Consulting, a Finland-based consulting business specializing in automated milking system (AMS) facility design.
"They've been at it way longer," Cook said. "They've designed and managed and troubleshot AMS units for a number of years now, and I think they can impart some really good advice for our dairy industry."
At the same time, "We've got rather good over here at milking cows in a parlor," he said, referencing freestall herds that average high 80s to low 90s of energy-corrected milk. "We're doing an excellent job of getting milk out of cows and keeping cows healthy, comfortable and productive."
However, the performance of North American robotics is less, with herds averaging around 70 pounds of milk and 2.8 milkings per day. Average lameness in a dataset of AMS herds was about 30 percent – two to three times higher than high-yielding conventional herds, Cook said.
"There's some challenges here that we need to address when we design and manage robotic barns," he noted.
Cook, Kurkela and Pitkäranta outlined the following design principles that work well and those that don't.
Do follow the recipe that has served conventional herds well. This includes: deep, loose bedding, headlocks at the feedbunk, solid floors, good manure removal, rubber floors used strategically around the milking center, fans over the resting area, frequent hoof trimming and footbathing four times per week. "This is the recipe that works in a high-production herd that delivers good health and lameness problems that will rival grazing herds," Cook said. "We've learned that together over this last 15 years or so."
Don't deviate from the recipe that works. For various reasons, some AMS herds in North America have made different design choices that are concerning to Cook. Only a third of the farms with AMS are using deep bedding. Slatted floors are coming back, as are the associated air quality and foot trauma concerns that come with them. Only 70 percent of the AMS farms use a footbath, and only a quarter use it more than three times a week.
"It's not surprising then, perhaps, that our production is a little disappointing, and our lameness is very disappointing. We're going in the wrong direction, and to me, that says there's opportunity," Cook said.
Do think of the barn as a tool for producing milk. "When you choose a tool for milk production, the main priority should be excellent cow comfort and health, so you get a good milk flow, and functionality, so you get efficient workflow. You need those things to be efficient and get good results," Kurkela said.
Robots are milking machines. Just by adding a robot, it doesn't mean the facility is now labor-efficient or cows will produce well. Things have to be done right in the barn for good welfare and health.
Do have wide alleys and open space in front of the robot. Alleys and crossovers should be wide enough that a cow has a clear path to the robot, feedbunk or stall. If they are crowded, a cow may not visit the robot.
These areas also have to be safe, with grooved concrete flooring so it isn't slippery.
"You need an open area in front of the robots so timid cows and first-lactation animals are not afraid to come there," Kurkela said.
Pitkäranta added, robot orientation and designing animal traffic around the robot is key so cows entering and exiting the robot don't disrupt each other's flow.
Do have clean, comfortable stalls. Deep-bedded, sand-filled stalls that are correctly sized are not only good for hoof health, they are also enticing for cows to use, keeping the alleys clear for cows that wish to be milked.
Do provide plenty of access to food and water. "Access to food and water is the basis of good milk production," Kurkela said.
Some people say cows are not all eating at the same time in a robot barn, while others observe full headlocks at feed delivery time.
"Don't reduce the feed intake by limiting the bunk space," she said.
Do use a training gate for heifers. Before entering the milking string, most heifers have never encountered a gate they are able to walk through. Setting up a training gate or something that looks like a robot in the heifer barn is one way to familiarize heifers in what to expect.
"It's very easy to teach cows to use one-way gates before they come to robot barn. When they know how to use them, it's much easier for them to figure out in the robot barn," Pitkäranta said.
Do have a designated fresh pen with 24-hour access to the robot. "A fresh pen is really important to ensure good transitioning and also 3X milking," Kurkela said. "It has to be voluntary 24/7 access to the robot so they get the idea of going to the robot on their own."
If fresh cows have to be manually escorted to the robot twice a day, they learn to be milked less and to wait for human interaction.
Farms with 500 cows or more may want to consider separate robot(s) for this group and design the pen with more bunkspace, more comfortable stalls and reduced stocking for more access to the robot.
Do have a handling area and treatment chute. No matter the size of the facility, cows will be handled on an individual basis in an automated milking system.
The handling area has to be easy to reach so treatments and procedures get done quickly. It should be close to the fetch pen with routing that allows one person to move the cow.
Access to a hoof treatment chute in this area will help in maintaining hoof health.
Do use gating. "One person has to be able to move cows from one place to another safely and quickly," Kurkela said. "Gates are what make that possible."
Pitkäranta added, "We have seen good barns, good layouts, but the gating has been very poor and that is the reason why they haven't had the labor efficiency we were expecting from that layout."
People also need to move around the barn without turning gates. There should be manholes with access to the pen without opening the gate.
Do make footbaths easy. Hoof health is crucial for voluntary cow traffic to the robot. A footbath should be used four times a week, so it has to be so easy to use it becomes automatic.
Don't put footbaths in awkward places. Many times, footbaths in crossovers and transfer lanes don't work well because it is a rodeo to get animals through them, Cook said. In addition, if the idea is to move cows through the footbath while bedding the pen, but that only occurs once or twice a week, it won't meet the recommended frequency of four times per week for footbathing.
Do view robot area as heart of barn. Pitkäranta surveyed how AMS operators move through the barn. The results showed the most traffic moving in and out of the robot room. This is an important element to consider in design to make the barn efficient for people and save on labor.
Do consider perimeter feeding. Perimeter feeding, with feeding lanes along the sides of the pens as opposed to up the middle of the barn, is atypical in most parlor facilities, but can be preferred in robot barns.
"With the feeding alleys on the side, the freestalls are quite a distance from the sidewalls," Pitkäranta said. "It protects the stalls and alleys from rain, sun and freezing."
By moving the feed alleys to the perimeter of the barn, handling and separation areas can be placed in the middle of the barn. It can also bring the robot rooms closer together, leading to labor efficiencies.
Don't overstock. Some farms have 65 to 70 cows per robot, but Kurkela and Pitkäranta recommend 55 cows per robot.
High stocking rates can lead to more fetch cows, fewer milkings per cow and lower milk production.
Don't settle when it comes to retrofit design. "Too often, robots are just dropped into the [existing] layout so building time is easy," Pitkäranta said. "You might save now, but you are paying for it later."
When putting a robot in an existing barn, the design process should be as good as building a new barn. With good design functionality, a retrofit can be almost as good as a new barn, he said. More changes or more money may be necessary to get a labor-efficient barn. Also note that a milking robot is not a cure for bad stalls.
Don't think there is one standard robotic barn that everyone can have. "You need to think of your management style and create the kind of barn that goes along with that," Kurkela said.
Barn design elements learned through conventional parlor herds should not be abandoned when moving to automated milking. Features like deep-bedded stalls, solid floors, ample feedbunk space and regular footbathing still work in a robot barn, while also incorporating the open cow-flow concepts, handling areas and gating that makes a robot barn more efficient.
PHOTO: Perimeter feeding, ample bunkspace and headlocks are a few of the recommended design elements implemented in this robotic dairy barn. Photo by Karen Lee.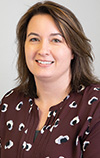 Karen Lee

Editor
Progressive Dairyman