Today's wheel loaders have never been easier to operate and maintain. They're also designed with many enhancements similar to those you've come to expect in your pickup truck.
Preventive maintenance
At your dairy operation, you're likely diligent about preventive maintenance. It goes without saying that it's important to keep up with wheel loader maintenance. This is particularly true in your busy operation. You may be using the machines for eight to 10 hours a day, six to seven days a week.
Encourage your operators to perform the essential machine maintenance every day. That includes greasing the machine. Keep a journal in the cab where operators can record when they complete the daily maintenance.
If you and your operators follow the basic maintenance steps outlined in your manual, that's a good start. On dairy farms, there are some more maintenance considerations to adhere to.
Check the cooling system
One of the most important areas to check is your wheel loader's cooling system. If you're operating your wheel loader in a barn, there's likely dust and straw accumulating on the radiator. That can be a hazard because these materials can quickly plug it.
There are a couple of options to make it easier to keep this area of the machine clean. An automatic, reversing radiator cooling fan (if your machine has one) is one of the best ways to help reduce debris in the cooling area. If your wheel loader has this feature, activate it from inside the cab. Set the time for it to run – from a few seconds up to several minutes. This will help blow out debris.
Another helpful option for your wheel loader is a wide-fin radiator. The wide-fin radiator provides better cooling with larger fin spacing, helping to filter out dust and debris. Be sure to reduce the buildup on the radiator and keep your wheel loader running smoothly. In especially dusty places, you should clean the radiator fins daily. Start by swinging the fan guard out for easier cleaning of the fan blades and the radiator. Use air or water to clean the radiator fins.
Additional cooling system tips include:
Allow the engine to cool before releasing the radiator cap.
Use gloves when handling the radiator cap.
Check the radiator coolant and add coolant as needed.
If the radiator coolant temperature warning light comes on or the buzzer sounds, stop the machine. Instruct your operators to contact you, your farm manager or the service department at your dealership. Your dealer's service department can provide instructions to resolve the warning before it becomes a bigger issue.
Keep it clean
Manure is not your machine's best friend. It can be so caustic it corrodes your wheel loader's paint. It's best to keep your wheel loaders clean and free of manure. Follow the same advice for your wheel loader attachments. Keep cleaning and feeding attachments, such as buckets, separate for your animals' protection. It's a good idea to regularly clean your attachments to help extend their life.
Handling DEF
Be sure to keep tabs on your diesel exhaust fluid (DEF). Remind your operators to be cautious when they're storing and handling DEF. You want to avoid contaminants such as dirt and dust from getting in the fluid.
Here are some simple guidelines for correctly storing DEF:
Keep DEF stored out of direct sunlight.
Keep DEF stored between 12ºF and 86ºF.
Keep DEF stored in an airtight container.
Today's wheel loaders have clearly marked fill caps – generally green for diesel fuel and blue for DEF. Even so, be sure to remind your wheel loader operators to add the correct fluids in the respective tanks. You want to avoid accidentally putting the wrong fluid in the opposite tank. It could be a costly mistake. It's also a good idea for operators to wear gloves when they're handling DEF. That can help minimize any contamination of this critical fluid.
It's a good idea to review wheel loader safety. If your operators are working close to other employees, buildings or animals, it's even more important for them to use the wheel loader carefully.
Loader enhancements
Enhancements to wheel loaders make them not only more comfortable to operate but easier to maintain with more safety features. Some wheel loader manufacturers offer rear-view cameras as standard equipment. Operators have better visibility to their surroundings with the rear-view display on the LCD screen.
Additional enhancements include: adjustable steering columns, air suspension seats, block heaters, Bluetooth stereos, centralized lubrication systems, fingertip controls on joysticks, heated seats, multifunction touchscreens, work lights and beacons.
Today's wheel loaders come with telematics management systems. These systems give you or your farm manager a pulse on your wheel loaders. You can monitor your wheel loaders remotely and can address alerts sooner with access to more details. The information can be reviewed on a mobile app or through a browser on your desktop computer.
Smart scales
Onboard weighing systems, commonly known as "smart scales," may improve your wheel loader accuracy. In feeding applications where your operators need to keep track of different amounts of material, the scale can help ensure they're loading the correct quantities. A screen inside the loader cab provides more information to operators, including the weight of the material in the bucket.
If your dairy operation has many shifts and lots of operators, it's a good idea to provide ongoing training and maintenance reminders. You can also educate them about the benefits of new wheel loader enhancements to help increase their comfort during long days in the cab.
PHOTO: Courtesy photo.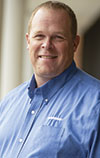 Aaron Kleingartner

Product and Dealer - Marketing Manager
Doosan Infracore, North America LLC