When it comes to forage harvesters, regular maintenance is the best way to extend the life of the machine and avoid downtime and costly repairs. The off-season is the ideal time to perform upkeep on your machinery; however, experts recommend that regular maintenance and best practices be executed throughout the season for optimal forage harvester performance.
When parts get worn out, the crop moves more slowly through the machine, requiring more horsepower to get the job done. Proactive maintenance on your equipment will allow your machine to run more efficiently. These simple maintenance tips can greatly impact the life and performance of your forage harvester in the long run.
Before performing any maintenance on your forage harvester, it is imperative to know your machine's needs. Read the owner's manual and get familiar with your piece of equipment to be certain what kind of maintenance is required.
Inspect before you wash
Your machine is full of crop and needs a good wash. Before you get out the hose, walk around your equipment and perform a close inspection. Keep your eyes out for any signs of gearbox or hydraulic oil leaks while the machine is still dirty. When you clean the machine, you lose the evidence left behind from leaks or other issues.
Grease before and after washing
Grease your forage harvester before and after washing it. Greasing before washing will help prevent water and moisture from getting into the bearings during washing. After you get done cleaning the machine, grease it again. The new grease will push any moisture out. It is key to keep moisture out of the grease since, over time, moisture can cause the grease to break down and lead to a failure if fresh grease isn't applied.
Pay attention to the pulleys
The pulleys on the machine can accumulate dirt. Over time, some of that dirt may fall out on the pulley, which can create an imbalance leading to a vibration on the machine. Make sure to spend some time washing out the pulleys to avoid further issues.
Blow off the machine daily
We recommend blowing the crop and dirt off your machine with compressed air at the end of the day to get some of the material accumulation off the working components. It's important to keep crop material from getting pushed into places that it shouldn't be.
Keep an eye on your battery
It's no secret there are more and more electronic components to your machine. During the off-season, equipment owners should typically charge their battery every six weeks to maintain a good charge. Also, consider installing a battery maintainer to keep that charge throughout the off-season. Those in colder climates should be extra mindful of not drawing the battery down.
Examine the wear liners
Don't wait until you have a hole in your wear liners to check them. Check the wear patterns frequently to ensure there's nothing unusual going on. Knowing the behavior of your wear liners can help you determine if they can make it through the full season, or if they should be replaced sooner to prevent further wear and possible downtime during harvest.
Check in with your dealer
Many dealerships offer service inspection packages where trained technicians thoroughly inspect your machine during the off-season, as well as perform regular maintenance. These trained technicians can help you determine if any components of the machine are worn and should be replaced, and detect possible failures before they occur, preventing downtime during harvest. We always recommend taking advantage of this offering. Contact your local dealer for more information.
Update your software
Forage harvesters use software to provide the best experience for operators. Similar to a computer or smartphone, the software technology on machinery continues to evolve. On newer machines there may be software updates available that provide improvements or newly added features to the machine. While you're speaking with your dealer, it's a good idea to ensure your machine has the latest software installed. Your dealer can install these updates.
Monitor oil level
Check the oil levels in the gearbox. Even if the gearbox isn't due for an oil change, check the oil level to ensure it's not low or overfilled. In some cases, internal leaks can lead to a gearbox being overfilled, which can lead to higher temperatures as the gearbox runs. Low oil level may indicate an external leak that could lead to a gearbox failure if not corrected or repaired.
It's critical the oil being used is of high quality. Discount oils can cause harm to the equipment, leading to equipment failure and more expenses in the long run. A quality oil will keep your machinery running longer. If you're unsure of the oil your machine requires, refer to your owner's manual.
Document any issues
Breakdowns, leaks and other maintenance mishaps will happen. Keep a notebook in the cab of your forage harvester and take note of any observations or problems as you're experiencing them. Documenting these issues can help keep track of any patterns in your equipment's performance and help your dealer get to the root of the problem.
Stick to a schedule
Most importantly, every wise equipment owner knows to stick to a maintenance schedule. Breakdowns and failure can occur when routine maintenance is postponed or eliminated altogether. We recommend scheduling routine maintenance in advance so you'll never miss a tune-up.
Staying on top of your machine's maintenance can be the difference between downtime and cutting time during harvest. For any questions on how to keep your forage harvester running strong, visit your local dealer.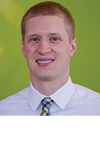 Eric Lanoue

Jaguar Technical Specialist
CLAAS