When the 14 dairy inspectors and three interstate milk shipment (IMS) officers in Minnesota compared notes, they found several common areas where farms are marked for a milk inspection debit.
Being aware of and remedying these items will help ensure better milk inspection results.
"We all want the same end result. We want good inspections. We want passing survey ratings. We want good FDA check ratings because this helps keep the milk moving. It helps it move from the farm, through processing and back to the shelf," explained Brandon Wolf, dairy inspector II and interstate milk shipment (IMS) officer with the Minnesota Department of Agriculture.
In his virtual presentation on "The Top 10 Most Common Milk Inspection Debits" at the Upper Midwest Dairy Industry Association annual meeting in December, Wolf said compliance with the pasteurized milk ordinance (PMO) ensures the safety of milk and milk products.
The following categories are where most of the infractions occur. Wolf provided some specific examples of each he has observed on farms.
Utensils and equipment
According to the form Wolf uses for inspections, these should have smooth, impervious, nonabsorbent, safe materials that are easily cleanable.
He showed examples of welding on a pipeline and bulk tank vent cover that were poorly done and, in one instance, used the wrong type of steel.
"Other things that also get marked in that area are gaskets that are deteriorated … inflations that are cracked, milk hoses that crack and wear out over time," Wolf said.
They watch for exposed threads on different dairy equipment, check for the plastic coating to be intact on receiver jar level probes and sensors, and examine the inside of milking claws.
Inspectors are looking for compliance with "easily cleanable surfaces," he said.
The surface of the equipment must also be clean. Producers should monitor and clean any buildup inside pipes, on the seal of the receiver jar and on the bulk tank walls.
"If there's not milk in the tank, just take a look at it," Wolf said. "Just to make sure the washes are working well."
Utensil and equipment storage infractions tend to include fresh cow buckets stored on the floor, improperly sloped pipeline, filter sock boxes left open and jetter cups not in the proper holder.
Water supply
With these violations, they often see backflow prevention valves in the wrong position (vent not turned down), or the vent is plugged.
Improper installation or lack of a pressure relief valve is another common problem, especially on pressure washers.
They check around the well and see well caps and electrical lines that are not tight or poor grading around the well.
Milkhouse construction
Over time, the hose ports – where haulers pass the milk hose through the wall – can rust, bend and deteriorate to a point it no longer seals tight.
On the outside of the hose port, there needs to be a 4-foot-by-4-foot concrete pad in good condition.
Propping the door open between the milkhouse and parlor is another violation.
Looking at walls and ceilings, broken windows, worn-out seals around a bulk tank cut through the wall and warped dairy board pulling away from the walls are common violations they find.
"We want to get this sealed up so that we can restrict any flies and potentially other insects from coming into the milkhouse," Wolf said.
Poor-condition floors are also a problem. Chipped and broken tiles or pitted and worn-out concrete create holes where water, dirt and other substances can collect.
Milkhouse cleanliness
"This is a very key item," he said. "This is the area where our milk is stored."
Dust and milk residue is often found on bulk tanks, receiver jars and other equipment. "Just keeping that cleaned off, keeping it scrubbed off helps," Wolf said.
Mud can easily migrate into the milkhouse, especially at certain times of the year, but keeping the floors sprayed down is very important.
"Other additional items that we look at and would mark in this area would be wall cleanliness and ceiling cleanliness," he said.
Water heaters, water softeners, calf milk pasteurizers and dog and cat food bowls are items that don't need to be in the milkhouse. "Try to keep those additional items out of there. It helps keep up the overall cleanliness of your milkhouse," Wolf said.
Surroundings and feed storage
Rooms adjacent to the milkhouse must be kept clean as well. Storage rooms, laundry areas, employee lounges, etc., can be spaces where clothes pile up; feed and milk replacer bags are left; and empty containers, garbage and other items collect.
These items can attract mice, or the people walking through can track that dirt and debris into the milkhouse with them.
"Try to keep this area just a little bit tidier and cleaner will really help," Wolf said.
Other ways to keep unwanted pests away from the milkhouse is to trim weeds around the exterior and keep flies out of the parlor.
Barn construction
The barn should be kept in good repair. Holes in the wall, loose tin and items in need of paint or whitewash are all places a debit could occur.
Barn cleanliness
Dust and cobwebs are common in barns, but they need to be kept at a minimum. Dusty and dirty pipelines are a problem, as is buildup on drinking waterers.
A common thing they see in tiestall barns is tying calves up in the feed alley. "We want to keep those out of there because, as we know, animals defecate in those areas – and we don't want to mix that with feed," Wolf said.
Paying attention to these areas will help dairy producers avoid these common debits. Wolf suggested utilizing resources like field representatives and IMS officers. It is OK to ask questions if you don't understand something.
If you're not sure where to begin, Wolf advised, "Take a look at your most recent farm inspection report, and start by fixing the items that are on there."
PHOTO 1& 2: Cleanliness and keeping up with repairs are key in avoiding the more frequent infractions on a milk inspection report. Photos by Mike Dixon.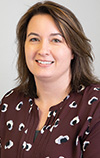 Karen Lee

Editor
Progressive Dairy