They called it the "turd hearse." It was a Korean War-vintage 10-wheel former military truck with a liquid manure tank mounted on the frame.
Made by GMC, the 302-cubic-inch GMC six-cylinder gasoline engine was under the hood, and some form of automatic transmission moved the engine power to the wheels.
This was about 1968, and I was going to college three days a week and working three days a week. My employer had a beef feedlot that included underground liquid manure pits.
Over the years since, I've seen many attempts to utilize surplus retired military trucks for farm use. Until recently, these attempts have been limited in usefulness. Most see the old warriors as I did the "turd hearse." The complaints were: underpowered, uncomfortable, too slow for anything except off-road use, and repair parts were a hassle to find.
In the late 1990s, the military went to a few trucks that looked like civilian trucks on steroids. The particular run of these used the cab and hoods (beefed up, I'm sure) of Freightliner conventional cab trucks. They came with the 60 series Detroit diesel engines, set at 400 horsepower, down from the 430 to 470 norm for the engine in civilian dress. The lower power rating should add to the longevity of the units. The Allison automatic transmission, set up for hard off-road use pulling heavy military cargos, is used and, of course, the trucks are all-wheel-drive.
One downside is: They still have the military-preferred 24-volt electrical system. Our local fire department is having their trucks converted to 12-volt so standard lightbulbs can be used. The 24-volt bulbs are available but are just harder to find and are usually more expensive. If you put a 12-volt lightbulb in a 24-volt system, it will burn really bright but not for very long.
Another downside is: Even though the powertrain is sourced from standard civilian engines and transmissions, things are just different enough finding the correct parts can be a challenge.
The upside is: The powertrain, transfer case, drive axles, etc., are heavy-duty enough they are going to last a very long time. (Note: Even the super-heavy drivelines still need to have the U-joints greased.) Another upside is: These units come with the hydraulics to run live-bottom silage or manure trailers. Called a "wet kit," the military trucks have them because most come with a humongous hydraulic winch behind the cab, suitable for loading a disabled tank onto a military low-bed tank trailer.
These bad boys show up either as tractors, with a fifth-wheel coupler to connect with the military semi-trailers of various configurations, or as tow trucks, military wreckers, etc.
Cost to a civilian buyer will be at least $20,000. There will be some alterations needed to make this kind of unit usable. To make the driving front axle with its associated hardware fit, the whole truck is raised several inches, allowing the springs and differential of the front axle to fit nicely under the frame. Behind the cab, there is a sub-frame added that extends over the rear axles and suspension.
The rear springs and axles are attached to this sub-frame. The fifth-wheel is mounted to the frame that extends from the front of the truck. This makes the truck, as delivered from the military surplus dealer, with a fifth-wheel that is about a foot higher than usable for standard civilian semi-trailers – even those built with lots of ground clearance for rough-terrain farm and ranch work.
A local dairyman who also has his own commercial fabrication and machine shop has a handful of these monsters running, and he said he's looking for more. He said his "vets" were very low-mileage, with the highest-mileage truck having about 18,000 miles on it. He altered his so everything fits for farm semi-tractor use. He gave me a ballpark estimate of $8,000 to alter the military tractor to fit standard semi-trailers.
Asked how they were working out for him, he said they were the best trucks he's had for the usage. He said they pull through the deepest irrigation circle tracks like there was nothing there. He also said the wider tires and the all-wheel drive made them exceptionally sure-footed in the fields, and they pull a semi-trailer with the same ease a normal 10-wheeler pulls itself through soft fields.
He said with the 400-horsepower engine and relatively low gearing, they really pull strong. Top speed on the road is only about 55 miles per hour, but he said he didn't really want his crew driving any faster on the country roads anyway.
This dairyman uses these trucks pulling live-bottom semi-trailers following the chopper for triticale, alfalfa and corn silage, for applying liquid manure from tank trailers and for side-dumps, hauling manure to composting areas prior to it being spread on the fields.
A bit of background on the evolution of military trucks: Time once was a high percentage of the recruits in the military arrived with experience driving machinery that had standard (stick-shift) transmissions. That made learning to drive military trucks fairly simple. As times changed and fewer recruits had a farm background, the military found it challenging to teach a recruit how to drive a stick shift in a heavy truck when the recruit had never even driven a car as a civilian, let alone one with a stick shift.
The first air-actuated auto-shift manual transmissions were at first available for military use only, as the design and manufacturing capabilities were limited. These gearboxes were used in the super-extra-heavy-duty transport areas where the available torque converter-type full-automatic transmissions would not hold up. Transmission technology has advanced light years since the dual-range hydromatic in the "turd hearse."
Either pacing a 900-horsepower twin-engined corn chopper or dodging bullets, it's less hectic for a novice driver to just aim the truck and mash on the "go" pedal than to have to also worry about shifting gears.
The heavier military trucks can be difficult to find. The lighter-duty 5-ton trucks seem to be readily available, but they are significantly lighter-duty and lack the power for semi-tractor use.
The conditions trucks need to operate in will dictate what works for each operation. Another military surplus unit has four axles (eight tires total) and a 515-horsepower engine. All axles are powered, and the front two axles steer. If your driver gets one of these stuck, it would take a group participation act from the whole county to get it out.
Innovation seems to be part of survival in today's farm economy. Most common farm equipment now exists because a farmer, rancher or dairyman somewhere was sure there had to be a better way to do something. Retired military trucks may be the answer to doing something better, or they may not, since no two farming operations are the same.
PHOTO 1: This military surplus truck uses the cab and hood of a Freightliner conventional truck.
PHOTO 2: The upper frame rail of a military surplus truck must be lowered to match the lower sub-frame in order for the fifth-wheel to be low enough to work for commonly available civilian semi-trailers. The frame alteration adds to the cost of making these surplus military units suitable for farm use. Photos by Brad Nelson.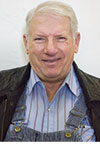 Brad Nelson

Freelance Writer
Royal City, Washington