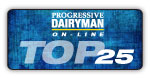 This article was #6 of the Top 25 most well-read articles on www.progressivedairy.com in 2013. It was published in the Oct. 30, 2012 Extra e-newsletter.
Click here for the full list of the Top 25.
In 2012, Van Loon Dairy of Jefferson, Oregon, was dissatisfied with the grass seed byproduct and sawdust mixture used for bedding on the 425-cow dairy, which prompted them to test waterbeds in one area of the barn.
Ben Van Loon was pleased with the initial results of the trial, and he converted the rest of the barn to waterbeds later that year. At the time the article was written, Van Loon had noticed improvements in milk quality and cow comfort, but he was not yet able to judge whether or not the beds impacted milk production.
We asked Ben Van Loon,
Q. Have you been able to attribute production changes as a result of the waterbeds? Have the initial improvements in udder health and cow comfort held steady? Also, you previously estimated a three-year payoff on this investment (including bedding and labor savings). Do you still believe that is accurate for your dairy?

Milk production is up for the year, so I have to say that pounds per cow is higher than we were averaging. I cannot say that is entirely due to the waterbeds because we have made other changes along the way.
Our somatic cell count has continued to be very good. Ever since we put in the waterbeds, it has continually and slowly been dropping. The last couple of months we were below 150,000 SCC.
That was one of the things that we saw right away. When we were on sand a few years ago, we were getting a good premium, but we lost it for a bit there. With the waterbeds, we have gotten our milk quality premium back.
"When we had sand, occasionally a cow would dig under the stall and get stuck. The cows that did this never seemed to recover well. With the waterbeds, we have yet to have a cow get stuck. We do not bed the stalls, and the cows are doing fine.
"As far as the payback, I still believe that we are on that track. Looking at the scraping tractor and the bedding wagon, there are fewer hours on it and less wear and tear. PD
— Ben Van Loon, dairy producer, Jefferson, Oregon
ARTICLE:
When seeking out new methods to keep cows comfortable on a dairy, there are only so many options to consider in terms of cow bedding. Some producers use sand, others use compost material, while others go different routes.
After noticing increases in the price of their bedding materials, the Van Loons looked into new bedding options for their 425-cow dairy near Jefferson, Oregon.
In early 2012, they decided to test waterbeds in one section of stalls on the dairy.
Later in the year, they would ultimately replace their previous bedding method of filling stalls with a grass seed byproduct and sawdust mixture with these waterbeds.
A family affair
Ben Van Loon's grandparents emigrated from Holland to Canada and after a few years, moved to California to get their first start in the U.S. dairy industry. He explains that his grandparents then moved to Oregon and started the family's current dairy operation.
Van Loon's father, Kryn, continued the next generation of dairying. After having completed college degrees and returned to the family farm, Ben and his brother Jeremy have now become more involved on the dairy. Although father and sons manage the day-to-day operations of the dairy, the entire Van Loon family pitches in to make sure the dairy runs smoothly all the time.
Ben explains that the dairy currently milks 360 cows twice a day. All of the dairy's heifers are raised on-site. The Van Loons also farm 300 acres of land, growing grass silage in the spring and switching to corn in the summer and fall.
Kryn manages the cow operations while Jeremy, who recently graduated from a local community college with a degree in diesel mechanics, helps with equipment maintenance and wherever else he may be needed on the dairy.
"I fell into the role of managing field crops and the manure area – keeping records on that," Ben says. "I'm slowly getting more familiar with dealing with the cows and feed rations."
Their mother, Irene, also helps on the dairy by doing all of the bookkeeping. Additionally, she feeds calves in the morning, with one of the two brothers taking care of the evening feeding. When extra workers are needed on the dairy, especially during busy seasons such as harvest time, Ben's wife, Melissa (a veterinary technician), and Jeremy's wife, Terri (a teacher), also help on the farm.
In addition to family members, the dairy also employs three other workers, including two milkers.
Taking cow comfort a step further
Cow bedding is an area that has changed before on the Van Loon Dairy. Price and availability of the bedding material, as well as increased somatic cell counts and cases of mastitis, influenced the dairy's decisions in this area.
The dairy used sand for bedding for some time, but Ben explains that it became a hassle to manage the sand and price was also high, so they switched to a grass seed byproduct and sawdust mixture, which ended up also becoming an expensive alternative. He says that the mixture increased by 33 percent – from $400 a week to $600 a week – throughout the course of a year.
"We weren't really happy with our bedding," Van Loon says. "Our cows were also having a lot of cases of mastitis and high somatic cell counts, so we decided to look around and see what we could come up with."
The Van Loons visited with a neighbor, another dairy producer from the Willamette Valley region of the state, who had installed the dual-chambered waterbeds on his dairy. They were interested in seeing how the cows adapted to using the waterbeds and whether the use of these beds resulted in increased hock sores on the cows.
"The one thing about the waterbed is that the water is always moving, so the cows always have a soft bed to lie on," Van Loon says.
In January, the Van Loons installed the waterbeds in a portion of their stalls to see how well they would work on their farm. After testing the waterbeds for six months, the family was impressed with the benefits in terms of decreases in hocks lesions and decided to equip the rest of their stalls with these waterbeds.
"Since then, we've seen some benefits on the health side, like lower somatic cell counts and less cases of mastitis, so it's a bonus," Ben says.
Due to the timing of when the waterbeds were installed, summertime production decreases, ration changes and other factors on the farm, he explains that they haven't been able to judge yet whether the beds have impacted milk production.
"We also never see a cow stuck underneath the stall because they use to be able to dig out the bedding," he says. "We had a few of those before – things like this that we don't see anymore are a real positive."
Van Loon expects the waterbeds to pay for themselves in three years. With the waterbeds, he has seen cost savings in not having to purchase the previous bedding. He has also seen time savings in not having to put out the bedding and scraping the alleyways as often because the cows kick out the bedding.
"Now, our alleyways are staying a little cleaner which will promote cleaner udders," he says. "This was also one variable we could take out of our cost variations."
Adapting to change
Ben embraces the idea of adapting to change and trying new options that are available. "My brother and I are always looking at ideas to fine-tune our business and find effective ways to dairy," he says.
The Van Loon brothers hope to continue dairying in the future in the most efficient manner possible while practicing caution. He explains that one of his family's goals is to become a more self-sufficient operation.
"Gaining a little more land, controlling our own feed costs and not having to worry about bringing in more feed – maybe look at more earlage and growing more of our own grain," he says.
Increasing the size of the operation is also on the Van Loons' radar; however, they hope to avoid outgrowing their land base in doing so. For now, the Van Loons are looking at helping their cows stay comfortable and dry during the winter months ahead.
"Right now, you can see the cows laying in their stalls chewing their cud," Van Loon says. "It's really nice to see that." PD
PHOTOS
TOP RIGHT: Ben (left), Kryn (middle) and Jeremy (right) Van Loon manage the day-to-day operations on the family's farm.
MIDDLE RIGHT: In early 2012, the Van Loons installed a set of waterbeds to see if this bedding option would be a fit on their dairy.
BOTTOM RIGHT: The waterbeds provide Van Loon Dairy with a cost-saving option in cow bedding. Photos courtesy of the Van Loons.
Dario Martinez
Editor
Progressive Dairyman magazine