The wish list of milking equipment upgrades can pile up: the latest technology, more data, increased automation – the list goes on.
But while it's nice to always have the latest and greatest milking equipment, what really calls for an upgrade?
Start by thinking about:
What is costing me the most to repair and maintain?
How can I reduce the cost of ownership?
What could I upgrade to save money and gain efficiency?
How could I reduce labor?
Upgrades can be as simple as new liners, milking claws and detachers or as big as new parlor stalls or a full parlor retrofit. Or they could include adding new technology like milk meters, automatic cow prep and post-dipping. Consider your greatest needs to prioritize which upgrade is right for you.
Put cow comfort first
So often, we're focused on cow comfort in the freestall barn. But what about the milking parlor? With the right milking equipment, cows will be more comfortable in the milking stall, resulting in better milk let-down, faster milking times and ultimately more turns per hour – making it easier on your labor and bottom line.
Take time to watch your cows and employees during milking to identify problem areas. Ask yourself:
Are cows having trouble coming in and out of the parlor?
Do they hit their backs on the stalls when they leave?
Are cows comfortable and calm during milking, or do they dance around?
Can employees easily reach each cow to attach the milking unit?
Are cows milking out quickly, or is there a delay after unit attachment?
Keeping a watchful eye on these areas can pinpoint what to discuss with your milking equipment dealer. They can complete a more in-depth milking evaluation to determine which upgrades are right for your system and can help you achieve your goals.
Also look at the stalls when cows aren't in the parlor. Shiny spots or wear points can indicate cows have pressure points on them and are uncomfortable. Consider upgrading your parlor stalls. Indexing stalls adjust to the cow to make her more comfortable and milking easier for employees.
Focus on your biggest opportunities
When prioritizing what to upgrade first, think about your management goals and how you want to manage your farm in the future to identify your greatest area of opportunity (Figure 1).
Could you manage your herd better with daily per-cow milk data? Milk meters provide production data for every cow at each milking – allowing you to keep a closer eye on individual cows. For example, finding cows that drop in milk could help identify and treat sick cows sooner, something you can't do with monthly test data. Many milk meters also contain a sensor to measure milk conductivity, helping detect mastitis sooner, leading to a faster and higher cure rate. You can use the data to group cows by milking speed to maximize parlor efficiency.
Are you looking to cut parlor labor? Consider adding a teat prep system or automatic post-dipping. Teat prep systems allow you to milk more cows per hour, milk the same number of cows with less labor or add cows without additional labor. Herds using teat prep systems experience more consistency and efficiency in cow prep across employees, resulting in cleaner teats, fewer mastitis cases and lower somatic cell count (SCC). Automatic post-dipping saves labor by eliminating the need for an employee to post-dip cows.
Would automating milking unit removal make you more efficient? Detachers ensure milking units come off when a cow completes milking. They eliminate overmilking by stopping milking at the optimum time, resulting in healthier udders and more efficient milking. If you already use a detacher system, consider the age of your system. There are many old detachers in use today which aren't working properly and can't be fine-tuned because the technology is too outdated.
Are you milking in an older system and struggling to maintain it? Consider the time you invest in maintaining your system to keep it running. Many older parlor systems, 20 to 25 years and older, were built for cows milking 60 pounds per day, not today's cows knocking on the 100-pound door; they can't handle that volume of milk flowing through like new systems.
Newer systems can provide more data more often to help you make better management decisions. Invest in equipment and technology that will make it easier to attract and retain employees and make it so people will want to work on your farm – whether that's family labor or outside labor.
Work with your milking equipment dealer to prioritize upgrades to meet your farm's goals today and into the future. They can help you determine what will work best with your current milking system and management style. Don't overlook getting any outside perspective, too – tour other dairy farms and talk to other farmers using similar technology.
PHOTO: Your milking equipment dealer can complete a milking evaluation to determine which upgrades are right for your system and can help you achieve your goals. Photo courtesy of GEA.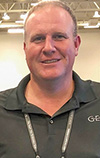 Matt Roberts

Eastern Regional Sales Manager
GEA