In the last few years, a number of automatic teat dipping and spraying technologies have been introduced to the dairy industry. In the midst of the early adoption phase, Progressive Dairyman reached out to several manufacturers or marketers of this equipment to learn what is attracting the initial purchasers as well as what might be holding some interested parties back.
Those that responded to our questions include: Gary Arnott, managing director, Onfarm Solutions; Mark Futcher, market development manager, DeLaval; Lisa Herlihy, marketing manager, Dairymaster; Tim Miehe, sales specialist, GEA; and Brad Tripp, sales manager, Green Source Automation.
Q. Why are dairy producers investing in automatic teat dipping or spraying systems?
A. ARNOTT: Rising labor costs and the difficulties dairies have acquiring good-quality labor has led to dairymen investing more in automation. A rotary carousel is the perfect place to install automatic teat spraying technologies because the animal is confined to one place, and an extending arm is able to move under the cow's udder as the carousel passes.
Teat spraying or dipping is still the most important step in controlling the spread of mastitis during the milking process, and these automated systems allow a dairyman to have peace of mind that every animal is being sprayed consistently, no matter what time of day or night.
A. FUTCHER: Interest and investment by dairies with such systems is on the rise for several reasons. First, the technology has proven out to be effective, one of the key measures being consistency, or repeatability of performance, and successful completion of the task.
Second, based on the prior fact, there is confidence this automation is a valid means to offset the traditional labor component associated with the manual task of udder and teat hygiene. Third, as a result, such systems can yield an attractive return on investment in as little as 12 months, dependent on several variables such as milking frequency, milk session length, etc.
A. HERLIHY: Dairy producers are investing in automatic teat dipping and spraying systems for a number of reasons, the main reason being to reduce the labor requirements in the milking parlor. Installing one of these systems will typically eliminate a half-unit to one labor unit depending on the style of the milking parlor (swing, double, rotary, etc.).
This is where producers would achieve their biggest return on investment.
Other reasons for investing in these systems are that they tend to be very consistent in dip application once properly maintained, and they have a much lower risk, if any, of spreading bacteria from cow to cow, whereas a labor unit could potentially be inconsistent with the application of dip and will have a higher risk of spreading bacteria.
This, in turn, will help to reduce the risk of spreading mastitis in the herd and maintain a good somatic cell count.
A. MIEHE: We are consistently hearing from farmers that labor is one of the biggest issues they face today. With manual dipping, you may need a dedicated person for dipping, depending on the size and type of parlor.
By going to automatic teat dipping, farmers could eliminate a position in the parlor or reassign an employee to other tasks. It also gives milkers more time for prepping and other milking tasks without worrying about dipping cows.
Consistency of teat dipping is another major factor for dairy farmers. Manual dipping averages about 70 percent teat coverage. With automatic teat dipping, coverage could be as high as 95 percent, depending on the system you choose.
This helps to keep bacteria out and improve milk quality and udder health. [Certain systems have] the added benefit of an automatic backflush system, which removes any residual dip and sanitizes the unit between each cow.
A. TRIPP: Automatic teat prep and post-dip robots provide consistency. Whether it is a consistent solution to changes in labor trends, or just as importantly, if not more, dairy producers are realizing the benefit of consistent interaction with the cows.
Q. What are the roadblocks to further adoption?
A. ARNOTT: In the past, there have been many automatic teat spraying systems that were too expensive to offer a reasonable return on investment. These systems are expensive to install and maintain.
A. FUTCHER: In theory, there are not many, although the speed requirement for some larger rotary installations, up to 106 stalls, may rotate at speeds on a seconds-per-stall basis that may be beyond the "reach" of technology today, but no doubt it will come.
However, it is likely the most significant roadblock to further adaption is simply exposure and familiarity of dairy producers and farm managers to the technologies available for use today.
A. HERLIHY: The main roadblocks as to why these systems are not as popular as they potentially could be is that it's not a viable investment for a lot of producers with smaller herds. These systems also tend to use more dip than a labor unit typically would, which can lead to higher operating costs.
Looking at the producers' options, the majority of the systems on the U.S. market today are limited to working only on rotaries, which is a small segment of the market. There needs to be some further improvements in technology with these systems to meet the needs of customers with other styles of parlors.
Some manufacturers have designed a teat sprayer for the sort gate, which allows automatic teat spraying to be incorporated into any style of milking system, but this style of system tends to use more teat dip.
A. MIEHE: Automatic teat dipping has evolved over time from dip cups, spray wands and floor-mounted sprayers to the latest technology of automatic post-dipping in the liner of the milking unit.
As with any new technology, some dairy farmers will jump in and install right away, but many are cautious and want to wait to see how the technology performs. They want to be confident in the product and make sure it's worth the investment.
There also needs to be a shift in the mindset of farmers; everyone, no matter the herd size, could benefit from moving to some version of automation in their teat dipping process.
The up-front cost of installing an automatic teat dipping system can be a deterrent for some farmers, but the long-term benefits in labor savings and udder health are worth the investment.
A. TRIPP: We are continuously working to improve our technology. For the past eight years, we've processed millions of animals with our automatic system in a wide variety of climates and environments.
This real-world field experience cannot be duplicated in a controlled test environment. Automating the processing of a live animal in a real-world setting is the most challenging type of automation there is; the solution has to be able to account for and respond to constantly changing variables in real-time.
Q. What is being done to address these issues?
A. ARNOTT: Newer, less complicated systems are now entering the U.S. market, allowing dairymen an alternative to expensive robotic systems. The return on investment for an affordable system that uses teat spray effectively and also efficiently is relatively short.
Less complication negates the need to hire highly skilled and expensive technicians to maintain systems. Parts that are affordable and easily replaced on-site ensure an investment in this technology continues to maintain a high level of efficiency throughout its lifetime.
A. FUTCHER: Continuous innovation by creative minds across the industry, dairy owners and operators included, will remain. As more and more of these technologies are installed and operating successfully, the integration on more and more dairies will be proportionate. The fact is, all of us only know what we know, and seeing is believing.
A. HERLIHY: Technology advancements are constant, and companies invest in a lot of research and development. I have no doubt that in the near future there will be a teat spraying system that can be used in any style of parlor and is efficient in the application of teat dip.
For example, platform teat spraying systems at each cow stall with which you can calibrate to spray the most efficient amount of dip while getting the best coverage. Other systems available include robotic arm teat spraying and teat dipping from the milking unit.
I believe these systems will become more popular in the coming years as technology is continuously and quickly improving, which will lead to more affordable, flexible and efficient automatic teat spraying systems.
A. MIEHE: The market for automatic teat dipping systems is growing, especially in large commercial dairies. Even with the low milk prices, sales of automatic teat dipping systems continue to increase.
Dairy farmers see the benefits these systems can provide, seeing a return on their investment and a positive impact on their bottom line. With more systems in place, dairy farmers have the opportunity to view a system in action and see how they could benefit from automatic dipping.
Advancements in automatic teat dipping also give dairy farmers more options in choosing a system that fits with their milking style. Spray systems can limit the number of cows per hour, slowing parlor throughput. In-liner technology dips cows as the unit detaches for a quicker dipping process, and it can be used in both line parlors and rotary parlors.
A. TRIPP: The lessons we have learned over the years drive further innovation and improvements in the technology. Others in the space that have attempted to add high-speed robotic automation to the rotary parlor are just now dealing with some of the issues we encountered nearly a decade ago as they attempt to put their solutions in real-world environments rather than carefully controlled test environments.
This is how we have been able to automate two sides of the rotary parlor and will continue to innovate and drive automation throughout the dairy.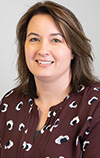 Karen Lee

Editor
Progressive Dairyman