Reality check: John has worked on his family's farm since he was 12 years old. He is 38 years old and has three children. John had just finished loading silage into the silo and was approaching the tractor's PTO lever to turn off the forage blower.
As he stepped onto the drawbar, the laces on his boot became caught on the spring-loaded push pin of the forage blower PTO shaft coupling. He was thrown backwards off the drawbar, with his boot and denim jeans being forcibly removed. He suffered considerable muscle damage to his left leg and, as a result, lost his leg. He is no longer able to work on his family farm or play with his kids in the same way he did before the accident.
Power takeoff (PTO) shafts are a great way to transfer mechanical power between tractors and other farm equipment. However, PTO shafts are the leading cause of entanglement fatalities, which accounts for 30% of agricultural fatalities in Canada. There were 14 deaths caused directly by PTO shafts from 1998 to 2008 in Canada.
A PTO shaft operating at 540 rotations per minute (rpm) makes nine complete rotations every second. If the PTO shaft is 4 inches in circumference, this means 36 inches of shirtsleeve or an entire arm can wrap around the PTO shaft in just one second. Other PTO shafts rotate at 1,000 rpm or 16.6 times per second. It only takes half a second to entangle an entire arm or leg at this speed.
The importance of PTO guards
Having a PTO guard can mean the difference between keeping your limbs and going home safely – or not. Many hazards are part of PTO shaft uses. These include:
Death
Entanglement
Hair or clothing getting caught in moving PTO
Loss of limb or muscle loss
When you are required to use a PTO shaft, safety should always be your top priority. It is important to inspect the PTO before, during and after use. You should always complete the following inspections:
Pre-operational inspection of PTO
1.
Ensure all PTO shields and guards are in place.
2. Ensure the master shield is in place where the PTO meets the tractor.
3. Ensure the PTO rotates freely.
Operational safety checks
When using the PTO for silage blower, grinder-mixer, irrigation and manure pumps, remain at a minimum 6-foot distance from PTO shaft.


When using, ensure safety pylons are placed around the PTO.


Never leave the PTO unattended.
Ending operations
1. Shut off the engine and disengage the PTO.
2. Conduct a routine inspection to identify any maintenance required on defective or worn parts, guards or shields.
Do not
Reach over or step over PTO while it is running.


Wear loose clothing or jewelry or leave long hair untied.


Leave the PTO unattended (unless mixing and well signed).
When it comes to PTO safety, you can never overdo safety. Some best practices include:
Keep all components of PTO systems shielded and guarded.


Regularly test shaft guards by spinning or rotating them to ensure they have not become stuck to the shaft.


Always walk around the PTO (never reach or step over a PTO shaft).


Tie long hair back or put it into a bun where it does not have the potential to be entangled in a rotating PTO shaft.


Remove or tighten any loose clothing that has the potential to be entangled.


Always disengage the PTO and shut off the tractor before dismounting the tractor to clean, repair, service or adjust machinery.


Always walk around tractors and machinery instead of stepping over a rotating shaft.


Reduce PTO shaft abuse by observing the following: Avoid tight turns that pinch rotating shafts between the tractor and machine, keep excessive telescoping to a minimum, engage power to the shaft gradually and avoid over-tightening of slip clutches on PTO-driven machines.


Be sure PTO shaft is securely locked onto the tractor PTO stub shaft.


Keep universal joints in phase.


Ensure others working around you understand and follow safety rules around a PTO shaft.


Lubricate bearings regularly, as recommended by the manufacturer.


Keep children away from all turning parts on the machine, not just the PTO.
Everyone working around PTO shafts has the potential to have an accident like John. It only takes a second to become entangled on a PTO shaft. Talk to your local equipment dealer about getting a PTO guard so you can protect yourself, your employees and your family on the farm.
Make sure to take some time to review the safe operating procedure of the PTO with your employees and obtain written training attendance sign-off to maintain solid training records. Review this safe operating procedure annually with all employees to keep knowledge current.
ILLUSTRATION: Illustration by Kevin Brown.
Cheryl DeCooman, CHRL, can also be reached at (519) 532-2508 or on Twitter and Instagram.
References omitted but are available upon request. Click here to email an editor.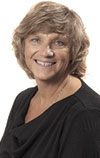 Cheryl DeCooman

President
People Management Group