Robots are more and more popular in today's dairy operations. Producers are looking for ways to increase the size of their herd, increase milk production per cow and improve the quality of life.
A larger herd means more time spent milking, and one way to increase milk production is to switch to three milkings per day – both of which decrease available time for other tasks. Finding good employees is also becoming increasingly difficult.
Robotic milking systems can help these factors, but are robots reliable, and what kind of life expectancy can we expect from these significant investments? Two Canadian dairy farms have recently reached the 1 million milking mark with their automated systems.
Hans van Lith from Langeweer Dairy and François and René Carmel from Ferme Carmel Inc. share how they've kept their robots working to maximize their investment over 17 years.
Hans van Lith emigrated with his family from Holland in 2006 when he was 14 years old. Their farm, Langeweer Dairy, located in Woodstock, Ontario, consisted of a 90-head milking herd plus heifers and dry cows. Already in place, two Lely Astronaut A2 robots were relentlessly milking the cows since 2001.
They grew the herd over the following years and are currently milking 280 cows. As the number of cows increased, three additional robots were purchased.
François and René Carmel, owners of Ferme Carmel Inc., located in Ange-Gardien, Quebec, were the second farm in Canada to install a DeLaval VMS milking robot in 2001. On the advice of the engineer involved in building their freestall barn, they considered using a robot to milk their cows.
After visiting the DeLaval headquarters in Sweden, they decided to go for it. With a herd of 60 milking cows, they wanted to improve milk production per cow but did not want to milk the cows three times per day. A robot would allow them to reach more milkings per day while freeing the Carmels' time to do more work in the field during the busy season.
Maintenance methods
Van Lith says he is very satisfied with the quality and reliability of the robotic milking systems. "They work fantastically and are easy to maintain," he states.
After more than 10 years with the same type of machine, he knows the equipment very well and can fix the common problems. "The nice thing is there is nothing so big that you can't replace. Our Lely center (Lely Center Woodstock) provides us with all the support we need," he says.
When he acquired the robots, van Lith opted to have a full maintenance contract with the dealer, which included a preventive maintenance program with dealer support visits on a regular basis. By shadowing the technician as he was replacing parts and performing maintenance, van Lith learned a lot about the automated milking systems.
"It is the best way to learn since you can get all the explanation you need from the specialist. The next time you encounter the same problem, you know what to do," he says.
However, after operating the robots for so many years, van Lith says spare parts were getting harder to find, and the technicians knew less and less about this model since they were being trained on the new ones. Also, the company stopped offering software updates for his particular model a few years ago.
The Carmel brothers say a meticulous maintenance plan and regular updates of the software have been the keys to keeping their automated milking system working in perfect order since it started operating on Oct. 23, 2001.
Since they only have one milking robot, there isn't a back-up robot to take the extra load when this one stops working. Their robot has a 24-hour shift, and it needs to perform perfectly every day of the week. However, they are able to rely on their local DeLaval dealer to keep it running – even during the night, if needed.
Their technician comes every three months and replaces all parts that could break over the course of the year. The Carmels only do the easy maintenance, like changing cups, diaphragms and bearings, by themselves. They often do this when the technician is already working on something else.
"We prefer to get professionals to do the work. We learn new things every time our technician, Maxime Veilleux, comes to the farm. This is probably why our milking robot has been working for so long and still running strong," François says.
Reaching the 1 million mark
Van Lith says he expects an automated milking system should last for at least 1 million milkings before replacing it. He calculated the oldest one reached 1 million milkings in September 2017. The second one would have hit that mark this summer but, in December, five brand-new automated milking systems replaced the older models.
Van Lith explains, "We were very satisfied with the A2 model, but our Lely dealer offered a deal that we could not refuse. They asked us to be a pilot farm for their new A5 model, code-named EMMA, which possessed 17 years of technology improvement. The milking process is more silent, accurate and quicker, and at a price that would not be seen in the future."
The Carmels' automated milking system reached the 1 millionth milking this summer. This is the first DeLaval VMS robot to reach this number in the world. The two producers are quite proud of this achievement, especially since they were one of the first to order this robot in Canada.
Their neighbors and veterinarian were, at first, very skeptical about the technology, saying they would have problems and it was too expensive. Today, most of the neighbors are milking with robots, and the vet is impressed with the overall health and production of the herd. After almost 17 years of loyal service, their automated milking system will retire and will soon be replaced by the new VMS V300 model.
Advice for those considering robots
François says it is important to know how to use a computer before buying a milking robot. The software is user-friendly, but you need to know what you are doing. This is probably why the younger generations tend to thrive with this equipment.
Second, it is good to be patient with the cows and let them adjust to their new environment. "At the beginning, we tried too hard to get the cows to the milking robot. We spent a lot of time making sure everything was fine.
When my brother René got injured and could not be there for a few days, I had to do all the chores by myself and let things go. I saw the cows knew their routine, and they did not need me. And after all the heifers calved in the freestall environment, things were even easier," François says.
The Carmels' barn is a milk-first design, so the cows need to pass through the robot to get to the feeding area. If a cow doesn't need to be milked, the gate opens and lets it exit.
For barns with more than one automated milking system, van Lith recommends centralizing the units to allow for easy access for cleaning and maintenance, while still having easy access for the cows.
After more than a million milkings, neither farm would go back to milking the cows manually. They have each proven that, with regular maintenance, this equipment can last for at least 17 years.
PHOTO 1: François and René Carmel have relied on professional service to keep their single robot operating for almost 17 years. Photo courtesy of DeLaval.
PHOTO 2: Hans van Lith learned a lot about maintaining his automated milking system from his technician so he could perform regular tasks on his own. Photo courtesy of Langeweer Dairy.
PHOTO 3: The Lely Astronaut A2, installed at Langeweer Dairy in 2001, hit its 1 millionth milking in September 2017. Photo courtesy of Langeweer Dairy.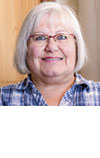 Suzie Le Sauteur

Freelance writer
Mansonville, Quebec