At Hoffman's Happy Holsteins, robot technology comes together with rotary efficiency in one of the continent's very first robotic rotary milking parlors.
It was only two years ago that Wisconsin dairyman Kent Hoffman made a trip to Canada to see North America's first robotic rotary in action. At that time, the Hoffman dairy was maxed out, running 580 cows through a double-10 step-up parlor three times a day.
Kent, along with his brother Kerwin and sons Randy and Ryan, were eyeing up rotary parlors, attracted to the efficiency; yet, concern over the long-term labor outlook lingered. And while automated milking had its appeal, they were reluctant to make the herd management changes required for box robots. They also wanted their capital investment to provide opportunity for growth.
As he watched one person operate a 60-stall robotic rotary at Gracemar Farms, Kent Hoffman realized this could be the solution for his dairy back home in Peshtigo. "I saw it work, and I was pretty impressed," he says.
Revolutionizing how cows are milked
The GEA DairyProQ performed better than Hoffman expected, with impressive accuracy and less manpower per cow than a traditional parlor. The automated milking modules are built on a rotary platform, with the number of milking stations customized to herd size, ranging from 28 to 80 stalls per rotary. Each stall has its own retractable robotic arm that uses a camera to locate teats and attach cups. All prepping (teat stimulation, cleaning, drying and pre-milking), milk extraction and post-dipping are done inside the teat cup liner. Unlike a box robotic system, milking is not voluntary; rather, cows are managed and milked as groups, just as they would be in a typical parlor setup.
Hoffman could see that the robotic rotary would not only reduce his need for hired labor, but it would also allow the dairy to continue their group management style in the barn. And at the current milking herd size, the cost for the robotic rotary would be about equal to the price tag for the equivalent number of robot boxes retrofitted into the current barns, yet it left room for the operation to add cows without investing more in the milking facility.
"I was told [retrofitting with robots] would save me a lot of money, but you can't add more cows without adding more robots. Here, we can add cows with no more cost," Hoffman says, noting he believes his 40-stall rotary could easily handle up to 1,500 cows without additional parlor labor. With this logic in mind, the Hoffmans decided to build a new milking center for the robotic rotary and renovate the former parlor as part of the holding pen.
By Nov. 1, 2017, the first cow at Hoffman's Happy Holsteins stepped onto the robotic rotary platform. The first 12 days of training the herd proved to be the biggest challenge of adopting the new technology. "We pretty much had to push every cow on," Hoffman recalls. "The odd thing was the cows that gave us the most grief in the parlor did the best in here."
In particular, the herd's older cows were most resistant to the change. "Pretty much anything third-lactation and over had the hardest time," he says. "We did have some sixth- and seventh-lactation cows that liked it, but not very many. Close to 20 percent didn't go through this parlor."
Six months in
Now, six months into the new facility, operations are running smoothly. Just as before, cows continue to be milked three times a day and managed in groups. Milking shift time is down to three and a half hours – half that of the former step-up parlor. They average five turns per hour, which seems to be the optimal speed for milk-out.
"Right now, we're pretty much down to two people. One person watches the robots and stays in the parlor [as the operator], and one person fetches batches," Hoffman explains. This has resulted in a reduction in hired part-time labor for milking. "There were three people we didn't replace," he adds.
For the duration of the milking shift, the operator monitors the parlor, keeping one eye on the cows and the other on a computer screen indicating any cows in need of special attention. A handful of cows require manual attachment, which are typically either those with very close teat placement or small body size. Hoffman explains, "Really small cows are hard. They go so far forward that the robot arm can't reach and we have to manually put the unit on." On the contrary, bigger-framed cows seem to fit best in the stalls.
Instantaneous data available through the milking equipment software has opened up a world of timely information for making management decisions. In fact, that's what Hoffman says is one of the most fun parts of the entire system. "We have milk production, eating time and heat detection. And now we have conductivity and real-time milk weights," he says. "You have everything at your fingertips."
Though the program does not provide somatic cell counts, Hoffman finds benefits in milk conductivity measurements as an indicator of milk quality. He notes, "I don't think SCC is as valuable as conductivity."
With any new technology, glitches come with the territory. Hoffman says, however, "I think the problems are getting fewer and farther in between." Most often, issues that arise are software-related, not equipment-related. Of the 40 modules on the platform, only one has been traded out for a replacement. Maintenance has not been burdensome; the silicone teat cup liners were just changed out for the first time after five months of use.
As for Hoffman, his daily duties have changed a bit. He used to start his day hands-on, with milking at 3 a.m.; now, his early mornings are spent in the herd office, keeping a watchful eye on the cows in the parlor through a window while preparing for other management tasks like dry-off and administering shots for breeding.
Hoffman still "milks" on the weekends, but he admits he hasn't yet missed doing it the old way. With this new milking technology, both the Hoffmans and their Holsteins are enjoying the ride.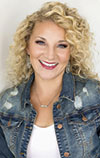 Peggy Coffeen

Editor
Progressive Dairyman
PHOTO 1: The Hoffman family started milking in the DairyProQ robotic rotary on Nov. 1, 2017. From left to right are Ryan Hoffman, Randy Hoffman, Kent Hoffman and Kerwin Hoffman.
PHOTO 2: Each module on the 40-stall platform has its own arm that extends underneath the cow for milking.
PHOTO 3: A camera locates the teats and attaches the cups. All prepping, milking and post-dipping are done inside the liner.
PHOTO 4: During the three and a half hour milking shift, one person operates the robotic rotary while another fetches groups in the barn. Here, Ryan Hoffman oversees milking, which includes manually attaching units on a handful of cows. Photos by Peggy Coffeen.
Robotic rotaries: A well-rounded solution
The Hoffmans may be one of the first to embrace this emerging cow milking technology, but they certainly won't be the last, as a handful more dairies in the U.S. break ground.
Mark Proeber was involved with the Hoffmans' robotic rotary project from start to finish on behalf of Kozlovsky Dairy Equipment. He sees a bright future for this type of milking facility for a few key reasons:
1. Management: The dairies not interested in voluntary milking can adapt this technology without significantly changing their management style. Proeber says the cows are managed similarly to how they would be in a traditional rotary parlor. For example, the Hoffmans continue to milk three times a day.
2. Labor: With the looming concern over labor on dairies, automation replaces a task people perform in a traditional parlor. In fact, Proeber believes just one operator could oversee as many as 80 stalls at one time on the rotary platform.
3. Capital investment: In some scenarios, a robotic rotary may offer cost efficiencies compared with box-style robots once dairies reach a certain size. Proeber says dairies with 600 to 700 cows should explore the feasibility of a robotic rotary.