In the sandy soils of Wisconsin's Northwoods sits the old sawmill city of Antigo.
Here, trees far outnumber people, and cows too, but tucked in between the towering tracks of timber and flat, open potato fields, the Breeze Dairy Group LLC came across a "site" for sore eyes that turned into a vision for opportunity.
Brian Gerrits, the group's CEO and CFO, first set foot on the sandy soil in the winter of 2014 to contemplate the purchase of an existing 1,800-cow dairy. In front of him, he saw a good herd of cows, a passionate management and employee team, three 30-year-old freestall barns still in pretty good shape, a double-24 parallel parlor and a few additional buildings. But his vision didn't stop there; Gerrits could see the forest for the trees, with eyes wide open to the potential this ground held to be transformed into the next endeavor for the Breeze Group.
The Breeze Group took turn-key ownership on Sept. 1, 2015, adorning the new addition with the name Spring Breeze Dairy. "We bought everything – lock, stock and barrel," Gerrits recalls. "We handed them a check; they handed us the keys. Things never skipped a beat and just kept going."
The purchase rounded out the Breeze Group's trifecta of dairies. The five-family partnership first collaborated to build Lake Breeze Dairy in 2002, a 3,000-cow operation just north of Fond du Lac. Ten years later, they purchased a 400-cow dairy and expanded it to 2,800 cows to form Pine Breeze Dairy near Pine River. In 2009, the group purchased a green field site and made plans to build a 4,000-cow dairy near Dorchester, but DNR opposition hampered its fruition, ultimately leading the group to abandon the project.
Thus, the opportunity to step into Spring Breeze Dairy came with what Gerrits and his partners recognized as an invaluable asset: permits. That basically meant a green light to double the herd size without wrestling with regulatory red tape.
Renovations and expansion
Over the next three years, Gerrits pushed forward with the vision to set the site up for 3,600 cows while continuing daily business as usual on the dairy. The original naturally ventilated freestall barns got a "face lift," including new roofs with a closed ridge and chimney fans to provide proper air exchange during the frigid winters.
"For this part of the country, we don't need heat abatement – we need cold abatement," Gerrits jokes. This improvement over the former open ridge prevents snow from falling into the feed alleys and manure from freezing stiff. To assist in moderating the barn environment during warmer weather, a series of 55-inch fans were added to the north ends of the barns to create a tunnel ventilation effect.
Construction on the site began in April 2018, but first they had to make some room. In the original H-style layout, the two milking barns ran along either side of the parallel parlor, with a special-needs barn directly behind the parlor; the manure pit was between the barn and the road. Gerrits determined the best way to add cows and a new parlor on the same footprint was to dig a new pit elsewhere on the property and back fill the old one. Today, in that same space, is a new six-row tunnel-ventilated barn for 1,500 cows and a 72-stall rotary.
Though the other two dairies have parallel parlors, a rotary penciled out for the size of Spring Breeze Dairy, which will max out at 3,600 cows. While they initially looked at an 80-stall platform, sizing it down by just eight stalls offered significant savings in milking equipment and building costs without compromising cow flow. "We didn't lose any efficiency going from 80 to 72 stalls," Gerrits said, adding, "In fact, we've been able to speed up the parlor recently to get more cows on quickly. Sometimes I even see milking shifts done early."
Milking shifts include six people: one post-dipping and three others inside the parlor plus a cow pusher and manure scraper. According to Gerrits, employees say they enjoy the open, airiness and light of the new parlor, and the cows seem to be adjusting as well.
"They didn't skip a beat," Gerrits says. The herd averages 94 pounds of energy-corrected milk and a somatic cell count (SCC) right around 100,000. "The quality is fantastic, milk production is right there, and throughput through the parlor couldn't be better."
The rotary was up and running in December 2018. For a few days, cows were milked in both the new and old parlors until the transition was completed. The former milking parlor is still utilized for milking cows in the hospital barn. The unsalable milk goes to a pasteurizer for feeding the baby calves, of which most are kept on-site before moving off site.
Amid the barn and parlor construction phase, a new shop and feed storage area were also built, making Spring Breeze Dairy a very busy place over the course of nine months' time. "We had well over 100 builders here, outside of the regular employees," Gerrits says. "We're grateful for how our employees worked through the construction process."
Challenges of a turn-key site
With the barns and parlor running smoothly, Gerrits now focuses his attention on fine-tuning the process for handling sand-laden manure. Manure is scraped to an auger system that then takes it to a pump and onto the sand separation building, which has been upgraded with new mechanical separation equipment.
"On any facility you put together, the manure system is always the toughest challenge," Gerrits concedes. "Our other farms have a flush or flume flush, but here we are pumping. Our struggle is to get the manure to the sand separation equipment without too much babysitting."
Another ongoing challenge has been the electrical system and making necessary updates between the existing buildings and new buildings.
"We're still not done here yet," Gerrits says, noting continued tweaking of the manure and electrical systems, "but we're very pleased with what we've ended up with here, and we're able to make this site work for us."
When asked if he would have rather bought an existing dairy or build a new one, Gerrits says, "It depends." He goes on to explain, "In a heartbeat, if you can get the permits and build on a bare piece of ground, you'd do that. It's hard to take a facility and expand it. But when you've got an existing facility with permits, it takes that big unknown away."
Just as valuable as the permits was the social license that came with the dairy. "If people are OK with the farm that is already there, they will be OK with us," Gerrits says, and that theory has proven itself true. "We've been welcomed with open arms by the community here."
What's next for the Breeze Group
While Gerrits admits the idea of multiple dairy sites was not on the radar initially when he joined with the four other partnering families (Dr. Lynn Davis, Mark Diederichs, Ron and Rick Schwenck, and Doug Thiel) to form the Breeze Group 17 years ago, they now see it as a viable option if the future generation chooses.
"My goal became to establish an operation with multiple sites and with systems in place that could operate three farms or 13 farms. We're getting close to having the structure and organization to accomplish that," Gerrits says. "That's what I wanted to do; now I want to hand it to the next generation."
With two sons and one daughter-in-law working in management roles within the business, Gerrits knows the future is in good hands, and he's accomplished his goal of creating something he could proudly pass on to his children, should it be their choice. He personally hopes to slowly step back from his responsibilities over the coming years and "slide into retirement."
Like fitting together a jigsaw puzzle, the pieces of Spring Breeze Dairy are now in place, completing the picture Gerrits and his partners at the Breeze Group envisioned.
With a satisfied smile, he says, "It's rewarding when I drive in and look at the whole facility, look at each challenge that came along the with the place and see that we pulled this off."
PHOTO 1: A new rotary milking parlor (far left building) and six-row barn (second from left) were built last year at Spring Breeze Dairy in the same place where the manure pit was originally located. The three original freestall barns have been converted from mechanical to tunnel ventilation.
PHOTO 2: Spring Breeze Dairy transitioned into a 72-stall rotary parlor in December 2018 to accommodate doubling the original facilities to reach a capacity of 3,600 cows. Photos by Peggy Coffeen.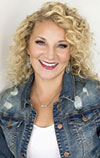 Peggy Coffeen

Editor
Progressive Dairy