Tier 4 Final emissions requirements have been the standard for diesel engines since the beginning of 2015, but many dairies across the country are still relying on their trusted equipment powered by diesel engines using Tier 4 Interim, Tier 3 or even earlier technology.
The diesel engine technology that has emerged since the beginning of the Tier 4 Final ramp-up process has significantly reduced emissions of both particulate matter and oxides of nitrogen but, as with any new technology, users must weigh the increased benefits against the increased costs. Due to the staggered timeline for emissions regulations, various solutions designed by different manufacturers and the wide range of uses for diesel engines, it can be challenging to understand some of the major benefits you can expect when you upgrade to a Tier 4 Final solution.
It would be nearly impossible to review and compare all of the changes made in diesel technology since the beginning of emissions standards legislation. Instead, we will focus on three Tier 4 Final engine benefits that will directly improve the efficiency of your machine or can directly benefit the bottom line of your business. These benefits are extended service intervals, fewer moving parts and lower overall fluid consumption.
Service intervals
One of the easiest and most obvious benefits of Tier 4 Final engines with regard to total cost of equipment ownership is in the engine maintenance requirements of the machine. Regular maintenance is important to every diesel engine, regardless of its emissions standards, but standard maintenance intervals have increased dramatically thanks to Tier 4 Final technology.
Many diesel engines prior to the Tier 4 Final emissions standards required service at approximately every 250 to 300 hours to maintain proper function and performance, but upgrading to a new piece of equipment will allow you to extend the service interval by up to 100 percent on those engines. Most manufacturers of Tier 4 Final diesel engines today recommend servicing the engine at every 500 hours, but it is important to note there is some variance among the industry. Make sure you are clear with your equipment dealer on engine service requirements to ensure long life of your Tier 4 Final engine.
Even at the industry standard 500-hour service interval, extending the life of oil, filters and other maintenance parts, operators can expect to complete these routine maintenance checks about half as often as compared to older engines. Longer maintenance intervals translate directly to cost savings for operators and can drive down the total cost of ownership of a piece of equipment over its useful life.
For example, a producer who currently expects to service his diesel engines four times a year can expect to reduce maintenance checks to twice a year, leading to savings of up to 50 percent on common expenses such as oil, filters, etc. When these savings are multiplied across a fleet, they can help contribute to the return on investment after purchasing equipment powered by a Tier 4 Final engine.
Some Tier 4 Final engines also benefit from functioning without the use of exhaust gas recirculation (EGR) or diesel particulate filters (DPF). Equipment powered by engines able to reach Tier 4 Final emissions standards without using EGR or DPF have a particular advantage in terms of overall efficiency on the farm. This technology operates solely by selective catalytic reduction (SCR) – an emissions reduction system that injects diesel exhaust fluid (DEF) into the exhaust stream to reduce emissions.
Engines able to meet emissions standards using SCR-only technology have functional advantages. First, many engines that use EGR or DPF require the machine to stop for regeneration, a process of cleaning the DPF that can cause unnecessary and inefficient downtime for equipment operators. Ask your equipment provider which engines do require EGR or DPF before investing in new equipment so you can take full advantage of state-of-the-art Tier 4 Final technology.
Fewer moving parts
The secondary advantage SCR-only engines provide to operators also involves improvements to maintenance requirements. As these engines require fewer parts, they're much simpler to service, creating more of a fit-for-life approach to after-treatment systems. Lower wear on parts and longer maintenance intervals are both direct benefits of a simpler engine architecture that uses only SCR technology to reduce emissions.
Fluid consumption
The last benefit of Tier 4 Final engines we will cover is a lower overall fluid consumption. Increasing emissions standards have required engine manufacturers to develop new technology that has greatly improved fuel efficiency. The average Tier 4 Final diesel engine may use an average of 5 to 10 percent less fuel than its Tier 3 predecessors, providing fuel savings to operators in return.
The introduction of Tier 4 technology brought about the requirement for DEF in agricultural equipment and, with it, many operators were concerned that higher DEF consumption might increase the total cost of ownership of a machine since an additional fluid would be required for operation. However, as Tier 4 Final technology has dramatically improved the fuel efficiency of the engine, the reduction in fuel cost can not only offset the requirement of additional DEF but actually can contribute to overall fluid savings over the lifetime of the machine.
Many factors contribute to the total cost of ownership over the lifetime of farm equipment, but having a quality, reliable, advanced technology-enabled engine may be the key to helping your operation run more efficiently while keeping costs to a minimum. We highly recommend choosing equipment powered by a clean-running Tier 4 Final engine. As always, be sure to discuss the details of your operation and your needs with your equipment dealer.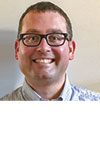 Peter Myers

Product Marketing Specialist
FPT Industrial North America