Guided-flow or free-flow cow traffic is an important question to ask in the design and management planning of any automated milking system adoption.
Mountain Shadow Acres in Rosedale, British Columbia, chose to implement both types of traffic flow when the owners switched to automated milking in 2017.
First-generation dairy producer Tony Neels was attracted to automated milking for several years but struggled to find a way to make it work in his existing four-row freestall barn.
He settled on milk-first guided flow for the pen on the north side of the barn. The pen on the south side has free-flow cow traffic.
"The feed alley down the center of the barn naturally splits the milking herd into two groups," Neels says. "That made it natural to apply two different systems."
When deciding how to best incorporate robots into the existing operation, the guided-flow traffic pattern was not common. Neels talked to one farmer who had milk-first and had really positive things to say about it. "The farmer said to us, 'You can rest assured it will work.' That gave us enough confidence to give it a go," he says.
Since their GEA dealer, Pacific Dairy Centre in Chilliwack, British Columbia, was willing to support milk-first, it prompted Mountain Shadow Acres toward that brand of milking system.
The guided-flow pen has two automated milking units and is stocked with 80 cows, mostly second lactation and older that have a good bill of health post-calving.
"Once past the service stage, the only thing to do with them is breeding; there is no work involved otherwise," Neels says.
Cows needing more attention, like fresh cows, sick cows and lame cows, are in the free-flow pen with a single robot. This side of the barn is also home to most of the first-lactation animals.
"We have most of the 2-year-olds on one side to keep them away from [the older] bully cows," Neels says.
The free-flow pen is located adjacent to the farm's preexisting maternity area, which was a determining factor in how they would set up the robot flow on that side. A three-way sort gate was placed at the exit of the robot to sort cows back to the maternity pen, sick pen or regular pen.
"It didn't make sense to add another sort gate to this pen, so we left it free flow, and it works pretty well, but not as well as the milk-first side," Neels says.
For instance, on the day he spoke with Progressive Dairy, there were six cows on the fetch list in the free-flow pen and only two on the milk-first side.
"Milk-first makes for less fetching," he says. "They learn pretty quick the only way to feed is through the sort gate."
Richard Siebring with Pacific Dairy Centre has been working with the Neels family since 2012. He says with rumination and activity monitoring they know the cows will eat nine to 14 meals a day.
"Cows go to the feedbunk on average every two hours. If we can control the flow and have cows come through a smart gate to see if they are due to milk or not, they are gently sorted to the robot waiting area or to feed," Siebring explains.
At Mountain Shadow Acres, the guided-flow pen of cows is achieving 3.39 milkings per day.
The single robot for training heifers and service cows on the free-flow side has an average of 2.94 milkings per day.
The grain or pellet fed in the automated milking system is what entices cows in a free-flow system.
"You want to get the cow addicted to the grain," Siebring says.
"Some cows will circle the robot non-stop trying to get more grain. That's one of the benefits of milk-first is cows not due to be milked get sorted away [from the robot area]," he adds.
At the Neelses' operation, they found they can feed 1.3 pounds less in the robot on the milk-first side (9.4 pounds) compared to the free-flow side (10.7 pounds).
"I am an advocate for both traffic patterns; both have advantages and both have disadvantages," Siebring says.
Setting up the guided flow requires more capital costs and infrastructure up front, but will see more savings in labor and grain continuously.
The age of the herd may be a deciding factor for some farms. "Older cows get lazier," Siebring says. Therefore, guided flow may help achieve more robot visits in an older herd.
"Younger cows move around more, and free choice works better with them," he adds.
Having one barn with both traffic systems helps when Siebring wants to show other farmers who are trying to make this choice.
"I'm glad to see both systems at the farm, and Tony can tell you both systems work, both put milk in the tank," he says. "Either system works, it comes down to a management decision for the farmer."
Neels says, "At end of the day, it's the farmer's choice."
"Which side do we prefer? Inevitably, the far side where the cows go in on their own, but there's not enough reason to do it in the free-flow side," he adds.
In order to change the free-flow side to guided flow, it would require a second sort gate in the pen. This one would be in front of the robots and take up too much of the large holding area Neels likes to see in front of the robots.
Plus, fetching more cows on that side of the barn isn't as difficult because it is a smaller area with 55 cows.
"If we build a new barn, we could incorporate [these things] in better than what we were able to do in our existing barn," Neels says.
Regardless, he is glad he found a way to implement automated milking.
"We used to milk a whole group through, then move the next one in. There was so much logistical work with moving cows. Now the cows stay in the group and do their thing," he says.
They went from three-hour milking shifts to having an after-school kid come spray down the robots once a day.
"It dramatically made our whole farm experience so much better," he says, adding, "It was an improvement to our lifestyle 150 percent."
The robots were also installed during a natural turning point in the farm, as they worked on succession planning to incorporate Tony's son Jason, who was also involved in the robot barn design process.
Jason has taken on more of the herd management role, while Tony is stepping back. He says he is more of a feed pusher and alley scraper these days.
While unconventional to have two types of traffic flow in one barn, the Neelses find it works well and are happy to have found a way to implement automated milking with their existing four-row barn.
PHOTO 1: A single robot is used to milk 55 cows on the free-flow side of the barn. This is primarily for service cows, such as fresh, lame or sick cows, as well as 2-year-olds.
PHOTO 2: One-way gates allow cows to go back to the freestalls, but not enter the feed area without passing through a sort gate and possibly a milking robot first.
PHOTO 3: Cows in the free-flow pen get limited starch in their partially mixed ration and are encouraged to visit the robot by the added feed provided there. Photos by Karen Lee.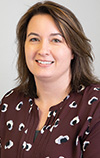 Karen Lee

Editor
Progressive Dairy