It's true what they say: Hindsight is 20/20. But many post-project regrets can be avoided by drafting a plan up front. This statement is especially true when it comes to calf housing. Whether you're starting new or making changes to an existing calf housing setup, a solid plan is critical to calf performance and labor efficiency for years to come.
Start building a calf housing plan with these five considerations:
1. Management protocols
First, map out your management protocols. Having a clear plan up front can ensure an ideal hutch layout to accomplish management tasks without added labor.
How are you going to feed and bed calves?
What are your treatment protocols?
Do you have easy access to water, feeding equipment and bedding storage?
Writing down your management protocols is also helpful for existing calf housing setups. Everyone gets into a calf chore routine; putting pen to paper can help you take a closer look to find areas of improvement.
Calf hutches can easily be moved or adjusted based on management protocols to give you the ideal layout for labor efficiency.
2. Capacity
How many hutches do you need? Too many hutches can create wasted space, but not enough can result in a rushed, stressful weaning process if you must free up housing for new calves.
Typically, 10 percent of the milking herd will be in hutches at any given time. For example, a 500-cow herd would have 50 calves in hutches at one time. This benchmark can be adjusted up or down based on the length of time calves are in hutches and if you raise bull calves.
You also want to account for a row or two of transition hutches – recently cleaned and disinfected hutches set aside for downtime between groups of calves. Establish a hutch rotation that allows a full 10 days for cleaning, sanitation and drying between calves. It also provides a buffer to accommodate more calves during peak calving months.
3. Location
Hutches need a dedicated space designed to give calves an optimal environment for growth and health. Place hutches in an open space that's visible and in a high-traffic area, so it's easy to monitor calves between feedings.
Choose a location away from permanent wind-blocking structures, such as barns, silos or bunkers. Keep away from corrals or lagoons to prevent dust and fumes from reaching calves. Establish a dedicated space for hutch cleaning as pressure washing can throw dirt and bacteria into the air.
Consider spacing needs between hutches. Keep 10 feet between each row and 1 foot between each hutch to prevent calves from touching and reduce the spread of disease (see Figure 1). Make sure to allow enough space to access hutches with feeding and bedding equipment to maximize labor efficiency.
4. Air movement
Air movement is the most critical factor to consider when planning your calf housing layout. Not enough air in hot weather can cause heat stress, and too much wind in winter can cause cold stress or frostbite.
Position hutches facing prevailing wind to maximize airflow in the summer and protect against the wind in the winter. It's also a good idea to provide a movable wind block in winter, such as a row of bales, to keep calves protected.
Plan for adequate hutch ventilation to encourage airflow and help hot air escape. Rear bedding doors can be opened to maximize air movement. Lower rear vents and ridge vents offer additional opportunities for air movement. And prop the back of the hutch off the ground a few inches for extra ventilation (see Figure 2).
5. Foundation
It's not just about where you position hutches, but also what surface they are on. Gravel is best for drainage and keeps hutches off the dirt to keep calves clean. Grass or dirt locations can cause ammonia buildup, dirty calves and more frequent bedding changes.
Concrete is also an excellent surface to place hutches on but reduces flexibility because it locks you into one location. Preplanning the location, access and labor needs is especially critical when pouring concrete to ensure everything is right from the beginning. No matter what surface you choose, provide a 2 to 3 percent slope to move liquid away from calves and keep bedding cleaner longer.
Don't get caught with calf housing regrets. Work with your local calf housing specialist to build a plan for maximum efficiency and calf performance.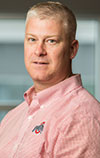 Brandon Sowder

Director of Sales
Calf-Tel