Q. Why is this a top resource article?
"Weighing milk replacer powder and measuring water volume is the best way to ensure accurate mixing," says Tom Earleywine, director of nutritional services with Land O'Lakes Animal Milk Products. "While it's easy to get into a routine, it's always a good idea to brush up on your mixing skills to ensure you're providing consistent nutrition to your calves. These step-by-step mixing instructions are a great resource when you need a quick refresher."
It is easy to get into a habit of doing something the same way it has always been done. Mixing calf milk replacer is no exception.
When measuring milk replacer powder, many people use the tool provided in the bag – a cup. Unfortunately, using a cup to measure powder may not be accurate. Every feeder can fill the cup differently, and levels can vary from feeding to feeding. Also, the density of the powder from the top bag versus the bottom bag on a pallet can vary greatly.
The only way to consistently deliver the correct amount of milk replacer to your calves is to weigh the powder and measure water volume. To maximize consistency, batch mixers are recommended. Other important tools to have include a thermometer, a bucket with volume measurements, a whisk or paint mixer, and most importantly, a calibrated scale.
Once you have the right tools, follow these steps to deliver a consistent milk diet to your calves:
Step 1 – Weigh
According to the instructions on the tag, weigh out the amount of powder needed to feed all of your calves. While weighing, take your time; rushing allows more opportunity for error. Periodically calibrate your scale to ensure accurate measurements.
Step 2 – Mix
First, fill the bucket with half of the total volume of water needed. A water meter is a helpful tool to measure the amount of the water, rather than volumetric measuring that is less accurate. Ensure that the water is 110 to 120ºF. A thermocouple is a sensor that measures temperature and when installed properly can help you reach the correct water temperature easily and accurately.
Then, pour all of the powder on top of the water. Mix with a whisk or batch mixer as you add the remaining water needed to reach the total volume of solution required to feed all of the calves.
Before feeding the milk replacer, inspect closely to ensure that all powder is thoroughly mixed.
Step 3 – Serving size
Assure the appropriate volume of milk replacer is fed to each calf at every feeding.
A full potential milk diet should be fed at 2.5 pounds of dry matter per day and can be delivered twice a day, three times a day or with automated calf feeders.
The amount of milk replacer a calf receives at each feeding depends on the number of times a day you feed. This is typically done in 3 to 4 quarts of total volume per feeding.
Step 4 – Feed
Feeding a consistent volume of milk replacer to each calf is critical.
Buckets: It can be difficult to deliver a consistent volume of milk replacer to calves with buckets, as calves tend to spill and tip their buckets. Assure buckets are properly secured, and to improve consistency with buckets, use a flow meter or mark the correct volume on each bucket.
Bottles: Feeding calves with bottles can make it easier to deliver a consistent diet. However, bottles do have their challenges. Be conscious of any signs of wear or cracks on the nipple, as these allow a greater risk of bacteria buildup. Also, check that the valve is working properly and the opening is not too large – milk replacer should only drip when the bottle is inverted. If properly maintained, bottles are the most effective way to feed a calf.
Bottle or bucket, consistency is still the key to feeding calves. Stick to established feeding times that are equally spaced, and take the time to focus on consistency in mixing and delivery.
Step 5 – Temperature
Temperature upon delivery to the calf is just as important as the temperature while mixing. The target temperature of the milk replacer fed to the calf is 101 to 105ºF. Check the temperature of the milk replacer fed to the first calf, a middle calf and the last calf fed.
Remember, there is no second chance to feed calves right. PD
Click here to download the "How to mix calf milk replacer" poster (PDF, 242KB).
For more tips on how to mix calf milk replacer, watch this step-by-step instructional video. Click here to watch it in Spanish.
For more information, contact Tom Earleywine, Ph.D., director of nutritional services with Land O'Lakes Animal Milk Products, at (800) 618-6455 or via email, or go to the Land O'Lakes Animal Milk Products website.
Tom Earleywine has a Ph.D. in dairy science from the University of Wisconsin – Madison and is director of nutritional services for Land O'Lakes Animal Milk Products Co.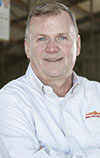 Tom Earleywine

Director of Nutritional Services
Land O'Lakes Animal Milk Products Co.
PHOTO: Calves thrive on consistency. Make sure each and every one of your calves is receiving the same amount of food at the same time and temperature each day. Photos provided by Land O'Lakes Inc.
Before commenting on our articles, please note our Terms for Commenting.