While bovine viral diarrhea virus (BVDV) persistently infected (PI) calves may look normal on the outside, they are comparable to a Trojan horse in your dairy herd. This is due to the level of virus each calf continues to shed throughout their lifetime.
PI calves are animals that become infected with a virus during their time in utero. If a calf is infected before its immune system is able to recognize the virus as foreign, it can become a PI calf. This enables the virus to live and grow within that calf indefinitely.
There are many consequences that can stem from a BVDV PI calf. The virus itself does a very good job of suppressing the immune system. Because of this underlying issue, you're going to see an increase in the incidence of other health problems, like calf pneumonia, diarrhea and mastitis. Although these diseases are not necessarily caused by BVDV, the immune suppression resulting from BVDV infection makes calves and cows more susceptible to other infectious diseases.
There are numerous ways this virus can be transmitted, so it's very important to implement effective biosecurity, vaccination and testing measures on your dairy.
Establishing a biosecurity program
While maintaining a closed herd is the best way to prevent this disease from establishing itself on your operation, this is not always possible due to dairy consolidations and expansions, off-site heifer growing, or even bringing your cattle to shows, which can expose them to BVDV. On arrival, infected animals can leave the virus around the feedbunk, in the water trough and through the chute during processing.
Any time you have cattle leaving the farm and coming back, there's an opportunity for them to be exposed to a PI animal and become acutely infected with BVDV. Acutely infected animals can shed the virus for a couple of weeks, and if they come in contact with cows that are at the right point in gestation for the fetus to become infected, it can cause a PI calf to be born.
Testing and/or quarantining any animal entering the farm is a great way to prevent the virus from entering your herd. The acute infection period is very short, usually 10 to 14 days, so the recommended period of isolation is two weeks prior to commingling with the rest of the herd.
The importance of vaccination
The most common way BVDV spreads is through PI calves, so it's also important to develop a targeted vaccination program that prevents BVDV PI calves from being born into your herd.
Vaccinating cows with a modified-live BVDV vaccine helps protect their health and reproductive efficiency and enables them to deliver healthier, PI-free calves. That same pre-breeding vaccine also helps them produce antibody-rich colostrum to protect calves from BVDV for several weeks to a few months.
Calves can be vaccinated as early as 30 days old with a modified-live virus (MLV) vaccine that includes antigens for BVDV. Since some MLVs can be inactivated by maternal antibodies, it is important to choose an MLV vaccine that works well with your colostrum program to enhance immunity in these young calves.
Protecting against the leading cause of PI calves: BVDV Type 1b
Thirty years ago, the majority of BVDV cases were caused by Type 1a. Now Type 1b has emerged as the most prevalent subspecies of BVDV in the U.S., accounting for approximately 70% of reported cases.
Viruses often mutate to escape detection by an animal's immune system. Over time, viral mutations resulting from environmental pressures can lead to changes in prevalence of viral strains, causing clinical disease.
Due to the increasing risk of BVDV Type 1b, it's important to work with your local veterinarian to establish a sound vaccination protocol that includes adequate protection against this particular subspecies. Ideally, replacement heifers will receive at least two – if not three – doses of a MLV that's labeled to protect against BVDV 1b by the time those heifers reach breeding age. We want to make sure each heifer on the farm has excellent protection prior to breeding, in order to reduce the likelihood she gives birth to a PI calf.
BVDV is a challenging disease, but thankfully we have tools available – like vaccinations, testing and biosecurity – to control it. We need to be aware of the consequences BVDV can have in dairy herds and use these tools to prevent and minimize the impact of the virus as best we can.
PHOTO: Photo by Mike Dixon.
References omitted but are available upon request. Click here to email an editor.
Ángel Abuelo is an assistant professor in cattle health and wellbeing at the College of Veterinary Medicine, Michigan State University.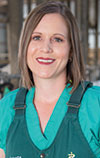 Jennifer Roberts

Senior Professional
Services Veterinarian
Boehringer Ingelheim