When it's 105ºF outside, it's 105ºF in the hutch – that's the reality of raising calves in Arizona according to Tim Dugan, co-owner of T&K Red River Dairy in Stanfield, Arizona.
To mitigate this stress, he focuses on giving calves the tools they need to stay healthy and growing even during the heat of summer.
Dugan owns and operates the 13,000-cow dairy and feedlot with his father, Tom Dugan Sr., and brothers Tom Dugan Jr. and Tony Dugan. Each member of the partnership focuses on a different aspect of the operation. Tom Sr. manages the dairy, Tom Jr. manages the planting and growing of their forages while Tony oversees their harvest.
Together, Tom Jr. and Tony also handle the equipment maintenance and repair shop. And finally, Tim manages their calf ranch and the feedlot operation where they raise their replacement heifers and steers. In total, they have about 35,000 animals on the operation.
On average, 50 calves are born at the dairy every day. Dugan has two employees working in the maternity and newborn calf areas at all times. One employee's job is to monitor the cow's progress and assist with calving if absolutely necessary, while the other employee focuses on taking care of the calf.
This employee transports the newborn calf to a freshly bedded, individual pen in the newborn area. Here, he cleans it, dips its navel and feeds it a 3-quart bottle of pasteurized colostrum within the first hour of birth and a second 3-quart bottle four to six hours later.
To see more photos of T&K Red River Dairy, check out this slideshow.
Calves usually spend 18 to 24 hours in this area before being taken to the calf ranch, which picks up calves at 4 a.m. and 5 p.m. daily except in the summer, when they move the evening pickup to 9 p.m. to avoid moving calves during the heat of the day.
Dugan's goal is for their colostrum to average 22 on the Brix scale; however, the farm currently averages 20.5. To help make sure they have the best colostrum possible, the farm collects colostrum from the second-lactation cows first and supplements with colostrum from heifers and cows with three lactations or more.
While this helps, Dugan says their biggest challenge is: They only collect colostrum twice a day – something he'd like to change, although it just isn't feasible currently. Because of this, calves receive two feedings of colostrum instead of one, and Dugan regularly takes blood samples to ensure calves still achieve passive transfer despite the lower immunoglobulin levels in the colostrum.
On average, the farm has about 40 gallons of excess colostrum per milking, which is taken over to the calf ranch and mixed in with the milk ration for the calves under 14 days old. While it only makes up a small amount of the ration since it's mixed in with about 600 gallons of milk, it's a way for him to use it on the farm and hopefully give the calves' immune systems a little boost.
Over the past 10 years, Dugan focused on increasing calf nutrition and putting weight on the calves early. This is especially true in the last two years, when their calves finally made the jump from a 1.6 to 1.7 average daily gain (ADG) in the first 135 days to a 2.1 ADG.
"If you do the math on what it takes you to get that pound of gain, it usually turns out to be like $1.35," Dugan says. "Now I'm spending $2.75 to $2.80 a calf, but I'm getting a 2.1 ADG, so the cost is still about $1.35. I'm just spending more money on the front end and getting it on their back early."
Until day 3, calves receive 2 quarts of the pasteurized, salable milk and excess colostrum mixture twice a day, but on day 3, when calves are fully bucket-trained, they up their feedings to 2 quarts three times a day. After that, calves are switched to filtered, pasteurized waste milk which is fortified with a nonfat, 34 percent protein milk powder to ensure their solids stay a consistent 13 percent. Calves will stay on this milk ration until weaning on day 70, but feeding rates will vary as follows:
Day 14 to 34: 2.5 quarts 3x/day
Day 35 to 49: 3.5 quarts 2x/day
Day 50 to 59: 2.5 quarts 2x/day
Day 60 to 69: 2.5 quarts 1x/day
Dugan says he prefers to do this graduated program to help calves manage stresses. He never likes to make several changes for them at once. Dropping calves from three smaller feedings to two larger feedings at day 35 encourages them to eat more starter, since now they're going 16 hours without milk, but their total milk allotment has not dropped drastically, so they're still getting almost the same nutrition.
At that point, he says you can really start to see the fat go on their backs and, until weaning, they maintain a 1.7 ADG even through the summer.
From day one at the calf ranch, calves have access to starter and water. While they only eat and drink a little bit at this stage, it familiarizes them with it early in life, and water access is essential in the summer. Until day 35, starter buckets are emptied and cleaned three times a week but, after day 35, grain buckets are only cleaned once a week because calves are eating more grain.
The farm's rule is: No more than 10 percent of the grain buckets should be empty at feeding time. If that isn't happening, then they up the calves' grain allotment.
To encourage calves to drink water, Dugan has an employee filling water buckets at all times, as the water can get too hot and become unpalatable for the calves during summer. Even the farm's well water is 90ºF in the summer, but it is still cool enough to get the calves up and drinking it. In hindsight, Dugan says it's actually helped calves gain weight since every time they fill buckets, calves drink water, and every time they drink water, they also eat grain.
Although calves are weaned at day 70, they stay in the hutch until 90 days old.
"To me, raising calves is about managing stresses," Dugan says. "Yeah, it's cheaper and easier to feed them in a pen because you have one guy driving around on a tractor, but everything I do is just to manage stress out here. They come off of milk at day 70.
Do I want to move them five days later after they just went through that stress and handle them and put them into a group situation? No, I like them to sit there for a few more weeks with just their water and their grain in front of them. We've had very little illness with that; there's really not much stress."
On day 90, the calves are separated into groups of heifers or steers and moved into small pens with eight to 10 animals. The heifers are then further grouped into A-, B- and C-level animals. Dugan says about 75 percent of their heifers make it into the A group, which means they're at least 36 inches at the shoulders.
The B group heifers are animals that still look good and are healthy; they just didn't quite make the 36-inch cutoff. Heifers that have had several treatments or are not growing well are put in the C group. These animals, Dugan says, are not worth raising any further and are sold at auction. In general, he says they usually only have three to four C-level animals a month during the winter and 10 or less a month in the summer.
Two weeks after being moved to these groups, the farm opens the gates between every other pen so calves are now in groups of 16 to 20. At 135 days old, they move to the feedlot, where they will be in groups of 70. At this point, Dugan expects calves to be at least 350 pounds, but on the new program, he says they're pushing closer to 400 pounds at this point.
If they're an A- or B-group heifer, they will be raised as a replacement for the dairy, and if they are a steer, then they will stay at the feedlot for 300 days or fewer before being sent to the slaughterhouse.
Since Dugan started increasing calf nutrition about 10 years ago, he's seen positive changes in several aspects of their program. At the time, he says they had a fairly high death loss at both the calf ranch and feedyard, but he's proud to say that has dropped significantly in the last several years.
Today, their death loss is consistently under 1 percent at the calf ranch with a 25 percent morbidity rate, and they're down to 237 deaths per year at the feedyard which houses about 15,000 head.
In addition, in the last six years, Dugan's seen an increase in first-lactation milk production from 20,000 pounds per animal to 22,500 to 22,700. He thinks with this next group to freshen in, which was the first group to achieve a 2.1 ADG at the calf ranch, they will hit 23,000 pounds in the first lactation.
Along with this, they've lowered breeding age in the past two years from 12 months to 11 and average age at first calving from 22.5 months to 21.5. Heifers calve in at 1,400 pounds or about 89 percent of mature weight, and 93 percent calve unassisted. Going forward, Dugan hopes to achieve a 1.9 ADG with the pre-weaned calves and decrease their calf ranch morbidity to 20 percent.
PHOTO 1: On day 90, calves are separated into groups of heifers and steers. Between eight and 10 animals are in each of these groups. After two weeks, they open the gates between every other pen to make groups of 16 to 20 animals.
Previously, Dugan moved calves from the hutches directly over to the feedlot in groups of 70, but he says the calves struggled with that many changes at once. Putting calves in these smaller pens first, he says, has really seemed to minimize their stress during this transition.
PHOTO 2: In the wintertime, the farm beds calves with straw and faces the hutches south so the sun shines in and helps the calves stay warm. In the summer, they stop bedding with straw, face the hutches north to maximize shade and place a brick under the back of the hutch to increase air flow in the hutch. In addition, Dugan planted several trees in between the hutches. While the trees aren't big yet, they should hopefully branch out and shade the hutches in the next several years, which will help keep the hutches cooler.
PHOTO 3: Like newborn babies, day 1 to day 14 calves sometimes struggle to stay cool during the summer. To help with this, one employee regularly walks the rows, checking these hutches and rinsing off any calves that appear to be struggling. Dugan says people sometimes ask if he's worried about this causing pneumonia, but he says in their climate heat stress is the much more pressing concern. Photos by Jenna Hurty-Person.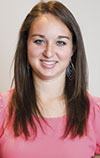 Jenna Hurty-Person

Field Editor
Progressive Dairyman