Your replacement heifers are your next generation of milking cows. Take care of them.
With the intense focus on cow comfort, we all know that milking cows need comfortable barns, adequate space, appropriate nutrition and a watchful, attentive eye to ensure consistency and identify issues before they cause problems.
And the same is true for heifers.
There are dozens of factors that go into raising healthy heifers; from sizing and outfitting facilities to nutrition, and just like cows, if you don't invest in them, they won't pay you back.
"If you take care of them, they will take care of you," says Tom Lorenzen, dairy program specialist for Alltech, during a telephone interview. "You need to provide adequate comfort, plenty of good-quality feed and water, and you'll see bigger, stronger animals when they calve in, with good feet and legs under them. That starts from day one."
The question producers face, however, is about balancing the investment – in time, feed, space, facilities, materials and labor – of raising youngstock before they become profitable with the intense demands of day-to-day dairying – ensuring the milking herd is getting what it needs to pay the bills.
According to the University of Wisconsin – Madison's Dairyland Initiative, "The appropriate sizing of heifer replacement facilities is dependent on many herd-specific factors."
What that means to us in the field is this: Try to create a scalable version of your individual milking herd's environment and comfort level to ease stressful transitions and grow healthy heifers.
Heifer growing: The long view
In its 2016 report, the U.S. Dairy Calf and Heifer Association (DCHA) presented its revised "Gold Standards" for raising dairy calves and heifers. The standards have been developed over the past decade, led by heifer growers and dairy industry experts.
Essentially, the DCHA report pushes producers to look at investing in heifer health as a return on lifetime profit. A stronger calf is a stronger heifer and in turn, a stronger milker. Starting from colostrum and housing for calves, to appropriate diet for healthy bodyweight at calving, to tracking conception data to housing, the DCHA provides substantial evidence for investing in your calves and heifers, and advice on how to work within the factors for the best custom fit for your operation.
But how to do that without skyrocketing costs?
Time it right
Look at factors like space, manure management, calving cycles and climate. Know when your calves are going to be comfortable in various settings and ensure that transition from hutch or group housing to pasture, to calf pen, then to freestall is timed to be most comfortable for the animal and not most convenient for you.
Keeping calves in calf housing a few weeks longer during cold spells will give them extra time to get stronger. It's better to make more calf-housing space than rush young calves out to pasture to make room for an incoming group.


Keeping groups of calves from group housing together during the transition to pasture helps ease the stress of the sudden change, even if that means housing the group indoors a bit longer to make sure they are all healthy and prepared.

Separating out the younger or weaker calves and putting the older, stronger ones out to pasture can exacerbate stress and transition problems for the younger, weaker calves. Emphasize the strength of the herd relationships.


Consider a phased, dedicated freestall transition area where the groups have ample time in the calf pen, followed by ample time to get adjusted to the freestall.


Building a heifer transition facility with freestalls sized to the groups is the ideal way to reduce transition stress at freshening and familiarize them with the barn routines, smells and sounds.
Replicate the most important elements on your farm
We know that most producers are laser-focused on milking cow and dry cow comfort, so knowing how to provide comfort for heifers is a no-brainer if you see your cows are healthy and comfortable. Don't reinvent the wheel, just replicate what is working.
From ventilation, to stall surface, to nutrition, look at what you're doing well and commit to that technology and practice for your heifers.
This strategy has an added benefit of helping a pre-fresh heifer get used to the milking herd environment, get comfortable with close quarters and ease the overall stress after her first calving.
Substitute high-value technologies when possible
But back to costs …
Most producers can't completely replicate the milking barn for many financial reasons or afford to deliver an identical ration (nor would we, since cows and heifers have different needs), but after making the commitment to healthy heifers, start looking at technologies that are similar but maybe more affordable or lower maintenance, or take less effort to manage.
For example, heifers need to be cool in summer, but without the mastitis risk of the milking herd, there is more flexibility in the type, style and cost of ventilation required. Get them as comfortable as possible, but look at the more affordable options – standard fans, standard misters, barn positioning, skip the automatic curtains, etc. – to keep costs down.
When it comes to feed, consult with a nutritionist on how to develop a flexible, yet appropriate, set of substitutions so you can make confident adjustments to the ration based on feed price without sacrificing on feed quality.
Look for long-lasting, low-labor technology. What items have long warranties or long life that you can install once and go through dozens of generations of heifers?
By investing up front in things like top-notch automatic alley scrapers, low-maintenance bedding surfaces that require little cleaning or top bedding (and therefore helping lower manure management costs) and a barn that can grow with your operation, your cost per heifer per year in housing is going to continually drop.
For example, a large dairy in Wisconsin that I work with runs a top-notch dairy operation with two remodeled freestall barns that house their 1,100 milking cows on sand bedding with a sand separation system.
The dairy consistently demonstrates a total commitment to cow comfort. Once their freestall barn project was complete, they moved on to focus on heifer health and comfort. The owner's goal was to raise nice, comfortable heifers that required as little maintenance as possible.
To accomplish this, they chose a heifer freestall barn with waterbeds. They found this barn reduced the costs of caring for the heifers, increased animal comfort and improved manure management.
The dairy chose to follow the "replicate and substitute" method to design a comfortable freestall barn for the 450 heifers they're growing. It sized and grouped the stalls and heifers from smallest to largest with the youngest heifers starting in 3-foot stalls.
Since the stalls are sized for the smaller animals, the dairy rarely sees heifers lay backward in them, and they seem to really enjoy them. In fact, management never has to tie the heifers in or push them into the stalls to get them used to it.
The barn is built and sized specifically for the heifers as they grow. However, scaling it back to be a low-maintenance facility can help to keep costs under control. Although the upfront cost of the new heifer freestall barn and the waterbeds was still substantial, the facility is built for the long-term so the cost per heifer per year will just keep going down.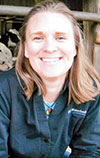 Amy Throndsen

Chief Operating Officer
Advanced Comfort Technology