Some say the secret to success lies within, and Dr. Brandon Debbink would agree that statement rings true when it comes to pre-weaned heifer calves.
By implementing a thoracic ultrasound protocol in young calves, Debbink is helping dairies identify early onset pneumonia long before clinical signs are expressed and providing data for making powerful and profitable herd inventory management decisions.
As a veterinarian with Dairy Doctors Veterinary Service based in Plymouth, Wisconsin, Debbink has enrolled several dairies within their clinic in a routine ultrasound program to identify lung lesions in pre-weaned calves.
"The lungs are the rate-limiting organ in the first year of life," Debbink says. That's why scanning the lungs throughout the calf's first weeks is a critical step in diagnosing subclinical pneumonia.
"Most people don't know how prevalent [subclinical pneumonia] is in their herds because they don't have the data to show it," he explains.
Erin Kenneke can attest to that. As a partner in Meadow Brook Farms near Manitowoc, Wisconsin, she annually oversees 220 calves in a group housing system with autofeeders. Kenneke began working with Debbink two years ago to hone in on respiratory health. This included implementing a routine lung scan protocol on pre-weaned calves every two weeks. She was surprised to learn calves with developing lung lesions did not necessarily exhibit visible symptoms.
"These calves were eating fine; they didn't look sick," she recalls, "but when Dr. Debbink found lesions on the lungs, we treated them early so they would stay on feed and keep growing."
This has allowed Kenneke's calves to achieve an impressive rate of gain, which averages at minimum 2 pounds of gain per calf per day. She has also noticed that catching pneumonia cases in baby calves pays off in the post-weaning group and beyond. "The calves or cows that had the lesions are the ones that later on will die earlier, not breed back or don't make as much milk," Kenneke notes.
A one-hour investment that pays for itself
Kenneke's observations are more than just anecdotal. Several studies show clinical pneumonia is proven to reduce average daily gain (ADG), reproductive performance and milk production.
"While you may not see a difference at age of first breeding, one study has shown a 10 percent difference in conception rate among heifers with a lung score of 3 or above," Debbink notes. "Culling rate is also five times greater for those animals, and death risk is higher."
This leads to heifers pushing out to the further end of the bell curve on age at first calving and thus requiring more time on feed before entering the milking string. And when they do, they are producing less than their herdmates who were healthier during calfhood. In fact, data from the University of Wisconsin – Madison and the Guelph University demonstrated a 1,200-pound milk deficit between first-calf heifers with no lesions as calves and those that scored 3 or greater (see Figure 1).
Valued at $18 per hundredweight, that equates out to $200 more of milk sales for the no-lesion heifers.
Compare that to the cost per hour of $200, scanning at a rate of 40 to 60 calves per hour. Debbink assures, "If we find one calf, we've paid for ourselves to be there, if you end up treating or culling that calf."
Data as a management tool
Dairyman Joe Loehr finds value in the data Debbink has collected from his calves over the past several years. He raises up to 280 heifer calves each year at Loehr Dairy LLC in Mount Calvary, Wisconsin. Each of his calves are lung scored at least twice before they leave the calf barn. If lesions were found on those two scans, that calf will receive an additional scan to monitor treatment effectiveness.
"If we are going to cull any calves, I look at the ultrasound scores," Loehr says. "If we can find these cases before they are clinical, our chances of rehabbing, curing and getting the animal to reach its full genetic potential is much greater than if the calf becomes clinical down the road."
Loehr also tracks weights at 4, 8 and 12 weeks old. He has been surprised to note that calves with lesions do not necessarily weigh less than their counterparts. "It's surprising to see how well calves grow, even when they have lesions on their lungs," he says.
However, it's often after weaning and beyond that the lung issues manifest. Loehr says clinical respiratory disease in weaned calves has dramatically declined since implementing the ultrasound protocol.
"Calves don't leave the nursery barn with unknown subclinical issues because we are treating the issues promptly, and when they go onto weaning and the grower stage, the issues at that age have been very minimal," Loehr says.
He attributes the low rate of post-weaning treatment to finding issues early with ultrasound. "We are finding the subclinical calves that we would have had no idea had an issue with their lungs," he adds.
When and how to scan for lung lesions
Armed with a portable ultrasound machine and an iPad, Debbink performs regularly scheduled lung ultrasounds on several dairies within his practice's service region. This is a specific and intentional appointment for calves, not simply an add-on to a herd check day.
"Some herds start scanning at two weeks if they have experienced early pneumonia cases," Debbink says. "For others, the three- to five-week mark is the sweet spot to straddle the period of greatest susceptibility to lung disease."
Holding the probe over the calf's chest area, Debbink is able to view the lungs and monitor for abnormalities in just a couple of minutes. He notes the presence of singular lesions and consolidated lesions (lung tissue that has filled with fluid instead of air), then assigns the proper zero- to 5-point score according to the University of Wisconsin lung lesion scoring app (Figure 2).
"A score of 2 is a golden opportunity for treatment; calves that score a 4 or 5 will have a hard time later in life," Debbink says. "And the overall prognosis for a '5' isn't great."
This information is easily downloaded and shared with the calf manager, who may then carry out a treatment plan. Calves are re-checked two weeks later to assess the success of the treatment.
With this data in hand, the dairy is empowered to make informed decisions to improve the overall calf management program.
"Part of prevention is having a closer relationship with Dr. Debbink," Kenneke says. "This is something I won't consider cutting because it helps the whole calf operation and goes on to help these animals when they are cows."
Whether using the ultrasound data to make culling decisions, protect a genetic investment or evaluate management practices, the routine practice of a two-minute lung scan for pre-weaned calves just may provide an inside look at an individual calf's true potential.
PHOTO: Using an app from the University of Wisconsin, lesions identified via ultrasound are recorded for the individual calf. This data is used to make decisions on treatment, culling and calf management. Photo by Peggy Coffeen.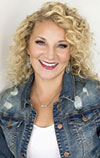 Peggy Coffeen

Editor
Progressive Dairy