The Dairy Calf and Heifer Association (DCHA) released the updated version of the association's Gold Standards for raising quality heifers on the first day of World Dairy Expo 2016. Dr. Bob James, DCHA academia-at-large director, says he's excited about the new standards and feels this version is much more science-based than the original standards, which were released in 2009.
"I'm a scientist too, and I want cold, hard facts, and there was a lot of opinions in there, which led to a lot of discussion, but with input from members, veterinarians, calf and heifer researchers, and industry, they were published in 2009 and they were tweaked in 2010 and 2011," James says. "We really recognize that this is a continuing progression that we need to reassess these things because times change, so we recognize that this is a living document, and we want to update these based on new research and new technologies."
With that in mind, James says the committee who put these revised standards together made sure to focus on economical practices with scientific backing even if they might be nontraditional. For example, 10 years ago, group housing pre-weaned calves was almost unheard of and yet today it's fairly common.
"That's one of the things that we do is to constantly not develop any preconceived ideas," James says. "The other one is we need to develop these Gold Standards, which are going to enhance animal health and performance in an economical basis. We've got to make money doing these things. I think the thing that really appeals to me is we need to be the leader and not the reactors to this."
To ensure that this happened, the committee was made up of 15 members from academia, allied industry and producers. In addition, the proposed standards were critiqued by a number of members outside of the committee and revised based on their feedback.
The standards are broken up into two parts: performance standards, which are objective and measurable, and production standards, which are based on published research or national surveys of dairy heifer management.
In addition, the standards are no longer based on Holstein growth standards. Instead they are now based on the herd's mature weight to better account for smaller breeds like Jerseys or even crossbreds, as well as variation between states.
Elizabeth Quinn, DCHA Northeast regional director and assistant manager at her family's 2,000-head custom heifer-raising operation, K.A. Sunset View Farm, says her team and calves were already hitting many of the goals set in the new standards. However, to do that she says good management is a critical component.
"Protocols are so important," Quinn says. "We have them in Spanish and English. Even if you have the protocols, you also need to explain it. You have to have good management to meet these goals, but it just drives everyone to be better and do a better job. At the end of the day, you're going to benefit from it."
Overall, she says the changes are a good balance between pushing the industry as a whole to a higher level while keeping the standards fully achievable.
"This [Gold Standards] is trying to help people raise the best animals they can and setting a standard for the industry and helping everyone get there," Quinn says. "There are definitely people that are there. There are people who are a long way off of it. It really helps reinforce why we're doing what we're doing and why we need to do it."
She later continued, "At the end of the day when you're raising your calves and heifers, it's the future of your dairy. My goal, and I hope theirs [fellow producers], would be to do the best you can for your cattle. This [Gold Standards] is proven information. This is the best. It's what you should be meeting to be doing the best for your future herd."
In addition, James thinks these standards will help us stay in front of animal welfare concerns and raise the healthiest, most productive heifers based on research and economics, not public opinion.
"We're promoting animal welfare," James says. "These are the standards we should strive for, so when someone like Walmart or Dean Foods says, 'Well, here's what you need to do,' we say, 'No, here's what we need to be doing. This is based upon fact, not your opinion.' So I think that we're ahead of the game a little bit in that regard. I really like that concept of the Gold Standards. I think it brings value to the producer. It brings value to our industry, and that's something I really got excited about."
To learn more about the new Gold Standards, watch this video.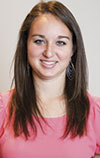 Jenna Hurty-Person

Field Editor
Progressive Dairyman
PHOTO: DCHA President Lane Sollenberger introduced the revised Gold Standards during a press conference at the 2016 World Dairy Expo. Photo by Jenna Hurty-Person.