When Amy Shiplett joined her family's operation full time in 2006, she struggled to find detailed information on raising calves and heifers from local resources, but through an online search, she stumbled across an organization that fulfilled her needs.
Over the last decade, the Dairy Calf and Heifer Association (DCHA) has changed the way she raises calves and heifers.
Shiplett joined DCHA in 2007 as a way to learn more about managing the 1,000 head of cattle at Bon-Home Livestock, ranging from wet calves to springers.
After attending an annual conference, she realized she had found what she was searching for: a place to gather specific information on raising and growing young dairy animals and a network of experts and fellow calf and heifer raisers.
"There really wasn't any other organization that focused on calves and heifers," she recalls. "They had awesome conferences with cutting-edge information, and the networking is huge."
It didn't take long for Shiplett to make DCHA an annual must-attend event, and she quickly elevated her level of involvement to a leadership role. She has participated on the organization's board of directors in various capacities since 2009, including serving as the group's treasurer, on the conference planning committee and currently as a regional director.
Shiplett finds great value in the conversations she has with fellow DCHA members, and she uses their experiences to guide decisions on her own operation. One recent change she made was switching from feeding milk replacer to pasteurized milk.
"I did a lot of research by talking with other DCHA members when deciding to do this and choosing a pasteurizer," she notes. From calf health to economics, she was thankful to have information just a phone call or email away. The switch turned out to be a very positive one. She adds, "Calf health is phenomenal on pasteurized milk."
Likewise, Shiplett is happy to share what she has learned with others in the same business. Particularly, members have sought her out for advice on supplementing vitamins and minerals as an alternative to medicated milk replacer. "We had huge success with that," she notes. "People are interested in learning about other ways to keep calves healthy."
Through her networking with fellow members, Shiplett has learned she is not alone in the trials that come with raising youngstock. "I collaborate with other DCHA members on things like efficiency, equipment, labor and how to do things economically," she says.
Beyond the challenges, her deepest bonds with others in DCHA are over the passion that they have in common. She adds, "Working with the animals is still what I love most." And in this group, that is a very common thread.
PHOTO: Amy Shiplett and her husband, Brent, operate Bon-Home Livestock, a 1,000-head operation that raises wet calves through springing heifers. She has served in various leadership roles with DCHA since 2009. Photo by Peggy Coffeen.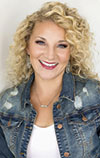 Peggy Coffeen

Editor
Progressive Dairyman