Raising heifers can be a challenging business, especially when you're doing it for someone else. Not only do you have young, vulnerable calves to raise, you have calves with the added stress of being shipped from the dairy to your operation, and you need to make sure you pick up right where they left off.
For the past 13 years, Brian Campbell, owner of Campbell's Farm, has done just that for a couple Florida dairies.
Campbell first began raising heifers on the side in 2004 and started doing it full time in 2007. Today, at his 39-acre operation located in Arcadia, Florida, he raises calves from 2 to 5 days old to 400 pounds for a dairy a couple hours away.
After receiving over 70 inches of rain annually the past two years, Campbell decided he needed to move his calves out of hutches and get them on higher ground where they'd stay clean and dry, so last summer they broke ground on a calf barn, and in November he started his first group of calves in the new facility.
So far, he's pleased with the changes he's seen in calf health and performance. Calf mortality is down around 4.5 percent, which is far lower than it was in the hutches. He says he's treating far fewer calves for respiratory problems, and the dairy he raises heifers for is excited to see how they perform in their new barn.
Before leaving their home dairy, calves receive colostrum, an intranasal vaccine and are ear-notched to check for animals persistently infected (PI) with bovine viral diarrhea (BVD). Upon arrival, Campbell takes blood samples from a few of the calves to check for adequate passive transfer. He says he does this so he knows what kind of calves he's dealing with.
The new barn is equipped with automated calf feeders and houses up to 200 calves. There is one feeder for every four pens and one nipple per pen of 20 calves. Campbell, along with his three oldest sons, Jadin, Lyndon and Jared, puts each calf in the feeder right away to start training them and make sure the feeder is reading the calf's ear tag.
While most calves drink that first time, some do not, which does not worry him. He knows if the calf is hungry, it will drink.
"I would say that's the biggest key," Campbell says. "If the calf's not hungry, and you try to feed it and teach it to drink, it's not going to work. It's the same thing with buckets."
He says about 75 percent of the calves are trained in the first three days, and training them on feeders has not been any more difficult than bucket training.
With the first group of calves, he fed them 9 liters of 28/10 milk replacer, and they had unlimited access to fresh water and a 20 percent protein starter. Calves averaged 1.4 pounds of gain a day, with 5.25 inches of growth in hip height at 8 weeks old.
However, he upped the feeding limit to 12 liters of milk replacer per day with the current group because it seemed like the 9-liter program was limiting growth on the larger calves.
"The ones that hurt us were the big calves," he says. "The system we were on, some of the smaller calves wouldn't even drink 9 liters, but there were others that were all of the time hitting that 9-liter mark that were the big ones, so I think we actually limited some of the big ones."
Because he allows the calves to drink so much milk replacer, calves typically go to the feeder, eat and go back to sleeping or playing. He says he rarely sees calves waiting at the feeder except at daylight and during weaning, which starts at 6 weeks old and lasts about a week.
During that time, calves can only drink 2.2 liters twice a day. At 7 weeks, they are off milk completely, and at 8 weeks, he moves them to a small pasture close by.
Campbell also adjusted the pump speed on the feeders down from a 80 to 90 percent flow rate down to 70 percent for the first three weeks after he noticed that the first group of calves was aspirating during feeding and became reluctant to drink.
Once the calves are over those first few weeks, he raises the flow rate back to 80 to 90 percent since the calves seem to be able to keep up at that point.
Campbell says two of his biggest issues in the hutches were air quality and heat stress, so when he built his calf barn, he focused on eliminating or at least reducing those issues. Since Arcadia rarely deals with freezing temperatures, Campbell's calf barn does not have sides on it and might better be described as a calf pavilion rather than a calf barn.
By eliminating walls and elevating the facility slightly, he is able to take advantage of any little breeze during the hot, humid Florida summers when stagnant air creates the perfect environment for pneumonia and other respiratory issues in calves.
The insulation on the metal roof keeps the underside anywhere from 30ºF to 50ºF cooler than the top of the roof, which translates to the barn being cooler than the outside temperature. In addition, each pen has a 52-inch fan at the front of it angled at the calves, and calves are always bedded on sand.
To help minimize the spread of disease, Campbell replaces the old sand with new sand and disinfects the pens with chlorine dioxide in between each group of calves. He also makes sure he and his sons always work from youngest to oldest.
In addition, Campbell set up a flush system for the concrete slab around the feeder, which he says is the dirtiest area of the pen. Twice a day they run the flush system and then sweep everything down the drain with hard-bristled brooms.
He says doing this keeps the pens cleaner. He also cleans the waterer and changes out the nipples on the auto feeder twice a day to disinfect them.
Going forward, Campbell looks forward to fine-tuning his calf program and is excited about where they can go in terms of calf performance.
However, he says being able to work alongside his sons is what he enjoys the most about raising heifers and says he looks forward to his daughters being a little older so they can join them in the barn as well.
PHOTO 1: Campbell first began raising heifers on the side in 2004 and decided to do it full time in 2007. He is responsible for most of the chores; however, his sons also help when they are not in school. He says being able to work with them every day is something he enjoys immensely.
PHOTO 2: Campbell uses a gravity-flow flush system to clean the concrete area around the feed trough, waterer and automated feeder. While the water isn't enough to flush away all of the manure, it is enough to get it wet, making it easy for Campbell and his sons to sweep it down the drain with a broom.
PHOTO 3: Campbell says that while having slant bars in front of one of the feed troughs is good for getting the calves used to them, he likes to add a second feed trough in the middle of the pen. He says adding this second trough encourages calves to eat starter sooner since it's easier to find and access.
PHOTO 4: To make sure calves have plenty of space, Campbell only puts 20 calves in each pen, giving each calf 40 square feet of space. Once calves are over 3 weeks old, he also gives them outside access, giving them more than 100 square feet of space per calf. Photos by Jenna Hurty-Person.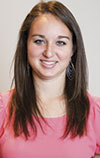 Jenna Hurty-Person

Field Editor
Progressive Dairyman