Raising dairy heifers off-site increases the possibility of disease introduction, especially if animals are reared in a facility where they commingle with cattle from other dairies.
A well-designed and agreed-to protocol between the dairy farm and the heifer-raising facility can mitigate these risks and protect their health and reproductive future.
Larger dairies are more likely to dedicate facility and staffing resources to their milking herd and ship calves to another facility to be raised and bred. Since raising heifers accounts for about 20% of the total operating cost on dairy farms, and the return on this investment isn't realized until heifers calve and join the milking string, it's important to review biosecurity and animal health protocols.
Having a well-designed immunization plan prepares heifers for breeding and milking and improves the health of their offspring to protect the future of the dairy.
Start with the end goal in mind
The age at which heifers are sent off-farm varies. According to the USDA, slightly more than half are sent prior to weaning, while around 41% are sent just after weaning. Communication between the dairy farm and heifer facility is essential when developing a vaccination and breeding protocol agreement.
Getting calves off to a healthy start means protecting them from disease challenges. Ensuring the calving pen is clean and dry, and calves are provided with adequate maternal antibodies contained in colostrum, provides their first layer of essential protection.
Intranasal vaccines provide a second layer of protection against the most common pneumonia-causing viral pathogens. Intranasal vaccines avoid interference from maternal antibodies in colostrum that can block injectable vaccines. This method of protection is also less stressful on calves.
Most pathogens enter through the respiratory tract, making intranasal vaccines effective in young calves. This is because antigen is introduced in close proximity to the mucosal surfaces that are loaded with immunologically active tissues. A booster dose may be required depending on disease pressure, so it's best to consult your veterinarian on revaccination frequency.
Administering an intranasal vaccine helps to close the window of susceptibility to disease from birth to weaning, which is a time when the power of maternal antibodies wanes and injectable vaccines can be ineffective due to maternal interference (see Figure 1).
Ask your veterinarian about intranasal vaccines that protect against infectious bovine rhinotracheitis (IBR), plus protection against bovine respiratory syncytial virus (BRSV) and parainfluenza3 (PI3). Intranasal vaccines provide protection early on, and then calves develop both a serum and mucosal antibody response within two weeks of vaccination.
Protect reproductive health
At 6 months old, if heifers are meeting growth goals for your breeding program, they should be vaccinated with a 5-way modified live virus vaccine to protect against IBR, bovine virus diarrhea (BVD) types 1 and 2, PI3 and BRSV, along with leptospirosis. Diseases like IBR, BVD and leptospirosis can cause early embryonic death, congenital defects and abortions.
Schedule procedures such as vaccination at least one week prior to transport back to the dairy to help reduce stress on the animal. Cortisol, the main hormone released during stressful events, may compromise immunity and limit the effectiveness of vaccination. Modified live virus vaccines are safe for use in pregnant heifers and cows provided they are vaccinated prior to breeding, within the previous 12 months. Always read and follow label instructions.
Communication is key
An open line of communication with the heifer-raising facility provides dairies with information to assist in the selection of animals into the breeding program. Scheduled reports – weekly or monthly depending on preferences – should include successes as well as concerns. It's important to know if an animal required a medical intervention.
Ask questions about the pre-shipping protocol in order to ensure a detailed biosecurity protocol is in place. Before animals return to the dairy, transport vehicles and pens should be disinfected. Try to avoid stops while in transport and, upon arrival, remind staff members to remain calm to avoid unnecessary stress to animals.
When heifers return to the farm, they should be placed in a clean pen away from other animals. It's ideal to quarantine shipped heifers for 30 days before allowing them to commingle with other animals to prevent the spread of disease.
Protect the future offspring
If heifers are scheduled to return to the dairy farm shortly before they calve, communicate with the heifer facility to administer a scours vaccine 12 weeks pre-calving. This is generally followed by a booster dose three to six weeks later.
As previously mentioned, colostrum is important to building a neonatal calf's defense system. Fortifying colostrum with antigens that protect calves against scours increases scours-fighting antibodies.
Calf scours is responsible for 56.4% of mortality among pre-weaned dairy calves. Only dam scours vaccines protect calves against all four major disease-causing pathogens and eliminate the need to vaccinate individual calves.
Using a heifer-raising facility creates both opportunities and challenges that can be addressed with a well-designed road map for success. Work with your veterinarian to develop a strategy that protects the future of your heifer program.
References omitted but are available upon request. Click here to email an editor.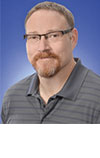 Chris Schneider

Technical Services Veterinarian
Merck Animal Health