Dairy herd management is very data driven with exceptional progress made in the use of data from areas such as feeding, parlor operation, milk production and herd health to make timely decisions influencing dairy profitability.
Has this mindset been applied to the management of the youngstock program and preweaned calves? The youngstock program has probably experienced as much change in the past 10 years as any phase of dairy herd management. These changes include:
A higher plane of nutrition during the preweaning phase, which has a positive influence on calf health and later-lactation performance. Low cost per day and early weaning should not be the goal of calf management.


Earlier identification of genetic potential and the use of sexed semen has enabled dairies to intensify genetic progress through use of sexed semen on the highest-ranking animals in the herd. Low-ranking animals are bred to beef and leave the farm at an early age.


Through more intensive management of calf raising programs, greater herd profitability is achieved by reducing the size of the replacement herd and having heifers enter the milking herd at the desired size at an earlier age.


Smaller replacement herds require that the calf program be managed with the same intensity reserved for high-producing cows to ensure there is economical growth with low morbidity and mortality. Selling "surplus" heifers profitably is frequently not an option.
Effective management is achieved through recording and use of important monitors and key performance indicators (KPIs). These have not been a priority for calf programs on many farms. We must also recognize that calves and heifers are frequently cared for by employees with varying levels of experience and communication abilities. Herd managers and advisers need to become more proactively involved in monitoring and managing the calf program.
Our discussion will begin with the preweaned calf. Table 1 is an example of a "daily monitor" or scorecard that I developed and use with my clients. A report such as this provides a snapshot of the state of the calf program. It should include:
Milk or milk replacer intake – How many calves were "slow" drinkers at the a.m. or p.m. feeding? This is frequently the first indication of illness. For calves raised in autofeeder systems, monitor changes in drinking speed.


How many calves were treated for respiratory disease or scours today? What were their ages?


Identifying each treated animal enables follow-up actions.


Record the temperature of milk or milk replacer at the beginning and end of calf feeding. This influences mixing ability of milk replacer powder and acceptability of the diet by the calf. The goal is 100°F to 110°F, depending upon the season.
A daily monitor enables the herd manager to monitor trends on a timely basis, detect undesirable trends early and take needed actions. A daily monitor enables a herd manager to "stay in touch" with the calf program and take timely action when problems start to occur and to reward a job well done by the calf team.
The second component of management information involves developing a system of recording and summarizing data for KPIs, which can be broken down into the following focus areas: maternity, colostrum management, feeding program, health and growth. These should be recorded daily and summarized either weekly or monthly, depending upon herd size. Although it may take more effort, emphasize recording items that can be measured objectively.
Colostrum management
This is where it all begins. Consumption of clean, high immunoglobulin G (IgG) colostrum early in life is critical to a successful calf program. Failure with this stage cannot be overcome with better management later in the calf's life.
Colostrum quality – Brix readings are a recommended tool to measure IgG content. The goal is >22 Brix. Percent of brix readings below 22 is also a useful measure, as averages can be deceiving. Clean colostrum is critical as well, with a goal of <50,000 colony forming units per milliliter (cfu/ml). Colostrum with a high bacteria count occurs when harvested into unclean containers, when there are delays between harvest and feeding, or rapid cooling if stored.


Calf serum protein level between 24 hours and 7 days of age is the gold standard for measurement of a successful colostrum program. Seventy percent of calves should have serum protein levels above 5.7 grams per decilitre (g/dL), with less than 8% below 5.1 g/dL. This may be the most important KPI for the calf program.
Health
In addition to the number of treated calves, the date and specific treatment for each calf is recorded. This is important to enable monitoring trends in disease incidence and response to treatments.
Summarize calves in age groups (0-14 days, 15-62 days, older than 62 days) by respiratory, scours, etc.


A treatment log should include calf ID, date, age, disease, treatment or re-treat.


This information is an integral part of the FARM Program.
Growth
Dairy calves should double their birthweight by 56-60 days. This means recording birthweights and weaning weights. Weight tapes may be suitable for smaller farms, but purchasing scales with one platform located in the maternity or newborn area and a second convenient to entry into the first post-weaned group is recommended.
Systems which identify calves with their RFID tag and collect weights electronically are more accurate and labor efficient and enable rapid summarization of growth data. These systems can also be combined with platforms used to weigh heifers at other key points, such as during vaccination, breeding, and movement to pre- and post-calving groups.
Weekly and monthly reports summarize KPIs in a meaningful format that can be utilized either in spreadsheet form or through other herd management systems such as DairyComp or Dairy Records Management System (DRMS). Examples are shown in Table 2 and 3.
Figures 1 and 2 are graphical representations, which are effective tools to monitor the calf program.
The most important thing to remember is that the daily monitor and weekly and monthly reports must be easily recorded and summarized. They must also be used by the calf team, which includes the farm manager, calf feeder(s), herd veterinarian and consultants. This needs to be an agreed-upon priority for the farm. Every farm has unique preferences, which should be accommodated in the reports, and the value of the reports must be recognized by all members of the calf team to enable achievement of calf program goals.
PHOTO: Photo by Mike Dixon.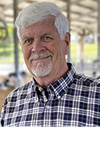 Robert James

Calf Management Specialist
GPS Dairy