When it comes to raising healthy, vigorous calves, Mohamed ElSheikh, DVM, feed department and calf manager at North Florida Holsteins in Bell, Florida, believes it all comes back to management.
"Group housing is management," ElSheikh says. "You can have the best facility, and everything, every good tool, but if you don't know how to manage it, you will lose."
Previously, the 6,000-cow dairy had a goal: 1.4 pounds average daily gain (ADG) for calves from birth to weaning. Unsatisfied with the results he was seeing with this program, ElSheikh decided to do something about it. In 2013, they built a new calf barn where they could group- house calves. ElSheikh decided to switch from individual to group housing as it made it easier for the calf team to feed calves more milk and facilitated greater efficiency.
Initially, he set a goal of 2.6 pounds ADG between birth and weaning, but they consistently saw a major drop in ADG post-weaning. In 2016, he backed their goal down to 2 pounds ADG. Now calves still double their birthweight by day 40, and they are able to maintain that growth rate from weaning at day 50 through day 80.
Preparing calves to thrive
ElSheikh says it starts with proper calf management from day 1. Calves receive not one but two feedings of colostrum, one 4-quart feeding within 30 minutes of birth and a second 2-quart feeding four hours after birth. The calf's navel is also dipped prior to being moved from the maternity pen to the calf barn, which happens every six to seven hours. After arriving at the calf barn, the calf's navel will be dipped once a day for the next two days to ensure it stays disinfected until it has time to close.
For the first three weeks, calves stay in groups of 15 in one of 18 young calf pens. While it might seem aggressive to immediately group-house calves, ElSheikh says it works for them because they typically fill one, usually one-and-a-half pens each day, so the oldest and youngest calves in the pen are never more than 24 hours apart.
In these pens, calves have ad libitum access to an 18% protein starter and pasteurized milk. The majority of the milk is waste milk; however, ElSheikh says he will supplement their milk supply with bulk tank milk when necessary. Each pen is equipped with six nipples that are supplied by an insulated 2-inch pipe which flows by gravity from the milk tank to the last pen in the row, where it is then pumped back to the tank.
To minimize bacteria growth, the milk is kept at 100ºF, and the entire system is cleaned three times a day. During this cleaning, the system is first flushed with hot water. It is then rinsed with soap followed by acid and then water again.
During the cleaning, they also dump any remaining milk from the tank and refill it with freshly pasteurized milk; that way bacteria cannot build up over time. They also replace all of the nipples with clean ones. The dirty nipples are then boiled and immediately placed in a freezer for 24 hours to disinfect them.
On day 16, ElSheikh starts switching calves over to a 28:15 milk replacer. On day 1, the mixture is 25% milk replacer, 75% milk. Each day, he increases the milk replacer by 25% until day 20, when the calves are fully transitioned to milk replacer and ready to move to the autofeeder pens.
On day 20, calves move from the young calf pens to the autofeeder pens, which holds 55 to 60 head. Until day 35, calves can drink as many as 3 liters every two hours and have unlimited access to a grain mixture that is 75% starter and 25% soyhulls for added fiber. ElSheikh says he previously tried using hay, but the soyhulls are much harder for the calves to sort.
After day 35, ElSheikh says they use the computer to do an individualized step-down program for each calf based on that calf's daily milk consumption. By day 49, every calf is down to 2 liters of milk per day and by day 50, calves are completely off milk and moved to new pens in groups of 10. On average ElSheikh estimates each calf is eating around 3 pounds of starter per day at this point.
ElSheikh says he likes to keep calves in these small groups because it is easier to monitor them and make sure they continue to thrive post-weaning. By day 80, calves are ready to transition to TMR and head outside to the heifer pens.
Keeping calves healthy
On average, northern Florida's summer temperatures stay between 95ºF and 105ºF. Despite this, ElSheikh's team maintains a 0.7% mortality rate and a 10% pneumonia rate in a barn that houses 1,000 head.
To help accomplish this, ElSheikh says he started adding fans and didn't stop until he ran out of space for new ones. He has it set up so the fans will shut off when the temperature drops below 55ºF, but he says they only see temperatures that low a few times a year, so they pretty much run 24-7. Aside from keeping calves cool, the fans keep clean air circulating in the barn, which helps to keep calves healthy.
Between day 9 and 12, ElSheikh says calves often contract crypto, which is a common problem in their region. To help with this, calves in the young calf pens have free-choice access to diluted electrolytes. Any calves that need additional help receive additional electrolytes as necessary.
To help minimize disease spread, one of the calf barn employees walks the wet calf pens one to two times a day and sprays calves down with antiseptic solution. The solution they use is the same one used on produce and kills a variety of pathogens, including E. coli and salmonella.
The autofeeder nipples are also sprayed with this solution every 30 minutes to further assist with minimizing disease spread.
Managing calf barn employees
All together, there are six full-time and three part-time employees in the calf barn. ElSheikh says he encourages employees to think of their jobs, not as jobs, but as careers. He gives each person specific responsibilities, allowing them to specialize in one area of the calf barn. As an added benefit, this helps eliminate day-to-day variability and provide a more consistent environment for the calves.
As a result of group housing, ElSheikh has seen a change in calf behavior. Since calves are used to people walking in the pens from day 1, calves are less aggressive, making them easier to work with. They're also more playful, which he enjoys seeing. All of this together has also helped improve employee mentality, which he is also happy about.
Prior to group housing, heifers were bred at 12 months old and 750 pounds. Today, they breed heifers between 11 and 12 months old and at 860 pounds. On average, heifers calve in at 22 months. They've seen a 300-pound increase in milk production for first-calf heifers, and the herd boasts a 32,000-pound rolling herd average. At this time, ElSheikh doesn't plan on breeding their heifers any younger than 11 months, as he believes the additional size at breeding and eventually at calving makes them better prepared to perform well in the parlor.
PHOTO 1: Employees make all the difference at North Florida Holsteins, ElSheikh says. "Group housing is very easy and very difficult. It's very easy if you have someone who knows how to manage it. It's very difficult if you don't have someone who knows how to manage it."
PHOTO 2: From day one, calves have ad libitum access to pasteurized milk. ElSheikh says it typically takes calves one to two days to learn how to find the nipple and drink on their own. He likes to encourage calves to drink as much milk as possible during those first three weeks because he knows it will pay back in the long run.
PHOTO 3: One to two times a day, an employee walks the pens spraying calves with an antiseptic solution. This solution is the same one used on produce. ElSheikh says it helps reduce the prevalence of E. coli and salmonella in the pre-weaned calf pens. Photos by Jenna Hurty-Person.
Click here to view a photo slideshow of North Florida Holsteins.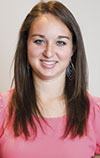 Jenna Hurty-Person

Field Editor
Progressive Dairy