Whether you've had auto-feeders for five months or five years, you know how important it is to make sure your investment is paying off with improved calf performance from the start.
One area to capture return on investment (ROI) from the beginning of an auto-feeder journey is relooking at how calves are introduced to auto-feeders. Are calves getting started seamlessly, or is there room for improvement? Can you seize more calf performance and auto-feeder value?
Evaluate your auto-feeder starting program by looking at these four areas:
1. Feeding program
Is your feeding program delivering the maximum return on your investment with healthy, well-grown calves? If not, it might be time to shift to a new feeding approach.
The greatest misstep with auto-feeders is setting the total volume of milk or milk replacer per day too low. Limiting calves to less than 9 liters per day will leave them hungry, increase cross-sucking, reduce lying times and cause calves to bunch at feeders.
Twelve liters per calf per day is the recommended total volume for restricted feeding systems, with some farmers going as high as 14 liters. If a calf doesn't drink the allotted amount in a given meal, it can drink more at the next feeding until it consumes the maximum daily volume.
An unlimited feeding system is the next step up from a restricted system, allowing calves to drink as much as they want. Some auto-feeder owners are hesitant to adopt an unlimited system because of the perceived extra cost of feeding a higher volume of milk or milk replacer. However, the higher upfront investment in milk or milk replacer is offset with a lower cost per pound of gain compared to a restricted system or individual calf feeding.
2. Calf preparation
Are you rushing to move calves to the auto-feeder as soon as possible? It may seem lucrative from a labor standpoint, but your calves may be losing out in the long run. Make sure calves are getting the individual attention they need during the critical first two weeks of life before moving them to the auto-feeder.
After adequate colostrum feeding, start preparing them for the auto-feeder. Feed calves 2 quarts three times a day or 3 quarts two times a day for the first week. Then, bump up to 3 quarts three times a day or 4 quarts two times a day until 14 days.
If calves are moving to the auto-feeder before 14 days, feed 2 quarts three times a day or 3 quarts two times a day for seven to 10 days. Calves should be vigorous and healthy and have a good suckle reflex before starting on the auto-feeder.
3. Day one transition
When it comes time to transition from an individual pen to the auto-feeder, one common misstep auto-feeder owners make is feeding calves immediately before moving them to the auto-feeder pen. Hungry calves will search out food and are less likely to need assistance finding the feeder. Wait six hours after the last individual feeding to move calves to the auto-feeder, so they enter the new environment hungry and ready to find milk.
After introducing calves to the new environment, give them a chance to find the feeder on their own. The more you assist a calf in finding the feeder, the more they associate you with meal time. Wait six hours before helping new calves find the feeder. Older calves may have longer stretches between meals, especially on an unlimited system.
Give calves their full milk allotment from day one instead of using a step-up program. Research from the University of Minnesota showed this will result in better gains than step-up programs. Step-up programs gradually increase the milk volume allowed as calves acclimate to the feeders, however, most calves will drink 12 or more liters within three to five days (some even sooner). Remember, with an auto-feeder, milk isn't wasted if they don't drink the full allotment right away.
4. Data and decisions
Your auto-feeder provides tons of data to help you find challenged calves, but it can be overwhelming – even for an experienced user. Knowing what to monitor based on your feeding program can help you intervene early and lessen the impact of disease challenges.
Monitor frequency of visits to the auto-feeder for calves on a restricted system. Unrewarded visits (a calf visiting the feeder but not allowed to drink) are common. A warning sign could be a calf that typically has five unrewarded visits per day and suddenly drops to one or two per day. This calf could be experiencing a health challenge and doesn't have the energy to get up and look for food.
Calves on an unlimited system won't have many unrewarded visits. A high number of unrewarded visits on the unlimited system could indicate the maximum amount per feeding is too low. Instead, monitor volume consumed per day and drinking speed. Drinking speed and volume on an unlimited system tend to slow a day or two before a visually identifiable illness.
If you're looking to capture more value from your automated feeder, taking a close look at these four areas can help. Work with your local calf and heifer specialist to put these steps into action on your farm.
This article is part one of a two-part article series about transitioning calves on and off automatic calf feeders. Read part two on weaning calves on auto-feeders here.
Tom Earleywine has a Ph.D. in dairy science from the University of Wisconsin – Madison.
PHOTO 1: Monitor unrewarded visits, drinking speed and milk volume to address disease challenges early.
PHOTO 2: Whether you use an unlimited or restricted system, feed a high volume of nutrition to maximize weight gain and return on investment. Photos courtesy of Purina Animal Nutrition.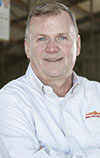 Tom Earleywine

Director of Nutritional Services
Land O'Lakes