Not all Holstein bull calves become steers. A tiny sliver (6%) contribute to a specialty meat sector that so quietly complements the dairy industry, some of us forget it's there.
However, American veal producers have a story to tell of animal welfare, modern production and their synergetic relationship to the dairy industry.
Stepping into the light
Fifty years ago, the veal industry was not a pretty picture. Animal rights groups went after producers in the 1970s and '80s, depicting weak calves tethered in dark, tight stalls.
"People distanced themselves from us because of that," Steve Anderson says. As president and an owner in Indiana-based Midwest Veal LLC, which represents one-third of the entire U.S. veal industry, Anderson has been around the veal business for more than 30 years.
In that time, he has seen it completely transform, including the transition from crates to group pens. In fact, Midwest Veal adopted this practice even before the American Veal Association (AVA) passed a resolution in 2007 to phase out tethering in favor of group housing systems over a 10-year period.
"We've been doing group housing for 15 years," Anderson says. "We saw how they were doing it in Europe, and we brought those ideas back here."
Over the past decade, Anderson says Midwest Veal has modernized or built 40 to 50 facilities for raising veal calves. They own eight of their own barns and then contract with 90 family farms, most in Indiana, to raise calves.
Gone are the days of being tied up in the dark. Veal facilities today allow calves to socialize, turn around, stand, stretch and lie down.
"These barns are modern and comfortable," Anderson adds. They are climate-controlled with curtains, fans and ventilation systems, and allow open space and natural lighting.
The life of a veal calf
At Midwest Veal, the life of a milk-fed veal calf begins on a dairy farm. Most calves are picked up by a contracted driver right from the farm within a week of birth. Certain times of the year, like spring, the company purchases sale barn calves in Wisconsin and Indiana to fill their barns. Nearly all calves the company brings in are Holstein bull calves.
The calf spends its first six to eight weeks in an all-in/all-out nursery barn, kept separate from its barnmates to prevent cross-sucking. Blood iron levels are checked routinely to avoid anemia. Once the calves reach 170 pounds, they transition to a finishing barn, where they are grouped five calves to a pen and share a stainless-steel trough for their liquid meals.
Calves are fed a 70% milk, 30% grain diet. "We recreate mother's milk," Anderson explains.
Midwest Veal's sister company, Strauss Veal Feeds, takes 20 truckloads of whey per week to recreate a proprietary liquid feed blend of whey, edible lard and coconut oil, as well as vitamins and minerals.
"Thirty years ago, we never fed grain to a veal calf," Anderson says. "Today, calves are healthier because they are now developing all four stomachs."
As the calves age, the ration is adjusted for higher fat and lower protein. They will spend around 17 weeks in the finishing barn and are prime for marketing at around 550 pounds. Five packers in the U.S. handle the majority of these calves, with many heading to Wisconsin, Ohio or a few East Coast packing locations.
Pink meat, white tablecloth
Premium veal is pink in color, according to Anderson. Veal that is too red resembles beef and is priced closer to that point. Each week, Midwest Veal sells 1,000 veal calves to the white tablecloth restaurant market. More expensive cuts like rib chops and top rounds are what can be found on upscale dining menus, while the chuck, shoulder steaks and trim are marketed through grocery retail.
"The people who eat veal are generally the affluent and the ethnic," Anderson explains.
The largest domestic veal market hubs follow populations of European descent (Italian, French, German, Albanian) in bigger cities like New York and Chicago and parts of Florida. In Europe, veal is a sustainable protein to raise in areas where land availability and resources limit growing large beef herds.
First-generation immigrants brought veal recipes with them, but the industry has seen contraction over the past decade. Veal tends to be a pricier product, and there are many alternatives available, resulting in less veal consumption. On top of that, some consumers carry a negative, outdated view of how veal calves are raised.
While middle-aged Americans may have lost their taste for veal, Anderson sees opportunity with the up-and-coming generation of consumers.
"They don't care where someone said their food comes from; they want to see it for themselves," he notes.
Groups like Midwest Veal honor transparency and seek to secure a place on the palate of millennials and generation Z by opening up their previously closed doors.
The American Veal Association, which represents the milk-fed veal sector, is a self-funded industry nonprofit organization that serves as a voice for milk-fed veal with consumers, customers, employees, communities, regulators and other organizations. According to the group's president, Dale Bakke, $2 per head is paid into the Beef Checkoff program which is administered by the Cattlemen's Beef Board with oversight from the USDA. These funds are allocated for veal-specific promotions.
Over recent months, the COVID-19 situation has impacted veal production and consumption, Bakke notes. As top-tier restaurants closed, a home for the highest-value cuts was temporarily lost. On top of that, slowdowns in slaughter forced growers to keep calves an extra two weeks, adding as much as 20 pounds of carcass weight. "As with most livestock, those extra days mean feed efficiency goes out the window," Bakke says. Promotion efforts pivoted to encouraging more retail consumption in the interim.
The dairy disconnect
Veal is both a product and a consumer of the dairy industry, and both Anderson and Bakke would like to make that connection stronger.
"We're heavily connected to the dairy industry, but the dairy folks don't know much about us," Anderson says.
Bakke agreed. "Veal has a huge impact on the dairy industry. First, looking at the calves: We're using Holstein bull calves, which are traditionally undervalued in the market, and we're adding value there."
"Second," he adds, "The veal industry uses a lot of whey solids."
The American Dairy Products Institute recently stated that one-third of the whey solids produced each year in the U.S. are not used for further processing. "We are an excellent outlet to add value to those solids." Bakke adds, "It helps cheese manufacturers, and it helps milk checks to dairy producers."
What's more, Bakke points out every Holstein bull calf that goes for veal is one less steer in the feedlot. A 550-pound calf produces one-third of the meat it would if raised all the way through to a finished steer. "This keeps the supply of beef tighter to improve their margins," he says.
Though it may seem like a small sector, veal has a sizable impact on the dairy business.
Anderson concludes, "We are really sustainable in our efforts to add value for the dairy industry, to make that final 550-pound veal calf."
PHOTO: Steve Anderson has been at the forefront of the veal industry's transformation to modern facilities with group housing. He is president and a part-owner of Midwest Veal LLC, which represents one-third of milk-fed veal in the U.S. Courtesy photo.
View photos from modern veal barns in an online slideshow here.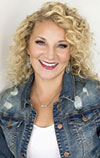 Peggy Coffeen

Editor
Progressive Dairy