When temperatures dip into single digits and below, dairy farmer Stacy Jauquet up-levels her calf care program to maintain a zero-mortality rate, even through winter's extremes.
Jauquet leads the raising of youngstock at Jauquet's Hillview Dairy, a 650-cow milking herd in Luxemburg, Wisconsin. She and her team care for 150 calves ages 5 months and younger, which are housed in outdoor hutches before moving into a transition barn. On the Jan. 20 Professional Dairy Producers of Wisconsin (PDPW) Dairy Signal, Jauquet shared her tips for keeping calves thriving and growing through the frigid temperatures along Wisconsin's northeast lakeshore.
Here are 10 winter essentials in Jauquet's toolkit:
1. Heated hutch – Newborn calves are vigorously towel-dried before being moved into a heated hutch immediately after birth and remain there until they are dry. She does not move calves into outdoor hutches in the evening, as not to introduce them to their new home at the coldest part of the day.
2. Nutrition – The typical diet of 8 pints of pasteurized milk per feeding is upped to 10 pints during wintertime at Jauquet's Hillview Dairy. Jauquet uses a probiotic and an additive that raises solids through additional fat and protein, while delivering vital vitamins and trace minerals. Warm water is also delivered three times per day, even in subzero conditions, to keep calves with an ample supply of warm fluids.
3. Straw – During the winter, calves receive additional straw bedding each day and sawdust as needed. "My theory is that it's easier to clean the hutch than to treat a sick calf," Jauquet says. She is particular about choosing soft, fluffy straw with adequate length to keep calves warm and dry.
4. Ski goggles – Jauquet equips herself and her calf-feeding team with proper protection from the elements, including ski googles to keep wind out of their eyes and faces.
5. Head lamp – Calf caregivers also are fitted with a headlamp for hands-free feeding during extended hours of darkness.
6. Weather app – Each team member downloads a weather app to be kept up to date on impending storms, wind direction and temperature drops.
7. Calf jackets – Calves are jacketed before entering the hutch and fitted into bigger sizes as they grow. Jauquet keeps three different jacket sizes available. Jackets are laundered and inspected between uses, and buckles are adjusted weekly on the calf to assure a proper fit.
8. Calf ear warmers – Jauquet says she does not tolerate frozen ears. She uses either a fleece earmuff set or a calf hood made of high-quality fleece with eye holes to keep the ears close to the calf's body and natural body temperature.
9. Warm water – During frigid temperatures, Jauquet first rinses each milk pail with hot water before filling with the calf's meal. This is to help maintain the proper milk temperature longer, thus encouraging the calf to keep its consumption at a steady level. Milk is pumped into an insulated stainless steel wagon and transported outside before delivering to the calf pail. Milk is carried in a 5-gallon pail, between 113ºF-114ºF, and then poured into the warmed milk pail. She adds, "106 degrees is my goal milk temperature at feeding so that calf is not using her calories and body to warm up what I just fed them."
10. Toolkit – Jauquet assembles an actual toolkit to provide employees with the things they need to make maintaining or repairing hutches easy and efficient. She packs a toolbox with eye bolts, washers, wrenches and shoe glue to cover any holes in the plastic.
These tools, combined with Jauquet and her team's attention to detail and astute management, keep the calves at Jauquet's Hillview Dairy not just surviving, but thriving through the cold weather.
PHOTO 1: Stacy Jauquet and her calf care team up their game when cold weather hits. The crew at Jauquet's Hillview Dairy in Luxemburg, Wisconsin, cares for 150 calves housed in outdoor hutches. Photo provided by Stacy Jauquet.
PHOTO 2: Pastuerized milk is kept at 113ºF-114ºF in an insulated milk wagon, then transported to the warmed calf pails for feeding. Target temperature at feeding is 106ºF. Photo provided by Stacy Jauquet.
PHOTO 3: Water pails are emptied into a large tote to avoid creating icy patches near the hutches. Photo provided by Stacy Jauquet.
PHOTO 4: Jauquet does not tolerate frozen ears. That's why she outfits calves in ear muffs or a calf hood. Calves also go through three different sized calf jackets throughout the cold northern Wisconsin winter months. Photo provided by Stacy Jauquet.
PHOTO 5: Calf care team members are outfitted with a toolkit that includes everything from ski goggles and head lamps to a hutch-fixing kit. This helps keep things going smoothly during inclement winter weather. Photo by Peggy Coffeen.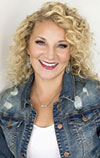 Peggy Coffeen

Editor
Progressive Dairy